Todd McDevitt's research focuses on engineering technologies to direct the differentiation and organization of stem cells to create functional tissues. His team is creating models of human tissues that can be used to study embryonic development and develop new approaches to treat diseases that afflict the cardiovascular, neurological, and immunological systems. McDevitt's group was the first to show they could create a new type of spinal cord neuron from human pluripotent stem cells that might be useful to treat spinal cord injuries. They are now examining the therapeutic potential of these cells in animal models and developing novel organoid models of the central nervous system.
Disease Areas
Congenital Heart Disease
Heart Failure
Immune Diseases
Neurodegenerative Diseases
Spinal Cord Injury
Areas of Expertise
Aging
Biomaterials
Disease Models
Organoids
Stem Cells and iPS Cells
Tissue Engineering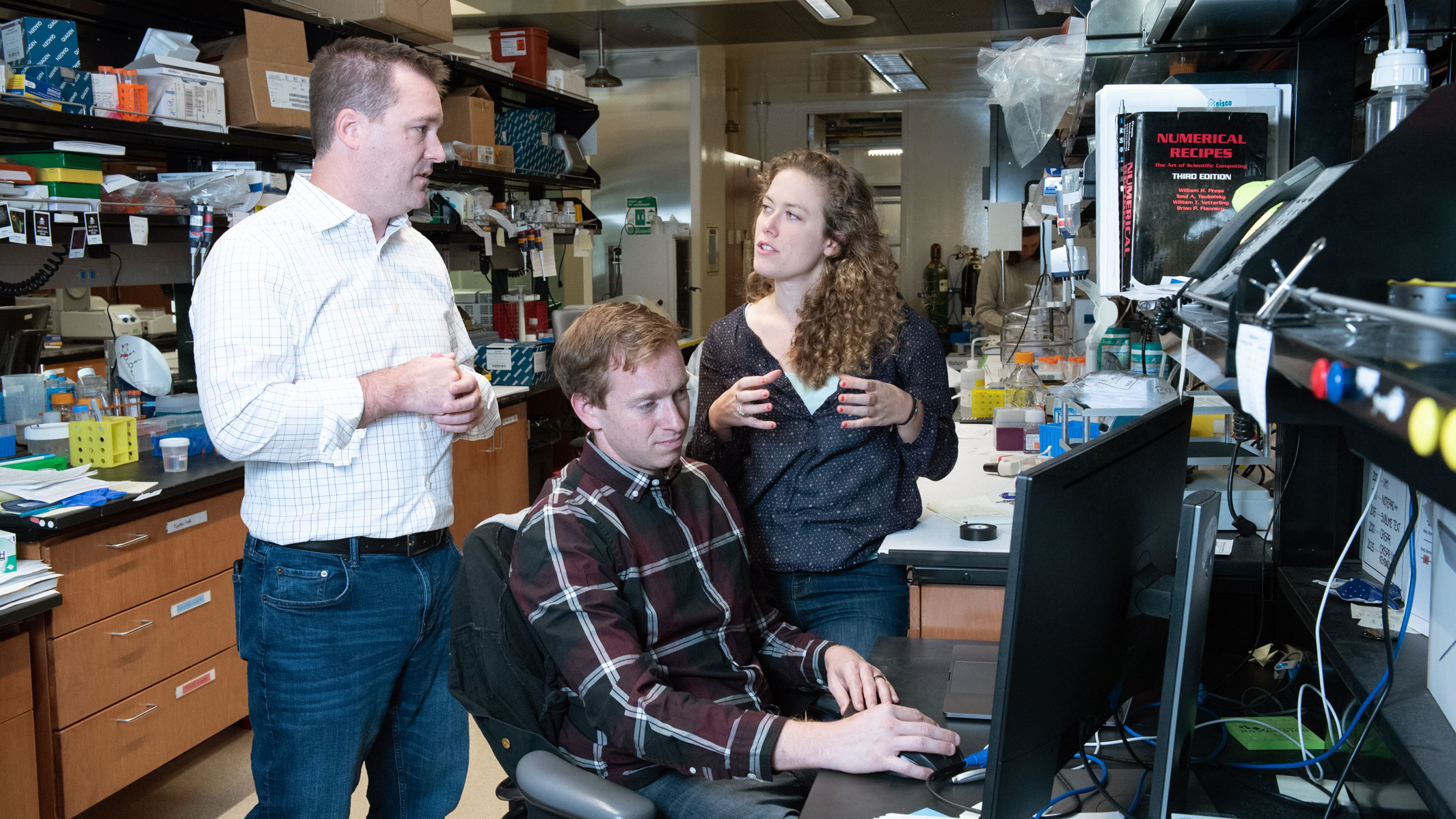 Lab Focus
Discovering critical mechanisms that regulate differentiation and morphogenesis of pluripotent cells during tissue development.
Creating functional 3D models of human tissues—such as heart, hindbrain, and spinal cord—from pluripotent stem cells.
Investigating the ability of stem cell–secreted factors to rejuvenate aged cells and tissues.
Research Impact
Human tissue constructs and organoids derived from stem cells offer novel model systems for probing mechanisms of embryonic development. In addition, engineered human microtissues provide valuable biological substrates to interrogate infectious and genetic diseases and the effects of exposure to other environmental factors.
McDevitt's lab uses a bottom-up approach to understand how cells cooperatively interact to form complex tissues and dictate multicellular organization and subsequent physiologic function. They have developed systems to achieve spatiotemporal control of morphogen presentation from biomaterials incorporated within 3D environments of stem cell aggregates, and established 3D computational models of stem cell differentiation and morphogenesis. More recently, they have also used CRISPR-based technologies to engineer multicellular organization of stem cells in a self-directed manner. The group has a long-standing interest in harnessing the potency of molecules produced by pluripotent stem cells in different manners for regenerative and rejuvenative applications.
Bio
Todd C. McDevitt is a senior investigator at Gladstone Institutes. He is also a professor of bioengineering and therapeutic sciences at UC San Francisco, as well as the program director for the joint Graduate Program in Bioengineering at UC San Francisco and UC Berkeley.
McDevitt graduated with a bachelor's degree in biomedical and electrical engineering from Duke University. He earned a PhD in bioengineering from the University of Washington, where he worked on methods to engineer cardiac and skeletal muscle tissue. He then completed a postdoctoral fellowship in the Department of Pathology at the University of Washington, in which he studied signaling pathways that affect the proliferation of cardiomyocytes derived from pluripotent stem cells. He has received several awards, including a New Investigator Award from the American Heart Association, and a Young Investigator Award from the Society for Biomaterials, and was inducted into the American Institute of Medical and Biological Engineering College of Fellows in 2014.
McDevitt's lab integrates fundamental principles of cell and tissue engineering, biomaterials, and systems approaches with stem cell and development biology expertise to determine how to create functional models of human tissues for regenerative medicine therapies and enable new biological discoveries. Their long-term goal is to create robust models of complex human biological systems that can faithfully recapitulate dynamic morphogenic processes and facilitate the translation of biomedical therapies for congenital, degenerative, and infectious human diseases.
How Did You Get Your Start in Science?
"My initial interest in science was sparked by my AP chemistry teacher, Lee Marek, in high school."
Todd McDevitt, PhD
Honors and Awards
2014 CIRM Research Leadership Award, California Institute for Regenerative Medicine
2014 Elected to American Institute of Medical and Biological Engineering (AIMBE) College of Fellows
2014 Top Medical Researcher, Atlanta Business Chronicle
2013 "40 Under 40," Georgia Trend magazine
2013 Best Advisor Award, Georgia Tech Bioengineering Graduate Program
2013 Carol Ann and David D. Flanagan Professorship, Georgia Tech
2013 Best of BIOT (invited webinar), American Chemical Society
2011 "Above and Beyond" (Eagle) Award, Georgia Tech Biomedical Engineering Society
2011 Most Influential Georgians (Notables), Georgia Trend Magazine
2011 UK-US Collaboration Development Award
2010 Most Influential Georgians (Notables), Georgia Trend Magazine
2010 Young Investigator Award, Society for Biomaterials
2010 Junior Faculty Outstanding Undergraduate Research Mentor Award, Georgia Tech
2009 Petit Institute Interdisciplinary Research and Education Award, Georgia Tech
2009 Petit Faculty Fellow, Institute for Bioengineering and Bioscience, Georgia Tech
2008 UK-US Stem Cell Collaboration Development Award
2004 New Investigator Award, American Heart Association, Council on Basic Cardiovascular Sciences
Lab Members
Sue Cammack
Senior Administrative Specialist
Olaia Fernandez Vila, PhD
Scientist
Serah Kang, PhD
Postdoctoral Scholar