Pride Month
Tuesday, June 28, 2022
Queer Futurism in STEM
We've come a long way in ensuring rights for the queer community, but so much can still be done to build a better future for LGBTQ+ professionals in the fields of science, math, engineering, and medicine (STEM). How can we empower individuals and organizations to reach beyond what has been accomplished and seek true equity for queer and trans people in the sciences?
Join this webinar to hear from LGBTQ+ STEM professionals as they discuss issues affecting the queer community in the sciences, ways we can transform how science is practiced, and their hopes for the future.
Devin L. Horton, PhD, Graduate Diversity Officer for STEM Disciplines, UC Davis
Elle Lett, PhD, Postdoctoral Fellow, Computational Health Informatics Program, Boston Children's Hospital
Sam Long, High School Science Teacher, Denver South High School (Colorado)
Gabriela M. Zabala Alemán, Science Educator 
Moderated by Stephanie Miller, PhD, Postdoctoral Scholar, Gladstone Institutes
The event includes a panel discussion followed by a question-and-answer period. 
This event is open to the public and will be livestreamed on Facebook. We invite members of the LGBTQ+ community, allies, and friends to join.
The event organizers are committed to accessibility in compliance with the Americans with Disabilities Act. For accommodations, as well as other questions or concerns, email events@gladstone.ucsf.edu at least 10 days before the event.
About the Panelists
Out in Science is a panel discussion featuring academic leaders and STEM professionals that explores the lives and careers of LGBTQ+ scientists. Since 2014, this annual event has been organized and led by the LGBTQ+ community group at Gladstone, in collaboration with the Graduate and Postdoc Queer Alliance and the LGBT Resource Center at UC San Francisco.
Details
Dates
June 28, 2022
Time
1:00-2:30pm PDT
Location
Online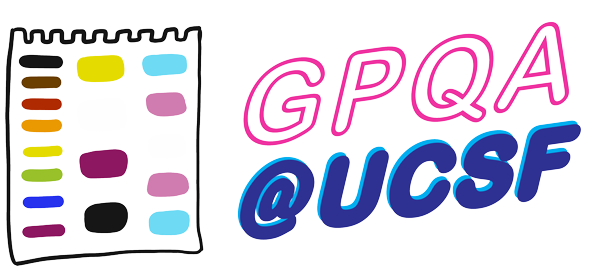 Diversity, Equity, and Inclusion
At Gladstone, we are committed to providing events and professional development activities that resonate with our community's diverse members. Our goal is to develop creative programming that encompasses a wide variety of ideas and perspectives to inspire, educate, and engage with everyone within our walls.
We want to effect positive change through our events and activities by providing a platform for discussions on important topics related to increasing diversity and inclusiveness in the sciences.