Jeanne Paz's lab aims to improve the outcome for patients with epilepsy by studying the disorder in animal models and identifying potential targets for new therapeutic interventions. A signature approach in her lab is optogenetics, which allows her team to disrupt the function of specific brain cells in live animals, with minimal side effects. Using this approach, the group identified a small brain region called the thalamus as a choke point for various forms of epilepsy—and a promising target for future therapies. Current research includes understanding how the thalamus controls seizures in distant brain regions, and how brain lesions like stroke and trauma can lead to epilepsy.
Disease Areas
Alzheimer's Disease
Autism
Dravet Syndrome
Epilepsy
Stroke
Traumatic Brain Injury
Areas of Expertise
Electroencephalography
Electrophysiology (in vitro and in vivo)
Miniature Brain Microscopes
Optogenetics
Seizure Prediction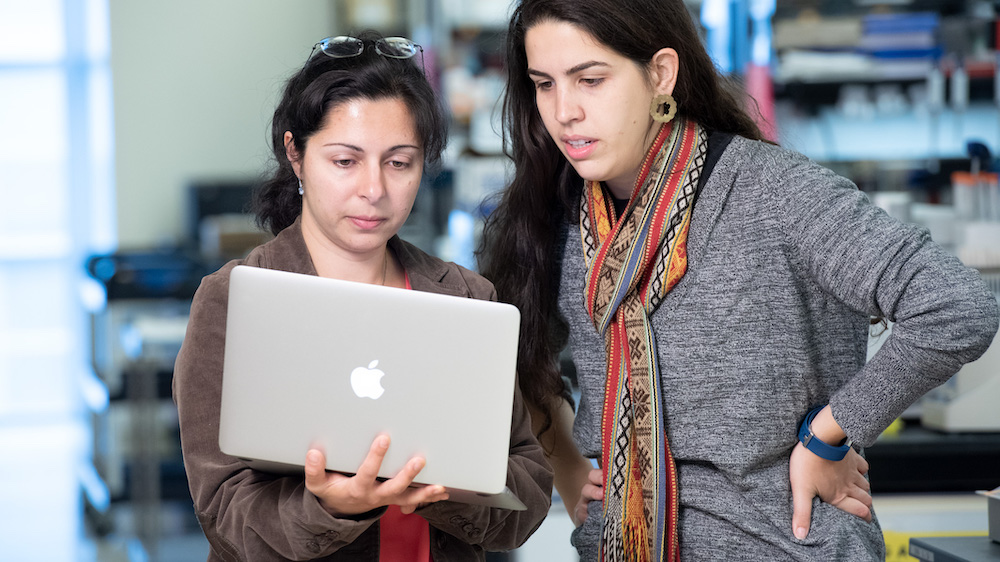 Lab Focus
Understanding how neurons synchronize their activity in normal brains, and the cause of the excessive synchrony that is the hallmark of epileptic episodes.
Understanding the anatomical and physiological changes that allow the development of epilepsy after stroke and trauma, and in neurodegenerative disease.
Identifying biomarkers of epileptogenesis as a means of anticipating or preventing epileptic episodes.
Research Impact
Paz's team showed they could stop epileptic seizures in mice in real time and with no side effects using optogenetics to control specific brain cells known as thalamocortical neurons. This work identified thalamocortical neurons as potential targets in the development of effective therapies against post-stroke seizures.
Optogenetics could also be used to identify the cells and circuits responsible for other forms of epilepsy or for neurological and cognitive disorders, leading to targeted therapeutics against these diseases as well.
Recent work by the team shows a link between chronic brain inflammation and the development of post-injury epilepsy, suggesting that certain anti-inflammatory drugs could be used in the treatment of this form of epilepsy.
Professional Titles
Associate Investigator, Gladstone Institutes
Associate Professor of Neurology, UC San Francisco
Bio
Jeanne Paz is an associate investigator at Gladstone Institutes. She is also an associate professor of neurology in the Kavli Institute for Fundamental Neuroscience at UC San Francisco.
Before joining Gladstone, Paz completed a postdoctoral fellowship at Stanford University, where she identified seizure control points in the brain. Paz earned her undergraduate and graduate degrees from Université Pierre et Marie Curie in Paris. As a graduate student, she studied the role of basal ganglia in regulating absence epilepsy and received an award for the best neuroscience PhD thesis in France.
How Did You Get Your Start in Science?
"I always wondered: if we knew how the brain works, would we be able to understand ourselves?"
Jeanne Paz, PhD
Honors and Awards
2022 Neuroscience Program Executive Committee, UCSF
2022 Diversity Champion Award, Gladstone Institutes
2021 Outstanding Mentor Award, Gladstone Institutes
2020 Co-Chair Neuroscience Formal Seminar Series Committee, UCSF
2019 Vilcek Prize for Creative Promise, Vilcek Foundation
2019 Associate Editor, Progress in Neurobiology
2017 Top reviewer 2 years in a row, Nature Publishing Group
2015 Michael Prize (Best Epilepsy Research), International League Against Epilepsy
2013 Challenge Award, Citizens United for Research in Epilepsy
2012 K99 Pathway to Independence Career Award, National Institutes of Health
2009 American Epilepsy Foundation Fellowship
2008 Best PhD in Neuroscience award in France (Prix de Thèse), French Society for Neuroscience
2007 Linus Pauling Graduate, University Pierre and Marie Curie
2005 Award for the best poster presentation in Neuroscience, 7ème Colloque de la Société des Neurosciences Française, French Society for Neuroscience
2003 Graduate Research Fellowship, French Ministry of Research and Technology
2002 Merit Scholarship, French Science Foundation, University Pierre and Marie Curie
Lab Members
Rahel Abraham
Student Intern
Isaac Chang
Graduate Student
Frances Cho
Graduate Student
Agnieszka Ciesielska, PhD
Postdoctoral Scholar
Vivianna DeNittis
Research Associate I
Jeremy Ford, PhD
Postdoctoral Scholar
Jeannie Giacchino, MD, PhD
Scientific Project Manager
Barbara Klein, PhD
Collaborator
Morgane Leroux
Graduate Student
Britta Lindquist, MD, PhD
Clinical Fellow
Alexis Lupien-Meilleur, PhD
Postdoctoral Scholar
Audrey Magsig
Graduate Student
Deanna Necula
Graduate Student
Clare Timbie, MD, PhD
Clinical Fellow
Yuliya Voskobiynyk, PhD
Postdoctoral Scholar
Zuha Warraich, PhD
Collaborator
Drew Willoughby
Graduate Student