Symposium Honoring Warner Greene
Friday, March 10, 2023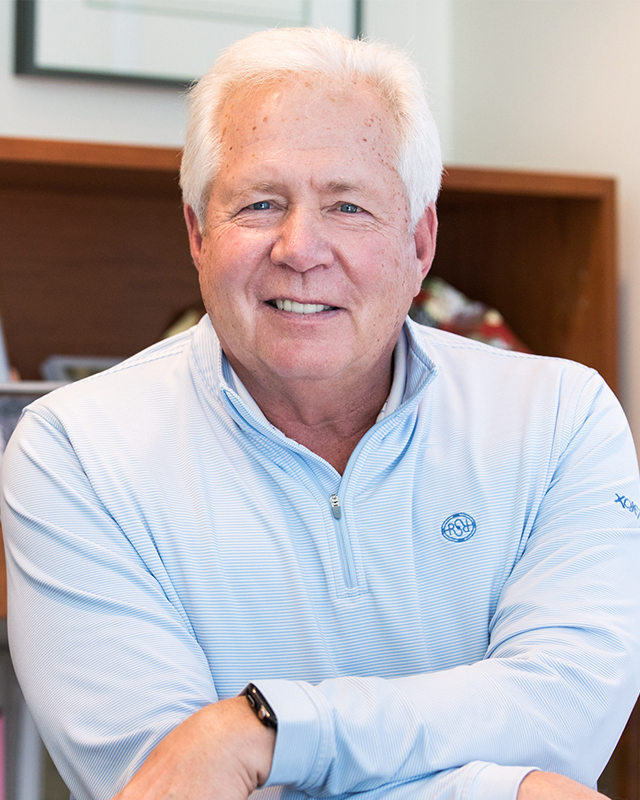 Since the AIDS crisis hit the United States in the early 1980s, Warner Greene has been dedicated to better understanding and finding a cure for this disease. After four decades of pioneering studies in HIV/AIDS research, we find ourselves closer than ever to reaching that goal.
Join Greene's colleagues and alumni as they look back on his illustrious career, and learn about the latest science in the field.
The symposium, hosted in collaboration with UCSF-Bay Area Center for AIDS Research (CFAR), will include brief scientific presentations and tributes to Greene by leaders in the fields of academia, industry, public health, and philanthropy—notably Robert Gallo, Anthony Fauci, Sue Desmond-Hellmann, and former leaders of the Accordia Global Health Foundation.
The event will also serve to recognize Michael Hulton, whose generosity allowed the establishment of the Michael Hulton Center for HIV Cure Research at Gladstone, first led by Greene and now headed by Melanie Ott.

A reception will follow from 4:15–5:30pm.
Program
9:00am
Continental Breakfast
9:15am
Opening Remarks
Deepak Srivastava, MD, President, Gladstone Institutes
9:20am
A Legacy of Excellence in Science and Leadership in the Field of HIV
Robert C. Gallo, MD, Homer and Martha Gudelsky Distinguished Professor of Medicine and Co-Founder and Director, Institute of Human Virology
9:45am
Recollections from the National Institutes of Health (via pre-recorded video)
Anthony Fauci, MD, Director Emeritus, National Institute of Allergy and Infectious Diseases; Chief, Laboratory of Immunoregulation, National Institutes of Health
10am
The Importance of Gladstone in Advancing HIV Research
Sue Desmond-Hellmann, MD, MPH, Chancellor Emeritus, UC San Francisco
10:15am
Break
10:30am
Successes as Co-Director of the UCSF-Gladstone Center for AIDS Research
Paul Volberding, MD, Professor Emeritus, School of Medicine, UC San Francisco
10:45am
Contributions to COVID as an HIV Virologist
Monica Gandhi, MD, MPH, Professor of Medicine; Director UCSF-Bay Area Center for AIDS Research; Medical Director, Zuckerberg San Francisco General Hospital HIV Clinic
11am
How to Train a Scientist for the Biopharma Industry
Romas Geleziunas, PhD, Executive Director, Biology, Gilead Sciences
11:15am
Using a "Molecular Facial Recognition" Approach to Find HIV's Hiding Place
Nadia Roan, PhD, Senior Investigator, Gladstone Institutes
11:30am
Mapping Genetic Interactions in HIV Latency Toward an ART-Free Remission
Zichong Li, PhD, Research Scientist, Gladstone Institutes
11:45am
Lunch
1pm
The Gamma-c Family of Cytokines and Receptors in Health and Disease
Warren Leonard, MD, Chief, Laboratory of Molecular Immunology; Director, Immunology Center, National Heart, Lung, and Blood Institute, NIH
1:15pm
How Old Viruses Might Tame HIV
Douglas Nixon, MD, PhD, Herbert J. and Ann L. Siegel Distinguished Professor of Medicine; Professor of Medicine in Immunology, Weill Cornell Medical College
1:30pm
Studying Viruses of Today to be Prepared for Viruses of Tomorrow
Melanie Ott, MD, PhD, Director, Gladstone Institute of Virology
1:45pm
From HIV to Chromatin and Aging: A Journey of 20 Amazing years at the Gladstone Institute of Virology
Eric Verdin, MD, CEO and President, Buck Institute for Research on Aging
2pm
Countering Pandemic Viruses Through Diverse Interferons
Mario Santiago, PhD, Associate Professor, University of Colorado Denver
2:15pm
Break
2:30pm
An Invaluable Gladstone Colleague and Leader
Robert W. Mahley MD, PhD, Senior Investigator and President Emeritus, Gladstone Institutes
2:45pm
Making a Difference in the Lives of People with HIV in Africa: Dr. Greene's Leadership of the Accordia Global Health Foundation

Robert Mallett, JD, Former President and CEO, Africare; Former CEO, Accordia Global Health Foundation; Deputy Secretary, U.S. Department of Commerce 1997–2001
Fred Port, Former Member, Board of Directors, Accordia Global Health Foundation; Chairman, Advisory Board, Court Appointed Special Advocates (CASA) of Orange County, CA
Carol Spahn, Former Executive Director, Accordia Global Health Foundation; Director, Peace Corps

3:00pm
Remarks by Current and Former Colleagues

John CW Carroll, Owner, John CW Carroll Design
Marielle Cavrois, PhD, Senior Scientist, Gilead Sciences
Robin Givens, Senior Executive Administrator, Gladstone Institutes
Mauricio Montano, Research Scientist; Director, BSL3 Facilities, Gladstone Institutes
Alison O'Mahony, PhD, Vice President, Discovery, Recursion Pharmaceuticals
Vanessa Soros, PhD, Vice President, Protein Sciences, Graphite Bio
Sam Williams, PhD, Vice President, Early Product Development, ArsenalBio

3:30pm
Remarks by Guest of Honor
Warner C. Greene, MD, PhD
3:45pm
Recognizing Michael Hulton, MD and the Michael Hulton Center for HIV Cure Research at Gladstone
Warner Greene and Melanie Ott
3:55pm
HIV Patient Care, AIDS Activism, and an Unexpected Legacy
Michael Hulton, MB.BChir.
4:05pm
Closing Remarks
Melanie Ott
4:15pm
Reception
About Warner C. Greene
Warner C. Greene, MD, PhD, joined Gladstone Institutes in 1991 as founding director of the Gladstone Institute of Virology and Immunology. In November 2022, he became the president and chief scientific officer of InvisiShield Technologies, but maintains a senior advisory role at Gladstone.
He is also a professor of medicine, and microbiology and immunology at UC San Francisco (UCSF), and served as co-director of the UCSF-Gladstone Center for AIDS Research (CFAR) from 1991 to 2019. Greene is a member of the National Academy of Medicine and is a fellow of the American Academy of Arts and Sciences. From 2007–2016, Greene served as president and executive chairman of the Accordia Global Health Foundation dedicated to overcoming the burden of infectious diseases in Africa by building centers of excellence and strengthening medical institutions.
His work in HIV/AIDS over the past 40 years has delineated the complex interplay of HIV with its cellular host, including the unexpected mechanisms by which HIV infection induces the death of CD4 T cells causing AIDS. His most recent focus has been on the latent HIV reservoir, and on a means to develop a cure for people living with HIV.
Details
Dates
March 10, 2023
Time
9:00am-5:30pm PST
Location
Mahley Auditorium & Online

Diversity, Equity, and Inclusion
At Gladstone, we are committed to providing events and professional development activities that resonate with our community's diverse members. Our goal is to develop creative programming that encompasses a wide variety of ideas and perspectives to inspire, educate, and engage with everyone within our walls.
We want to effect positive change through our events and activities by providing a platform for discussions on important topics related to increasing diversity and inclusiveness in the sciences.