Seth Shipman and his team develop innovative strategies to manipulate cells for discovery and therapeutic purposes. As a general principle, they build new technologies to intervene in human disease using molecular parts sourced from bacteria. For instance, Shipman's team developed a way to record the order in which genes turn on in a living cell by co-opting two different bacterial immune systems, the retron system and the CRISPR system. His team plans to use that technology to understand how the order of gene expression during development drives the formation of different cells types and tissues. They are also working to improve the precision of genome editing technologies that will be used to correct disease-causing mutations, by using bacterial retroelements alongside CRISPR-Cas9.
Disease Areas
Neuropsychiatric Diseases
Neurodegenerative Diseases
Mitochondrial Disorders
Cancer
Areas of Expertise
Molecular Engineering
Technology Development
Neuroscience
Aging
CRISPR and Genome Editing
Stem Cells and iPS Cells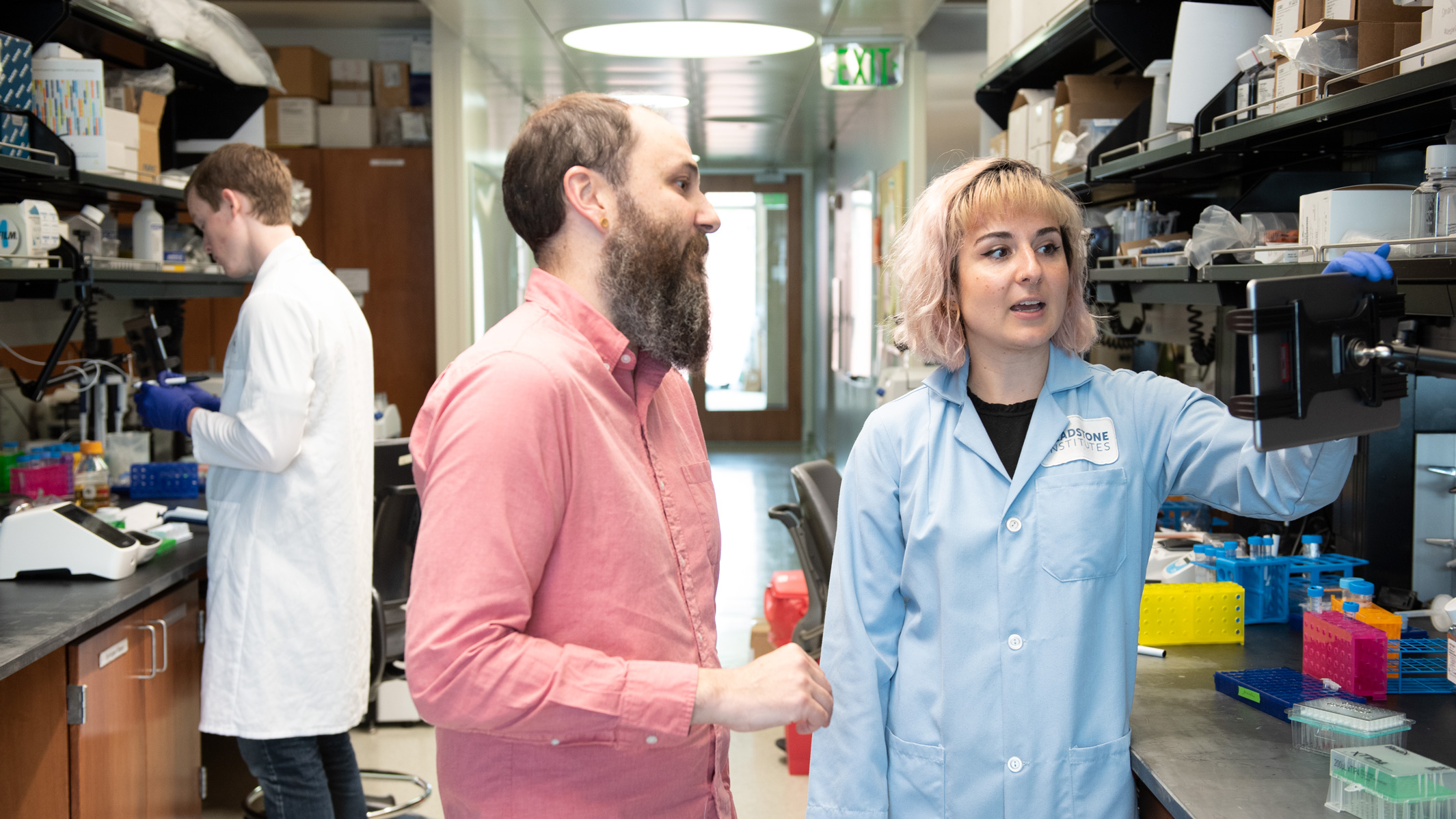 Lab Focus
Developing molecular technology to understand gene expression over time in living cells, and to overcome technical roadblocks in our understanding of development and disease
Leveraging the potential of synthetic DNA sequences to store information, rewrite the genome, and reshape the transcriptome of living cells
Developing precise genome editing technologies for molecular medicine and fundamental discovery of disease mechanisms
Research Impact
The philosophy driving Shipman's research is to identify a technical limitation in a given field and tackle it with innovative approaches borrowing from diverse fields, such as bioengineering, genetics, systems and synthetic biology, neuroscience, microbiology, and chemical biology. With this mindset, Shipman addresses the fundamental question of the relative timing of gene expression with a technology that logs a record of sequential events in the DNA of living cells. The lab also harnesses molecular components from bacterial immune systems to make precise modifications to the human genome.
Professional Titles
Associate Investigator
Associate Investigator, Gladstone Institutes
Associate Professor, Department of Bioengineering and Therapeutic Sciences, UC San Francisco
Bio
Seth Shipman is an associate investigator at Gladstone Institutes. He is also an assistant professor in the Department of Bioengineering and Therapeutic Sciences at UC San Francisco, as well as a CZ Biohub Investigator.
Shipman holds a BA in Neuroscience from Wesleyan University and a PhD in Neuroscience from UC San Francisco, where he worked with Roger Nicoll to understand the molecular events that drive formation of synapses in the brain. His graduate work uncovered how a family of adhesion molecules called neuroligins can influence both synaptogenesis and plasticity. He conducted postdoctoral research in genetics, synthetic biology and stem cell biology at Harvard Medical School and Harvard University with George Church and Jeffrey Macklis, where he developed an approach to store information into the genomic DNA of living cells. This work was featured in The New York Times, The Atlantic, and elsewhere and was named as one of Discover Magazine's top 25 stories of the year.
Why Gladstone?
"I came to Gladstone to tackle the biggest questions about human disease, but with the freedom to use innovative approaches and follow the science wherever it takes me."
Seth Shipman, PhD
Honors and Awards
2022 CZ Biohub Investigator
2020 NIH New Innovator
2020 Pew Biomedical Scholar
2019 ScienceNews: The SN 10, Scientists to Watch
2019 SFARI Bridge to Independence Award
2018 DARPA Riser, DARPA 60th Anniversary Symposium
2014 Life Science Research Foundation Postdoctoral Award
2011 Grass Fellowship in Neuroscience (declined), Grass Foundation
Lab Members
Sue Cammack
Senior Administrative Specialist
Kate Crawford, c
Graduate Student
Rebecca Fang
Graduate Student
Chloe Fishman
Research Associate I
Alejandro Gonzalez Delgado, PhD
Postdoctoral Scholar
Asim Khan
Research Associate I
Sierra Lear
Graduate Student
Santiago Lopez
Graduate Student
Santiago Lopez
Rotation Student
Kazuo Nakamura
Student Intern
Kelechi Onwuzurike
Student Intern
Christina Palka, PhD
Collaborator
Darshini Poola
Graduate Student
Alfonso Rojas Montero, c
Research Associate I
Linhan Wang, PhD
Postdoctoral Scholar
Karen Zhang
Graduate Student