The President's Council is a dedicated community of Gladstone's most loyal supporters and provides critical funding to support strategic priorities in the areas of greatest need.
Support the areas of most critical need
High-risk, high-reward research
Postdoctoral training
Cutting-edge tools and technologies
Translational programs to move from discovery to new therapies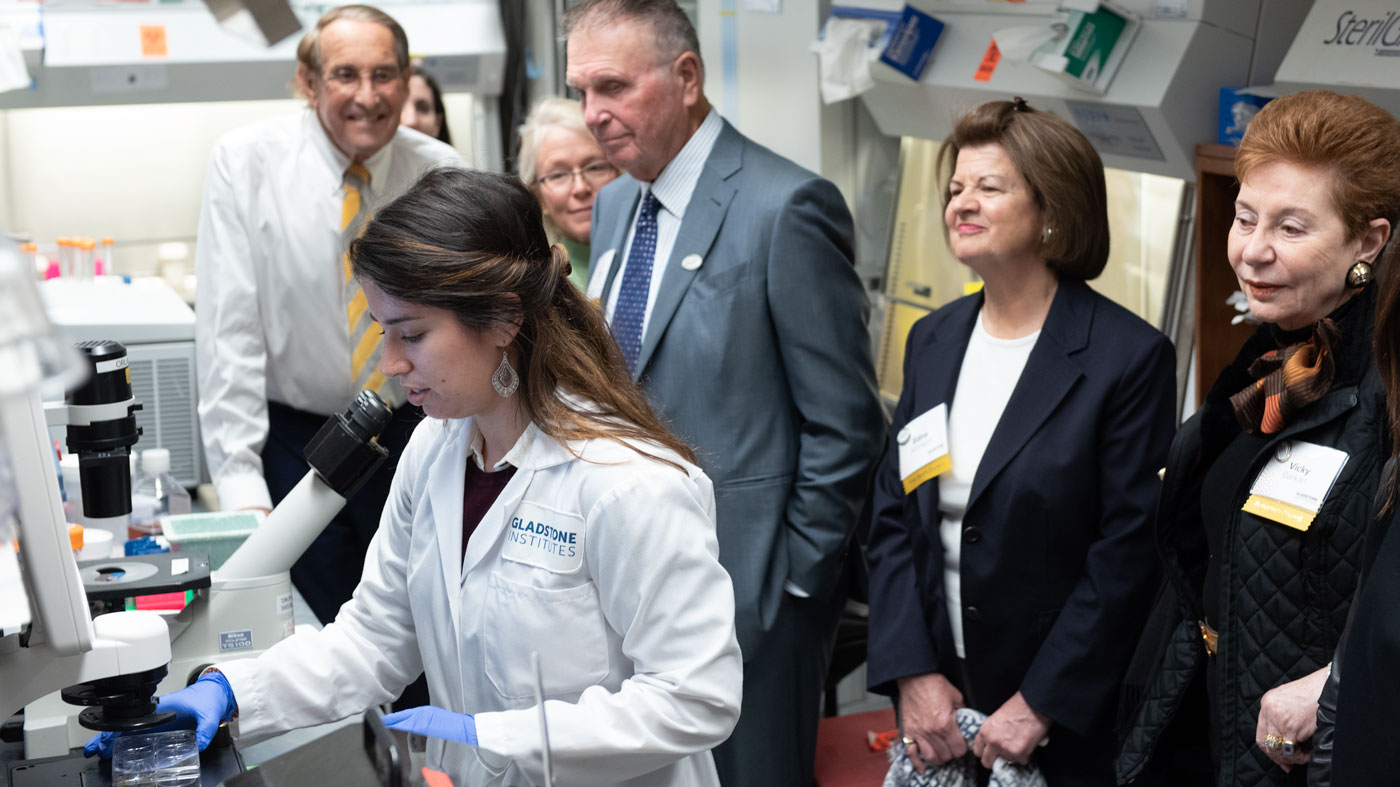 The President's Council provides members with a front-row seat to visionary biomedical research and discovery. Members will also receive a behind-the-scenes look at cutting-edge biomedical research through exclusive events, lab tours, and communications.
President's Council Symposium
Twice a year, the President's Council hosts a symposium to showcase pioneering science and global thought leaders at Gladstone.
How can you join?
A gift of $2,500 to the President's Fund will qualify you for membership in the President's Council. Please contact Sarah Dale to learn more.
Make Your Gift Online
PRESIDENT'S COUNCIL CO-CHAIRS
PRESIDENT'S COUNCIL
Judy Ackerhalt
Julie and Charles Atkins
Monica Bancroft
Rita Foegal Bell
Lynne and Marc Benioff
Pat and Ed Berkowitz
Betty Brown Family
Jennifer Caldwell and John Fisher
Joan Walkup Corrigan
Peggy Crawford, MD and Bruce Scharschmidt, MD
Lucinda and Charles Crocker
Ray and Dagmar Dolby Family
The Albert and Joan Dorman Family Foundation
William Draper III
Sheila Duignan and Michael Wilkins
Barbara Edwards
Melinda Ellis Evers
Christina Falco and Michael Frumkin
Sakurako and William Fisher
Patricia Fitzpatrick
Stuart Gordon
Grace Science Foundation
Shand and William Green
Kaatri and Douglas Grigg
Gay and Wyman Harris
The Henderson Family
Henry Hsu, MD
Michael Hulton, MD
Anne and Edward Jamieson
The Jolson Family
Carol Kaganov
Katie and Michael Keller
Elizabeth and Teke Kelley
Mary Kenzie
Carol Kirsh and Thomas Gottlieb
Sheila and Thomas Larsen
Toby and Jerry Levine
Gail Maderis
Linda and Robert Mahley, MD, PhD
Scott Mathews
Bonnie and Tom McCloskey
Hiroshi Mikitani
Eve Niquette and Charles Pohl
The Betty and Hiro Ogawa Family
Jody Parker
Katheryn Patterson and Thomas Kempner, Jr.
Roslyn and Lisle Payne
Gale Plane
Gwen and Tom Price
Matthew Raggio
Kimberly and Stephen Richardson
Sally and Robert Roe, MD
John Sanger, JD
Deborah and J. Michael Shepherd
Merrill Randol
Sherwin and Stephen Sherwin, MD
Marcia and Edwin Shonfeld, MD
Margaret Smith
Karen Smith-McCune, MD, PhD and Mike McCune, MD, PhD
Renee and Ralph Snyderman, MD
Dianne and Bruce Spaulding
Dianne and Tad Taube
Carry and John Thacher
Margaret and Michael Torpey
Joan and David Traitel
Pauline and Thomas Tusher
Daniel Ullyot, MD
Lois and Robert Van Buskirk
Lisa Walsh
Jennifer Williams
Lisa and Ted Williams
Kristen and Matt Wilsey
Sharon Winslow
Teresa Wright, MD
Anne Zucchi