Sheng Ding's lab seeks to discover and characterize small molecules that control cell fate and function in vitro and endogenously in vivo. They investigate the mechanisms by which stem cells are maintained, and the signals that are required to direct stem cells to transform (or differentiate) into specific cell types, such as neurons. In addition, they perform screens to identify synthetic chemicals that can modulate those natural processes and guide stem cell differentiation in a dish. Ding's team was the first to identify synthetic small molecules that can control cell fate, including stem cell self-renewal, differentiation, lineage-specific reprogramming, and developmental and disease pathways.
Disease Areas
Alzheimer's Disease
Cancer
Cardiovascular Disease
Congenital Heart Disease
Huntington's Disease
Immune Diseases
Metabolic Disorders
Parkinson's Disease
Areas of Expertise
Chemical Biology
Disease Models
Drug Discovery
Stem Cells and iPS Cells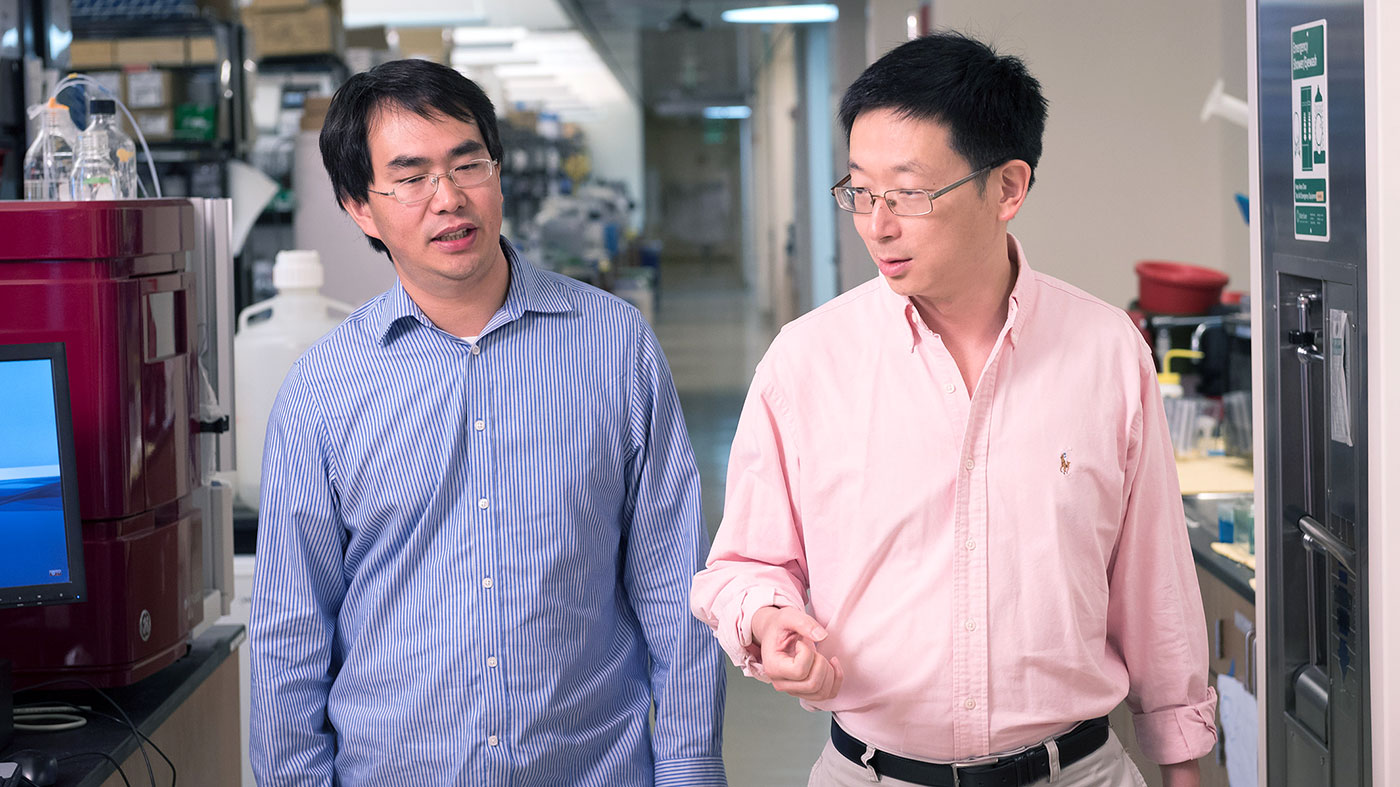 Lab Focus
Understanding self-renewal regulation of embryonic and adult stem cells and the differentiation of embryonic stem cells toward different lineages.
Investigating developmental signaling pathways and epigenetic mechanisms, such as histone and DNA demethylation.
Developing new technologies for drug discovery.
Research Impact
By investigating the molecular mechanisms that maintain stem cells and direct their differentiation, Ding and his team hope to facilitate therapeutic applications of stem cells and the development of small-molecule drugs. Their advances could lead to therapeutics that stimulate the body's own regenerative capabilities by promoting the survival, migration, proliferation, differentiation, and reprogramming of endogenous stem and progenitor cells or more differentiated cells.
Professional Titles
Senior Investigator, Gladstone Institute of Cardiovascular Disease
William K. Bowes, Jr. Distinguished Investigator, Gladstone Institutes
Professor, Department of Pharmaceutical Chemistry, UC San Francisco
Institute Director, Global Health Drug Discovery Institute
Dean, School of Pharmaceutical Sciences, Tsinghua University
Bio
Sheng Ding, PhD, is the William K. Bowes, Jr. Distinguished Investigator and a senior investigator at Gladstone Institutes. He is also professor of pharmaceutical chemistry at UC San Francisco, dean of the School of Pharmaceutical Sciences at Tsinghua University, and institute director, Global Health Drug Discovery Institute in Beijing, China.
Ding earned a bachelor's degree in chemistry with honors from the California Institute of Technology, working with Robert H. Grubbs. He then earned a PhD in chemistry from the Scripps Research Institute, working with Peter G. Schultz. In 2003, Ding was named assistant professor of chemistry at the Scripps Research Institute. He is a member of several professional groups, including the American Chemical Society, the American Society for Cell Biology, and the International Society for Stem Cell Research.
How Did You Get Your Start in Science?
"Pursuit of science is simply fun."
Sheng Ding, PhD
Honors and Awards
2012 San Francisco Business Times 40 Under 40
2010 100 Most Inspiring People in the Life-Science Industry, PharmaVoice
2010 NIH Transformative RO1
2009 #1 of Top 10 Innovations and Top 5 People in 2009, The Scientist
2008 New Faculty Award, California Institute for Regenerative Medicine
2008 Prostate Cancer Foundation Challenge Award