Sheng Ding's lab seeks to discover and characterize small molecules that control cell fate and function in vitro and endogenously in vivo. They investigate the mechanisms by which stem cells are maintained, and the signals that are required to direct stem cells to transform (or differentiate) into specific cell types, such as neurons. In addition, they perform screens to identify synthetic chemicals that can modulate those natural processes and guide stem cell differentiation in a dish. Ding's team was the first to identify synthetic small molecules that can control cell fate, including stem cell self-renewal, differentiation, lineage-specific reprogramming, and developmental and disease pathways.
Disease Areas
Alzheimer's Disease
Cancer
Cardiovascular Disease
Congenital Heart Disease
Huntington's Disease
Immune Diseases
Metabolic Disorders
Parkinson's Disease
Areas of Expertise
Chemical Biology
Disease Models
Drug Discovery
Stem Cells and iPS Cells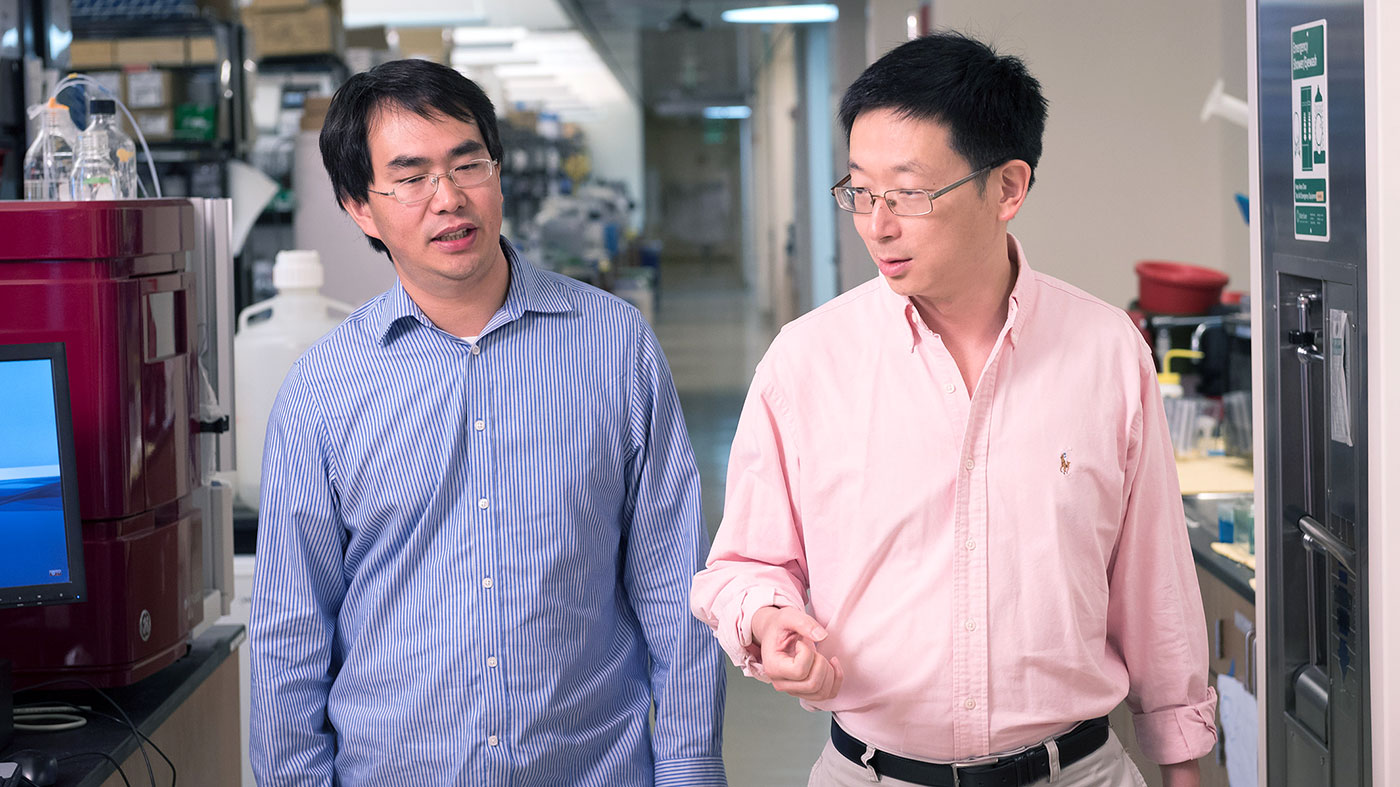 Lab Focus
Understanding self-renewal regulation of embryonic and adult stem cells and the differentiation of embryonic stem cells toward different lineages.
Investigating developmental signaling pathways and epigenetic mechanisms, such as histone and DNA demethylation.
Developing new technologies for drug discovery.
Research Impact
By investigating the molecular mechanisms that maintain stem cells and direct their differentiation, Ding and his team hope to facilitate therapeutic applications of stem cells and the development of small-molecule drugs. Their advances could lead to therapeutics that stimulate the body's own regenerative capabilities by promoting the survival, migration, proliferation, differentiation, and reprogramming of endogenous stem and progenitor cells or more differentiated cells.
Professional Titles
Senior Investigator, Gladstone Institutes
William K. Bowes, Jr. Distinguished Investigator, Gladstone Institutes
Professor of Pharmaceutical Chemistry, UC San Francisco
Dean, School of Pharmaceutical Sciences, Tsinghua University
Institute Director, Global Health Drug Discovery Institute
Bio
Sheng Ding, PhD, is the William K. Bowes, Jr. Distinguished Investigator and a senior investigator at Gladstone Institutes. He is also professor of pharmaceutical chemistry at UC San Francisco, dean of the School of Pharmaceutical Sciences at Tsinghua University, and institute director, Global Health Drug Discovery Institute in Beijing, China.
Ding earned a bachelor's degree in chemistry with honors from the California Institute of Technology, working with Robert H. Grubbs. He then earned a PhD in chemistry from the Scripps Research Institute, working with Peter G. Schultz. In 2003, Ding was named assistant professor of chemistry at the Scripps Research Institute. He is a member of several professional groups, including the American Chemical Society, the American Society for Cell Biology, and the International Society for Stem Cell Research.
How Did You Get Your Start in Science?
"Pursuit of science is simply fun."
Sheng Ding, PhD
Honors and Awards
2012 San Francisco Business Times 40 Under 40
2010 100 Most Inspiring People in the Life-Science Industry, PharmaVoice
2010 NIH Transformative RO1
2009 #1 of Top 10 Innovations and Top 5 People in 2009, The Scientist
2008 New Faculty Award, California Institute for Regenerative Medicine
2008 Prostate Cancer Foundation Challenge Award
Publications
A DNA repair pathway can regulate transcriptional noise to promote cell fate transitions. Desai RV, Chen X, Martin B, Chaturvedi S, Hwang DW, Li W, Yu C, Ding S, Thomson M, Singer RH, Coleman RA, Hansen MMK, Weinberger LS. Science. 2021 08 20; 373(6557).
Scientific considerations for global drug development. Wilson JL, Cheung KWK, Lin L, Green EAE, Porrás AI, Zou L, Mukanga D, Akpa PA, Darko DM, Yuan R, Ding S, Johnson WCN, Lee HA, Cooke E, Peck CC, Kern SE, Hartman D, Hayashi Y, Marks PW, Altman RB, Lumpkin MM, Giacomini KM, Blaschke TF. Sci Transl Med. 2020 07 29; 12(554).
Spontaneous and specific chemical cross-linking in live cells to capture and identify protein interactions. Yang B, Tang S, Ma C, Li ST, Shao GC, Dang B, DeGrado WF, Dong MQ, Wang PG, Ding S, Wang L. Nat Commun. 2017 12 21; 8(1):2240.
Scalable Production of iPSC-Derived Human Neurons to Identify Tau-Lowering Compounds by High-Content Screening. Wang C, Ward ME, Chen R, Liu K, Tracy TE, Chen X, Xie M, Sohn PD, Ludwig C, Meyer-Franke A, Karch CM, Ding S, Gan L. Stem Cell Reports. 2017 10 10; 9(4):1221-1233.
Brown Adipogenic Reprogramming Induced by a Small Molecule. Nie B, Nie T, Hui X, Gu P, Mao L, Li K, Yuan R, Zheng J, Wang H, Li K, Tang S, Zhang Y, Xu T, Xu A, Wu D, Ding S. Cell Rep. 2017 01 17; 18(3):624-635.
Chemical Enhancement of In Vitro and In Vivo Direct Cardiac Reprogramming. Mohamed TM, Stone NR, Berry EC, Radzinsky E, Huang Y, Pratt K, Ang YS, Yu P, Wang H, Tang S, Magnitsky S, Ding S, Ivey KN, Srivastava D. Circulation. 2017 Mar 07; 135(10):978-995.
Chemical Modulation of Cell Fate in Stem Cell Therapeutics and Regenerative Medicine. Liu K, Yu C, Xie M, Li K, Ding S. Cell Chem Biol. 2016 Aug 18; 23(8):893-916.
Conversion of human fibroblasts into functional cardiomyocytes by small molecules. Cao N, Huang Y, Zheng J, Spencer CI, Zhang Y, Fu JD, Nie B, Xie M, Zhang M, Wang H, Ma T, Xu T, Shi G, Srivastava D, Ding S. Science. 2016 Jun 03; 352(6290):1216-20.
Pharmacological Reprogramming of Fibroblasts into Neural Stem Cells by Signaling-Directed Transcriptional Activation. Zhang M, Lin YH, Sun YJ, Zhu S, Zheng J, Liu K, Cao N, Li K, Huang Y, Ding S. Cell Stem Cell. 2016 05 05; 18(5):653-67.
Expandable Cardiovascular Progenitor Cells Reprogrammed from Fibroblasts. Zhang Y, Cao N, Huang Y, Spencer CI, Fu JD, Yu C, Liu K, Nie B, Xu T, Li K, Xu S, Bruneau BG, Srivastava D, Ding S. Cell Stem Cell. 2016 Mar 03; 18(3):368-81.
Human pancreatic beta-like cells converted from fibroblasts. Zhu S, Russ HA, Wang X, Zhang M, Ma T, Xu T, Tang S, Hebrok M, Ding S. Nat Commun. 2016 Jan 06; 7:10080.
Abstract 11415: Enhancing Direct Cardiac Reprogramming Efficiency Using Small Molecules. Tamer M Mohamed, Nicole Stone, Emily Berry, Haixia Wang, Sheng Ding, Deepak Srivastava. Circulation. 2015 Nov 10; 132(suppl_3).
458. Sensitizing Ovarian Cancer Cells To Chemotherapy By Interfering With Pathways That Are Involved in the Formation and Maintenance of Cancer Stem Cells. Kamola Saydaminova, Robert Strauss, Min Xie, Charles Dreshner, Sheng Ding, Andre Lieber. Molecular Therapy. 2015 May 1; 23:s182.
Chapter 4 Chemical Approaches to Controlling Cell Fate. Mingliang Zhang, Ke Li, Min Xie, Sheng Ding. Principles of Developmental Genetics. 2015 Jan 1; (Cell Stem Cell462009):59-76.
Chemical approaches to cell reprogramming. Yu C, Liu K, Tang S, Ding S. Curr Opin Genet Dev. 2014 Oct; 28:50-56.
Small molecules facilitate the reprogramming of mouse fibroblasts into pancreatic lineages. Li K, Zhu S, Russ HA, Xu S, Xu T, Zhang Y, Ma T, Hebrok M, Ding S. Cell Stem Cell. 2014 Feb 06; 14(2):228-36.
Small molecules enable OCT4-mediated direct reprogramming into expandable human neural stem cells. Zhu S, Ambasudhan R, Sun W, Kim HJ, Talantova M, Wang X, Zhang M, Zhang Y, Laurent T, Parker J, Kim HS, Zaremba JD, Saleem S, Sanz-Blasco S, Masliah E, McKercher SR, Cho YS, Lipton SA, Kim J, Ding S. Cell Res. 2014 Jan; 24(1):126-9.
Dual-color HIV reporters trace a population of latently infected cells and enable their purification. Calvanese V, Chavez L, Laurent T, Ding S, Verdin E. Virology. 2013 Nov; 446(1-2):283-92.
Direct reprogramming of human fibroblasts toward a cardiomyocyte-like state. Fu JD, Stone NR, Liu L, Spencer CI, Qian L, Hayashi Y, Delgado-Olguin P, Ding S, Bruneau BG, Srivastava D. Stem Cell Reports. 2013; 1(3):235-47.
Toward directed reprogramming through exogenous factors. Lin C, Yu C, Ding S. Curr Opin Genet Dev. 2013 Oct; 23(5):519-25.
Concise review: chemical approaches for modulating lineage-specific stem cells and progenitors. Xu T, Zhang M, Laurent T, Xie M, Ding S. Stem Cells Transl Med. 2013 May; 2(5):355-61.
Conversion of human fibroblasts to functional endothelial cells by defined factors. Li J, Huang NF, Zou J, Laurent TJ, Lee JC, Okogbaa J, Cooke JP, Ding S. Arterioscler Thromb Vasc Biol. 2013 Jun; 33(6):1366-75.
Progress in the reprogramming of somatic cells. Ma T, Xie M, Laurent T, Ding S. Circ Res. 2013 Feb 01; 112(3):562-74.
Small molecules, big roles -- the chemical manipulation of stem cell fate and somatic cell reprogramming. Zhang Y, Li W, Laurent T, Ding S. J Cell Sci. 2012 Dec 01; 125(Pt 23):5609-20.
Cellular reprogramming: a small molecule perspective. Nie B, Wang H, Laurent T, Ding S. Curr Opin Cell Biol. 2012 Dec; 24(6):784-92.
Target practice: modeling tumors with stem cells. Liu K, Ding S. Cell. 2012 Jun 08; 149(6):1185-7.
Ursolic acid suppresses interleukin-17 (IL-17) production by selectively antagonizing the function of RORgamma t protein. Xu T, Wang X, Zhong B, Nurieva RI, Ding S, Dong C. J Biol Chem. 2011 Jul 01; 286(26):22707-10.
Small Molecules in Cellular Reprogramming and Differentiation. Xu Yuan, Wenlin Li, Sheng Ding. Epigenetics and Disease. 2011 Jan 1; 253-266.
Generation of Induced Pluripotent Stem Cells Using Recombinant Proteins. Hongyan Zhou, Shili Wu, Jin Young Joo, Saiyong Zhu, Dong Wook Han, Tongxiang Lin, Sunia Trauger, Geoffery Bien, Susan Yao, Yong Zhu, Gary Siuzdak, Hans R. Schöler, Lingxun Duan, Sheng Ding. Cell Stem Cell. 2009 Jun 1; 4(6):581.
Generation of Rat and Human Induced Pluripotent Stem Cells by Combining Genetic Reprogramming and Chemical Inhibitors. Wenlin Li, Wei Wei, Saiyong Zhu, Jinliang Zhu, Yan Shi, Tongxiang Lin, Ergeng Hao, Alberto Hayek, Hongkui Deng, Sheng Ding. Cell Stem Cell. 2009 Apr 1; 4(4):370.
A chemical approach to stem cell biology. Sheng Ding. Cell Research. 2008 Aug 1; 18(Suppl 1):s5-s5.
A Combined Chemical and Genetic Approach for the Generation of Induced Pluripotent Stem Cells. Yan Shi, Jeong Tae, Caroline Desponts, Heung Sik Hahm, Hans R. Schöler, Sheng Ding. Cell Stem Cell. 2008 Jul 1; 3(1):119.
Stem Cell Fates: Control by Small Molecules. Simon Hilcove, Yue Xu, Sheng Ding. Wiley Encyclopedia of Chemical Biology. 2008 May 15; 1-8.
Exploring Stem Cell Biology with Small Molecules and Functional Genomics. Julie Clark, Yue Xu, Simon Hilcove, Sheng Ding. Chemical and Functional Genomic Approaches to Stem Cell Biology and Regenerative Medicine. 2008 Apr 11; 187-206.
2 TARGET VALIDATION IN CHEMOGENOMICS. TOM Y-H. WU, SHENG DING. Target Validation in Drug Discovery. 2007 Jan 1; (Nat. Biotechnol.202002):27-39.
GSK-3 and Stem Cells. Shuibing Chen, Sheng Ding. Glycogen Synthase Kinase 3 (GSK-3) and Its Inhibitors. 2006 Oct 23; 155-171.
A Synthetic Small Molecule That Induces Neuronal Differentiation of Adult Hippocampal Neural Progenitor Cells. Masaki Warashina, Kyung Hoon Min, Tomoko Kuwabara, Alexis Huynh, Fred H. Gage, Peter G. Schultz, Sheng Ding. Angewandte Chemie. 2006 Jan 16; 118(4):605-607.
A Small-Molecule Agonist of the Wnt Signaling Pathway. Jun Liu, Xu Wu, Brian Mitchell, Chris Kintner, Sheng Ding, Peter G. Schultz. Angewandte Chemie. 2005 Mar 18; 117(13):2023-2026.
One-Pot Two-Step Microwave-Assisted Reaction in Constructing 4,5-Disubstituted Pyrazolopyrimidines. Tom Y. H. Wu, Peter G. Schultz, Sheng Ding. ChemInform. 2004 Feb 3; 35(5).
ChemInform Abstract: Expanding the Diversity of Purine Libraries. Sheng Ding, Nathanael S. Gray, Qiang Ding, Peter G. Schultz. ChemInform. 2002 Mar 12; 33(10):no-no.
Expanding the diversity of purine libraries. Sheng Ding, Nathanael S Gray, Qiang Ding, Peter G Schultz. Tetrahedron Letters. 2001 Dec 1; 42(50):8751-8755.
Prediction of retention indexes. II. Structure-retention index relationship on polar columns. Peng CT, Yang ZC, Ding SF. J Chromatogr. 1991 Nov 08; 586(1):85-112.
Prediction of retention indexes. I. Structure-retention index relationship on apolar columns. Peng CT, Ding SF, Hua RL, Yang ZC. J Chromatogr. 1988 Feb 05; 436(2):137-72.