The Center for iPS Cell Research and Application (CiRA) at Kyoto University opened a new on-site laboratory at Gladstone Institutes. During a special ceremony, Gladstone President Deepak Srivastava, MD, and Shinya Yamanaka, MD, PhD, director of CiRA, signed the agreement for the new lab, which will expand the study of induced pluripotent stem cells (iPS cells).
Yamanaka, who discovered iPS cells, is also a senior investigator at Gladstone. He has been running a research lab at Gladstone since 2007. This latest agreement will broaden the scientific collaboration between Gladstone and CiRA.
"The main purpose of Kyoto University's On-site Laboratory initiative is to enhance our research collaborations, continue to develop world-leading, cutting-edge research, and to expand our areas of academic research," said Toru Kawamura, PhD, head of the director's office at CiRA, during the signing ceremony.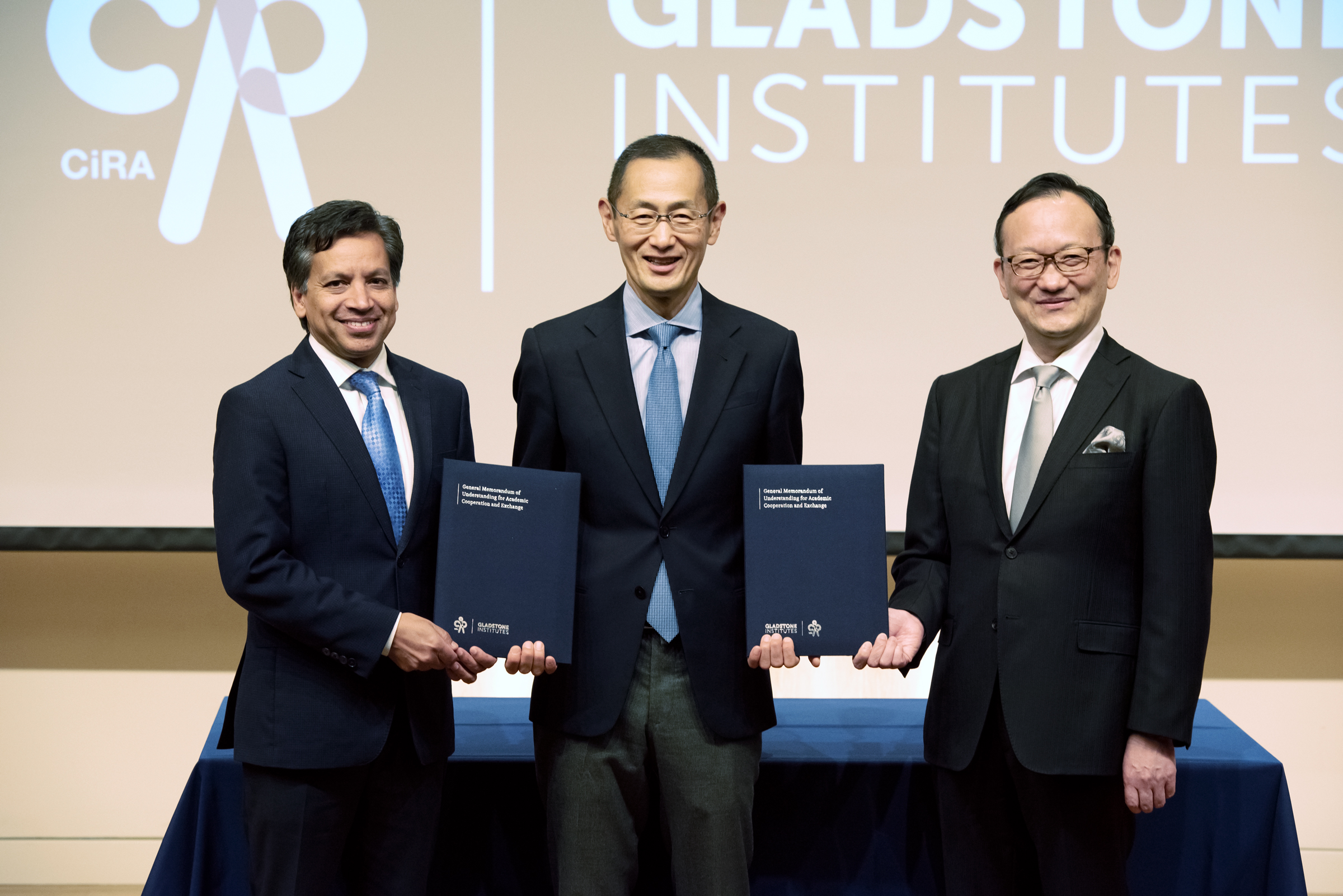 Kyoto University launched the initiative last year, and Gladstone is now one of their 11 on-site laboratories. On-site laboratories are locally managed in conjunction with an international university or research partner. Kyoto University's On-site Labs range in disciplines from chemistry to cognitive science.
Kyoto University's initiative also aims to foster talented early-career researchers and students by providing high-quality international education. This goal holds particular significance to Kawamura and Yamanaka, who both completed their postdoctoral training at Gladstone.
"We are very excited to expand our partnership with CiRA," said Srivastava. "The goals of Kyoto University's On-site Laboratory initiative align perfectly with Gladstone's mission of driving a new era of discovery and mentoring tomorrow's leaders."
The goal of the new on-site laboratory, named "iPS Cell Research Center at Gladstone Institutes", is to create disruptive, borderless innovation through advanced research on iPS cells. A staff research investigator will be hired to conduct research full-time at the On-site Laboratory.
"I believe this wonderful partnership will contribute to the development of world-leading research, not only in the stem cell field, but also in the other fields that are being studied at Gladstone," said Yamanaka.
Support Discovery Science
Your gift to Gladstone will allow our researchers to pursue high-quality science, focus on disease, and train the next generation of scientific thought leaders.