At Gladstone, improving diversity in science is a key priority. One way to achieve this objective is by supporting and engaging with programs that encourage minority students to enter science at the earliest stage, like the University of California at Davis' (UC Davis) UC-Historically Black Colleges and Universities Initiative (UC-HBCU).
African Americans make up only 2.7% of students who enrolled in UC academic doctoral programs between 2009 and 2013. The UC-HBCU seeks to improve those statistics by exposing undergraduate students to life in the laboratory.
"Our approach to outreach is to do everything we can to support initiatives such as this one," said Dr. Michael Penn, vice president of diversity, outreach, and mentoring at Gladstone. "Diversity brings together different perspectives and approaches to help advance science in unique and exciting directions."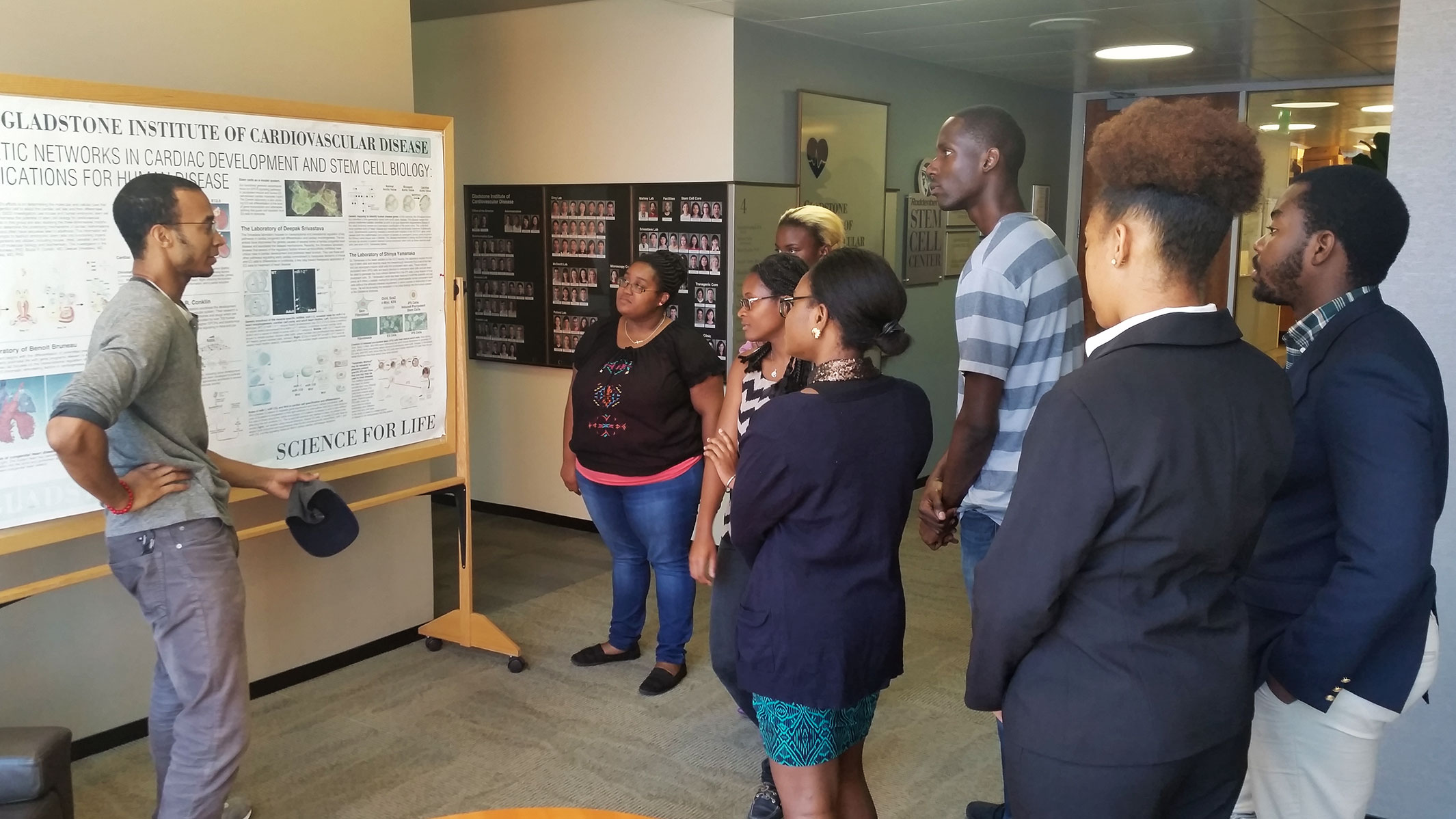 Elijah Martin gives an overview to the participants of the UC-HBCU summer research program.
Gladstone recently hosted seven undergraduate students from Howard University and the University of Maryland Eastern Shore who were participating in a UC-HBCU summer research program at UC Davis. At the event, Elijah Martin, a graduate student in the Srivastava lab, gave the students a tour of the stem cell core, where they watched heart cells beat through a microscope. After the tour, Dr. Penn gave them an overview of higher education and careers in science. He offered guidance and perspective from his own experiences in overcoming challenges as an under-represented student in the sciences.
This effort echoes the other work of Gladstone's Outreach team to support high school students in San Francisco and teach them about scientific research and careers. Since 2005, Gladstone has hosted more than 6000 students as part of the National Student Leadership Council program, and it has awarded 215 scholarships to sponsor underprivileged students interested in this program. Gladstone also supports summer interns who work in research labs at Gladstone as part of its Gladstone Summer Scholars and Promoting Under-represented Minorities Advancing in the Sciences programs.
"These programs are extremely rewarding for the many scientists who participate," said Shannon Noonan, education and community partnerships manager at Gladstone. "But they are life-changing for the students. Many have never had the opportunity to even think about becoming a scientist, and now they can."