With the opening of the Thermo Fisher Scientific Proteomics Facility for Disease Target Discovery, the Gladstone Institutes has taken a major step forward in accelerating protein research. Its new state-of-the-art Thermo Fisher mass spectrometer will enable scientists to gain unprecedented knowledge about the interaction between genes and the proteins they produce and, by extension, to shed light on the underlying biology of disease. To-date, this type of facility only exists at Harvard University, positioning Gladstone as the preeminent protein research facility on the west coast.
The new Thermo Fisher facility brings together Gladstone scientists from all three Institutes in one place to study a host of different diseases. "Before, our research efforts were scattered across labs and buildings," says Nevan Krogan, PhD, a senior investigator at Gladstone who heads the facility. Dr. Krogan is also a professor of cellular and molecular pharmacology at the University of California, San Francisco (UCSF) and director of the UCSF branch of life science research institute QB3. "Now we're concentrating proteomic research in one location to facilitate a more efficient and collaborative environment. Our hope is that this facility will generate more creative solutions to unanswered biomedical problems." Scientists from UCSF, QB3, UC Berkeley, Stanford University, and other neighboring institutions will also be able to make use of the facility.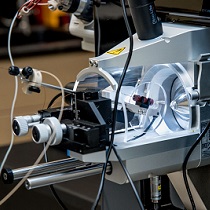 Mass spectrometry provides an in-depth analysis of the interaction between genes and the proteins they produce. [Photo: Chris Goodfellow]
An important tool for researchers, a mass spectrometer is like a giant scale for tiny molecules, weighing tens of thousands of different proteins and particles and categorizing them accordingly. This allows scientists to determine the composition of any given sample and measure how many of a certain type of molecule are present. With mass spectrometry, researchers can also test how chemical manipulations change the make-up of proteins and map protein-protein interactions.
This last capability is particularly useful to scientists. Creating maps of the protein interactions between host cells and viral invaders like HIV, hepatitis C, and herpesvirus has helped researchers identify new drug targets that may be able to stop these viruses. "Knowing where a virus interacts with a cell—the proteins where the two entities come into contact—provides insight into the critical cellular mechanisms that are being hijacked during infection," explains Dr. Krogan. "This knowledge is vital in the development of new strategies to prevent or stem disease."
Mass spectrometry also helps facilitate research into genetic disorders such as cardiovascular disease, Alzheimer's disease, Parkinson's disease, and various kinds of cancer. For example, analyzing heart cells made from the stem cells of patients with cardiovascular disease has allowed Gladstone scientists to explore how certain genetic mutations change the role of essential proteins and cause dysfunction. Identifying these harmful changes can help researchers produce new drugs to correct them.
"Gladstone, UCSF, QB3, and Dr. Krogan's lab have been doing exceptional work in the area of genetic and protein mapping in order to gain insight into disease pathways and mutations," said Ken Miller, vice president of research product marketing at Thermo Fisher. "Through our collaboration, the new facility will enable researchers to further accelerate the work being done in this critical area of research. We look forward to building on this collaboration and seeing the promising discoveries to come."