The interface between brain and blood, known as the blood-brain barrier, is more than its name suggests. It's a boundary teeming with activity as proteins and immune cells pass to and from the brain. The blood-brain barrier itself houses a diverse community of cell types that communicate with and maintain brain health. Andrew Yang and his lab develop technologies to study these dynamic processes at the molecular level. By decoding how signals pass between the brain and periphery, their research could reveal key mechanisms driving neurodegenerative disease and inform new drug delivery strategies.
Disease Areas
Neurodegenerative Diseases
Alzheimer's Disease
Vascular Dementia
Brain Aging
Areas of Expertise
Bioengineering
Transcriptomics
Proteomics
Single-Cell Analyses
Vascular Biology
Neuroimmunology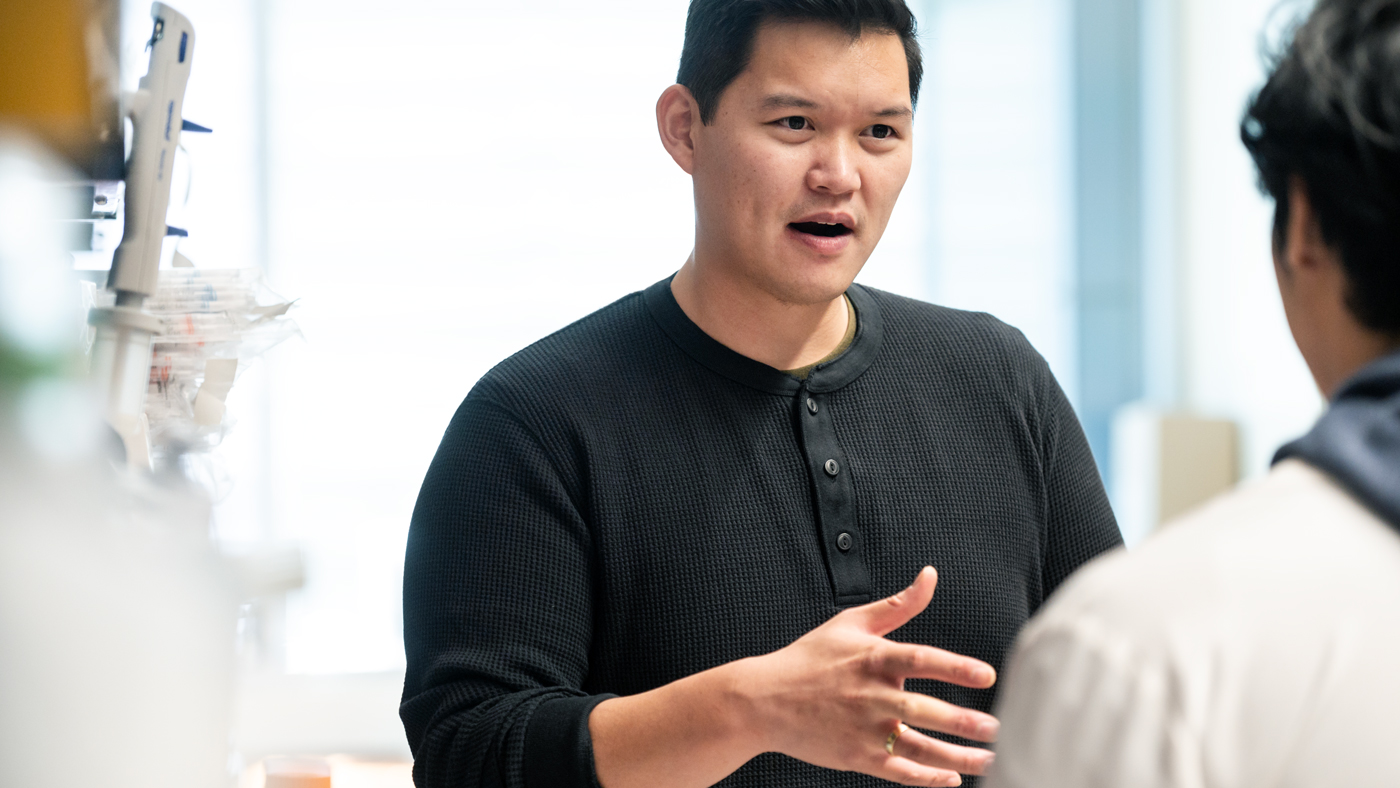 Lab Focus
Decoding protein and immune cell communication across brain barriers.
Determining how brain barrier dysfunction contributes to brain aging and neurodegeneration.
Discovering how the immune system surveils the brain to engineer new cell therapies for neurodegenerative disease.
Research Impact
Andrew Yang and his team are discovering an unexpected richness of communication across the brain's barriers. His lab developed chemical biology approaches to tag and track thousands of blood proteins transiting the blood-brain barrier. This approach revealed the mechanisms of diverse protein transport across the healthy blood-brain barrier and their impairment with age. His group is pursuing ongoing research to translate these findings towards enhanced drug delivery to the central nervous system.
Yang's lab also invented VINE-seq to create a first molecular map of the human blood-brain barrier, yielding several thought-provoking discoveries. For example, they found that 30 of the top 45 hits from genome-wide association studies for Alzheimer's disease are expressed in human blood-brain barrier cells, suggesting their importance in disease etiology. Yang has collaborated with over 20 laboratories to use VINE-seq on hundreds of brain samples.
By revealing the molecular and immunological principles of brain-body crosstalk, research in Yang's lab may yield powerful new therapeutic modalities to treat neurodegenerative disease.
Professional Titles
Visiting Investigator, Gladstone Institutes
Bio
Andrew Yang, PhD, is an assistant investigator at Gladstone Institutes, and an assistant professor in the Departments of Neurology and Anatomy at UC San Francisco (UCSF). Yang earned a BS in mechanical engineering and materials science from the Massachusetts Institute of Technology and a PhD in bioengineering from Stanford University, where he trained in the neuroscience laboratory of Gladstone alumnus Tony Wyss-Coray. He joined UCSF as a Sandler Faculty Fellow in the Bakar Aging Research Institute and the Department of Anatomy in January 2022, and Gladstone in 2023.
Yang applies his training in engineering and his curiosity about neuroscience toward understanding the meaning, mechanisms, and therapeutic potential of protein and immune cell messages at the critical interface where the brain interfaces with the blood. His research has shown an unexpected degree of communication across the blood-brain barrier and has revealed a critical role for this barrier in the development of Alzheimer's disease.
How Did You Get Your Start in Science?
I entered neuroscience late, after roundabout career aspirations in sports, engineering, and public policy. I think these pivots shaped my embrace of the unexpected in our research.
Andrew Yang, PhD