Fresh on the Scene
So, you're a passionate undergraduate student pursuing a career in anything science or health-related, but have no tangible experience. Or, you are a young STEM major without the slightest clue of what job you'd enjoy in the future. If either of these sound like you, you're going through what PUMAS interns went through before being a part of this exciting research program.
PUMAS (Promoting Underrepresented Minorities Advancing in the Sciences) is a Gladstone Institutes–hosted internship program offered to college students from groups that are historically underrepresented in the sciences. The program matches interns with a mentor in one of Gladstone's labs, with whom they work closely on a biomedical research project. PUMAS was created to diversify the field of biomedical research, and give undergraduate students a taste of research life.
Here are seven reasons to apply to this exciting program:
7. Discover If Biomedical Research Is the Right Career Path for You
The program gives you a crash course on life in the world of biomedical science. You'll be fully immersed in everything science- and research-related as you work closely with mentors on your summer-long project. You'll attend lab meetings, where other lab members present the science they are working on. You'll learn how to apply for research funding. You'll learn about the traditional career track of a biomedical researcher. Simply put, you'll learn everything you need in order to decide on this career path. If you've ever considered a research-related career path, the PUMAS program is for you.
6. Be a Part of Cutting-Edge Research
Gladstone has a well-known history of conducting game-changing research. Gladstone scientists are finding new treatments to fight HIV, discovering targets to fight Zika virus and Ebola, taking innovative approaches to treat and prevent Alzheimer's disease, and helping to pioneer the field of regenerative medicine—a new type of medicine where a patient's own cells are used to regenerate damaged or diseased tissue. As a PUMAS intern, you will work side-by-side with Gladstone's diverse team of scientists and physicians while gaining valuable research experience. Depending on your project and mentors, you may even be listed as an author on a scientific publication after you leave!
5. Connect and Grow with Like-Minded Students
You'll join other bright STEM students during your PUMAS journey. The other interns will have similar educational backgrounds to yours. You'll have the opportunity to learn and grow with your peers as you explore the exciting world of research together. Being surrounded by PhDs, MDs, and other professionals in the lab can be daunting, so being able to connect with individuals who are your age and experience level provides a good outlet to help stay comfortable and minimize stress. You'll also learn how to network with your peers, which is arguably the most valuable skill you'll learn during your stay. Almost all of the former PUMAS interns keep in touch with at least one other intern. You may very well meet a friend for life!
4. Strengthen Skills That Apply to Other Areas of Science
The field of biomedical research requires you to combine three fields of science: biology, chemistry, and physics, which comprise the core curriculum of biological science–related majors. Although the work you'll do requires extensive knowledge of the biological sciences, almost all of the experiments performed in the lab also rely on techniques found in chemistry and physics. Furthermore, your summer project may require you to incorporate engineering, computer science, and data science. As an intern, you'll design and complete experiments, which provide practical experience to complement the topics you've learned (or will learn) in the classroom.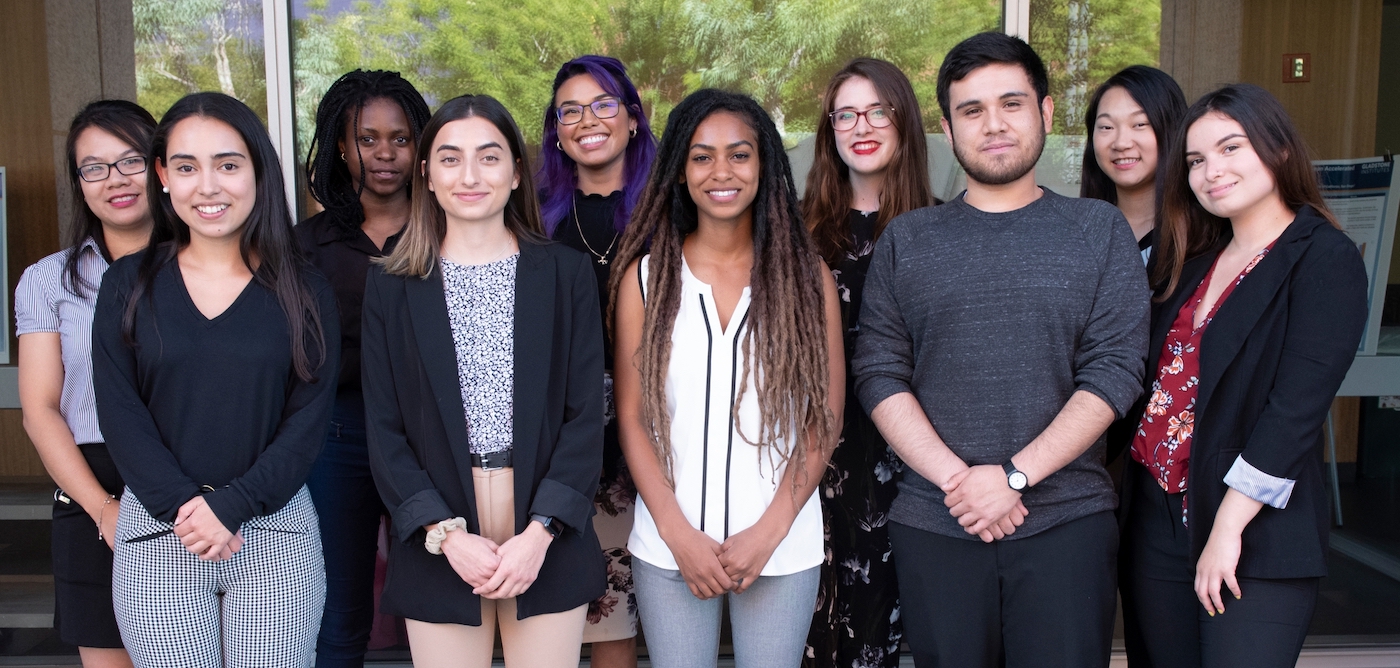 3. Learn How to Think and Work like a Professional, Both in and outside of the Lab
Along with working in a lab, the PUMAS program includes weekly seminars where you learn a variety of invaluable skills designed to help you flourish in your research career. There is a networking seminar where you'll discuss various ways to communicate with other scientists, a career panel where you'll hear from scientists who work outside the lab, and résumé and writing seminars that will help you look better on paper. What you learn from these seminars will be valuable even if you decide that research is not the career for you.
2. Learn How to Talk about Science
At the end of the program, you'll present a scientific poster which summarizes the project that you worked on during the summer. You'll learn the necessary skill of developing and presenting a poster, and how to present it to your family, friends, other interns, and Gladstone scientists. This is a stress- and pressure-free session that is focused on helping you develop your oral presentation skills. You also receive feedback from professionals and learn even more about science!
1. Get Paid to Learn
Just apply! The application process won't take much time, and is short and straightforward. Don't be discouraged from applying due to "bad" grades, lack of experience, or lack of recommendation letters. Although the program increases in competitiveness every year, Gladstone's PUMAS team takes a holistic view of your application, so these things are not necessarily disqualifying factors. Also, the internship gives you a nice stipend for your work. A win-win situation!
Prepare to Apply
Applications open January 13, 2020, and remain open until February 28, 2020. If you're interested in becoming a part of the PUMAS family, start your application today. These steps may help make your application stronger:
Begin asking for letters of recommendation from faculty members at your school. Think of professors or TAs that you've worked closely with who can put in a good word for you!
Think deeply about why you'd like to be an intern. The application asks you to answer short essay questions aimed to gauge your interest in science and how good of a fit you'll be for the internship.
Good luck, and we hope to see you in the summer!
Want to Join the Team?
Our people are our most important asset. We offer a wide array of career opportunities both in our administrative offices and in our labs.
Explore Careers