At the Gladstone Institutes, increasing diversity in science and inspiring the next generation of scientists go hand-in-hand. To help align these two values, Gladstone's Student Outreach Committee has launched a new Adopt-a-School program that will bring Gladstone scientists into the classrooms of public high schools in San Francisco.
"This new program will benefit students in our community, and also our scientists at Gladstone," explained Shannon Noonan, education and community partnerships manager at Gladstone. "Scientists who participate in this program will gain teaching skills, confidence in public speaking, and a greater understanding of education and diversity issues while students can learn about new research and work with trained scientists in a familiar setting."
The program, Gladstone's latest effort to support teachers and students within the San Francisco United School District (SFUSD), is a new model that pairs Gladstone scientists with SFUSD biotech teachers to expose students to biomedical research. As part of this partnership, Gladstone scientists will present 50-minute talks about their career path in science and their ongoing research. These talks will be followed by additional classroom visits in the spring, in which the scientists and teacher will co-teach a lab-based lesson and demonstration of the research discussed.
The Adopt-a-School program is being piloted at the most under-resourced public schools within SFUSD that have existing biotech classes. Kristin Keck, PhD, a postdoc in JJ Miranda's lab, and Jessie Butts, a graduate student in Todd McDevitt's lab, visited a biotech teacher at Wallenberg High School on November 16 to plan activities for the 2015–2016 school year. On November 18 and 19, Gay Lancero, a research associate in the Yamanaka lab, and Ariel Kauss, a graduate student from the McDevitt lab, gave career talks to students on the biotechnology track at Marshall High School in Bayview-Hunters Point. Additionally, Victoria Yoon, a research associate in the Huang lab, and Jeannette Osterloh, PhD, a postdoc in the Finkbeiner lab, are teaming with Jamie Dowd, a biology teacher at International Studies Academy, located just down the street from Gladstone.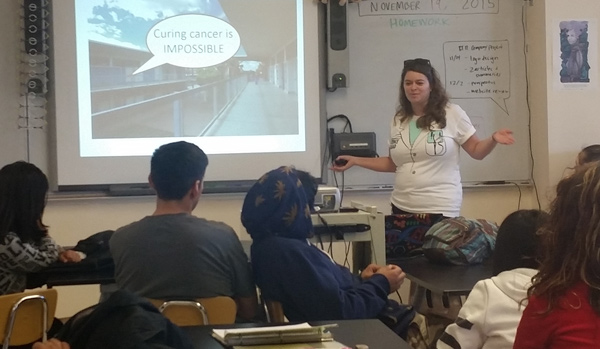 Ariel Kauss, graduate student in the McDevitt lab, in front of the class at Marshall High School.
The program's emphasis on bringing scientists into classrooms stems from an expressed need to bridge a gap between structured class curriculums and the reality of scientific depth and discovery. Teachers who worked with the earlier model of the program explained how their students had trouble understanding the details of the work. By shifting the focus to the career paths of the scientists before the research, the students can gain a broader appreciation of the science. Then, the students can experience a more comprehensive breakdown of the science during the latter visit.
"I'm excited to have Gladstone scientists help to bring these challenging, fascinating, and real topics to life for my kids," said Dowd, whose students are exploring the concepts of nature versus nurture. "I want them to explore career paths you can take in these scientific areas and deepen their understanding of the scientific magic going on in their very beings."
The Adopt-a-School program echoes the Student Outreach Committee's ongoing mission to inspire students to pursue scientific careers, especially those from under-represented communities in our local public schools. Over 100 Gladstone scientists and administrators volunteer for student-outreach activities and events every year.
"By sharing our science with local students, Gladstone is helping to improve scientific literacy and attract diverse students to careers in science," Noonan said. "We are happy to be establishing these partnerships, because supporting and inspiring future scientists is at the heart of Gladstone's outreach efforts."