Gladstone is dedicated to training the next generation of scientists—not just trainees within its own walls, but also young students who aspire to obtain careers in the exciting world of biomedical research. Gladstone touches the lives of budding scientists through a number of outreach programs, but its most considerable impact is on the large number of students who visit Gladstone every summer as part of the National Student Leadership Conference (NSLC).
The NSLC aims to provide a safe and supportive environment that encourages students from around the world to explore their academic and career interests while developing leadership skills that ensure their success. As part of this effort, the NSLC hosts summer workshops across the country for outstanding high school students. These multi-day workshops teach the students about leadership, help them explore future careers, experience life on a college campus, and meet renowned leaders in their chosen field.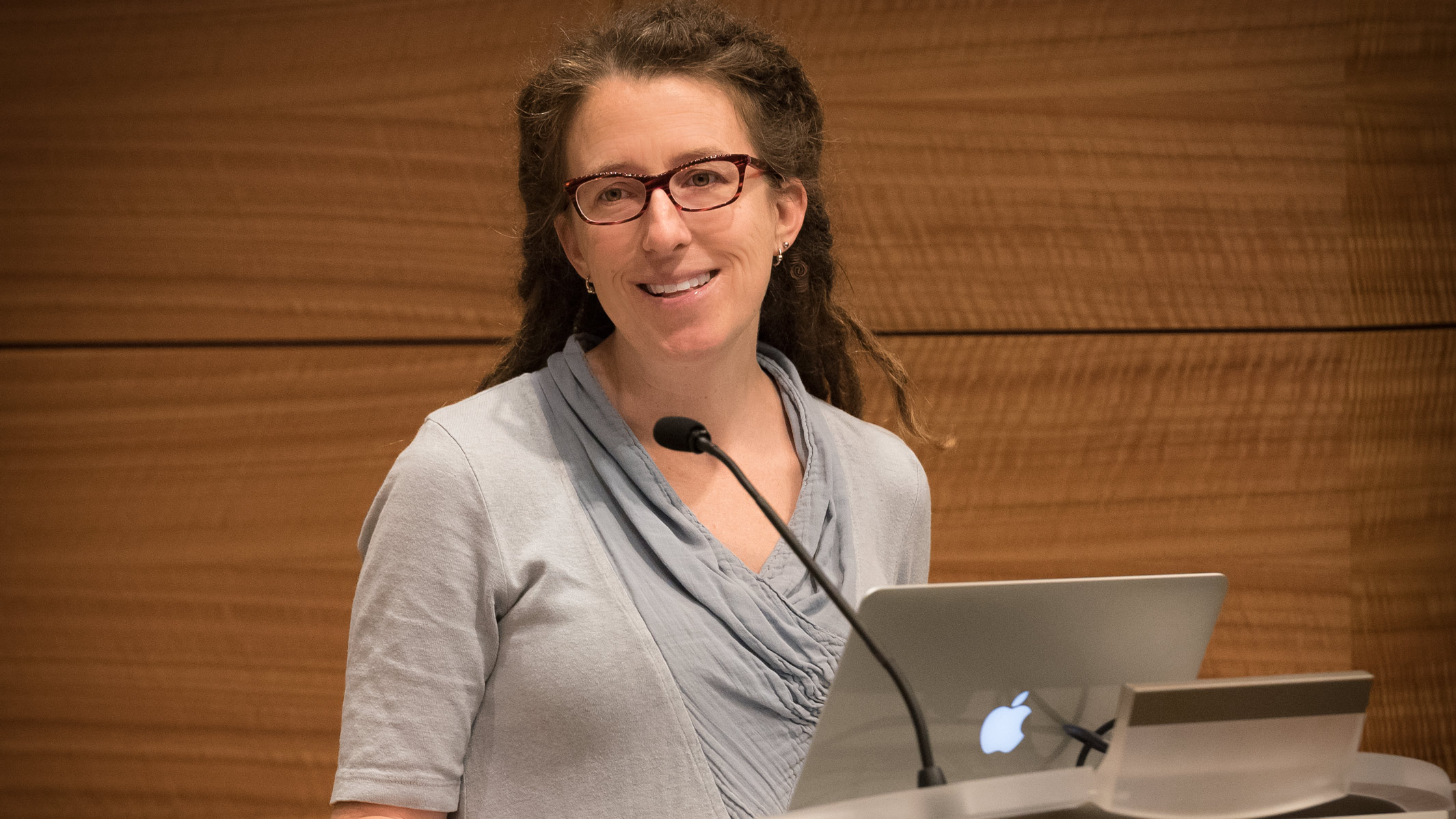 Katie Pollard shares her love of science with high school students from around the world.
Every summer since 2005, Gladstone has partnered with the NSLC's Medicine & Healthcare program. Through this partnership, participating students visit Gladstone for a single day packed with scientific lectures, career panels, information sessions about Gladstone, and a discussion about the path to becoming a scientist. One of the most popular features of the day is a short video that highlights how scientists at Gladstone feel inspired to do their research.
"The students really identify with the passion behind the research at Gladstone," said Shannon Noonan, education and community partnerships manager at Gladstone. "I am always overjoyed by the personal connections that these students make with our scientists and their remarkable research."
"These visits are as exciting for us as for the students," said Dr. Jeannette Osterloh, postdoctoral fellow and volunteer. "I look forward to sharing my passion for biomedical research with these bright students and am hopeful that I help inspire them to choose a career path in science."
Since its inception 10 years ago, more than 6,000 students have visited Gladstone through the NSLC program, and about 700 students came through Gladstone this summer alone. Of these students, 12 were selected from public schools within San Francisco and given full scholarships to attend the program.
"We are happy to have the opportunity to influence so many young lives," said Dr. Michael Penn, vice president of diversity, outreach, and mentoring at Gladstone. "We hope that the inspiration and passion that flow through Gladstone infects them with the same drive for a career in biomedical research."
Volunteers
Benoit Bruneau (senior investigator), Jessie Butts (graduate student, McDevitt lab), Bruce Conklin (senior investigator), Anna Gillespie (graduate student, Huang lab), Gay Lancero (research associate, Yamanaka lab), JJ Miranda (assistant investigator), Mauricio Montano (senior research associate, Greene lab), Ramsey Najm (graduate student, Huang lab), Jeannette Osterloh (postdoctoral fellow, Finkbeiner lab), Katie Pollard (senior investigator), Nadia Roan (visiting scientist, Greene lab), and Victoria Yoon (research associate, Huang lab).