Al Dorman has been a trustee of the Gladstone Institutes for almost 30 years. In that time, Gladstone has changed dramatically—steadily increasing the trust value while expanding the Institutes' mission, faithfully contributing to world-changing biomedical research, and moving into a multi-million-dollar, state-of-the-art facility, among other things.
As one of three trustees, Dorman played an integral part in all of it. A multi-talented leader, he brought an engineer's attention to detail, an architect's vision, and a business executive's acumen to his role at Gladstone. But to hear Dorman tell it, you'd think it was all happenstance.
"It's just one of those ways in which luck plays a part in one's life," Dorman says about becoming a trustee in 1988. "It has nothing to do with merit or ability. It was all a matter of having the right daughter."
Turns out, Dorman's daughter went to high school with the daughter of Richard Brawerman, a Gladstone trustee at the time (now deceased).
"I got to know Dick Brawerman, and I guess he saw something in me, some skills or something, and introduced me to the other trustee, Dick Jones, who fell for it as well, and as a result, I became a trustee," Dorman quips.
For his part, Jones isn't buying any of that "guess I was just lucky" stuff.
"When Al came on board, he brought a sense of discipline and a financial model that significantly improved the value of the corpus. He really is the smartest guy in the room," says Jones, the last of the original three founding trustees still serving. "He also happens to be a nice guy who hasn't got much of an ego."
So basically, Al Dorman is both a loyal organization man and a warm people person, attributes that he's merged gracefully during a long and winding career.
"He's a lifelong learner," says fellow Gladstone trustee Andy Garb who, like Dorman, lives in Los Angeles. "I've had the pleasure of flying up the coast with Al for 12 years now, and there's never a trip when I didn't learn a lot. Al is well read and always stimulating."
Garb continues, "Despite his modesty, he's one of the smartest men I've ever met, something I'm constantly aware of. And maybe this goes without saying, but he is so totally devoted to Gladstone. Whether I agree or disagree with him on a point, I know that every thought he articulates is out of caring for Gladstone, and it's wonderful to work with somebody with such a pure commitment."
Renaissance Man
Dorman was raised in Rockland County, New York, the smallest county in the state. It was largely rural when Al was young. "Now it's like a suburb of New York City," he says. "But it wasn't then. The population of our town was about 2,300, and my father ran a general store."
It was a childhood filled with lessons about human nature and ethics and morality and the natural world, and it made Dorman a good listener and an avid observer of humanity. He's said it again and again: "I learned something from everybody there—everyone was my teacher, from the guy who pumped our gas to the banker, everyone."
He earned his BS degree in mechanical engineering at the age of 19 at the New Jersey Institute of Technology (NJIT), where he was number one in his class, president of the student council, and editor of the yearbook. Later, NJIT would award him a ScD (honoris causa). After graduating from college, he served in the US Army Corps of Engineers at the end of World War II. He then gravitated toward the promise and thrill of California, studying civil engineering at the University of Southern California (USC), where he received an MS in civil engineering.
Dorman has published or delivered more than 20 scientific papers, including an encyclopedia article. He holds an appointment as a research professor at USC, where he sits on the board of councilors in its Viterbi School of Engineering. After 20 years of service, he is now a trustee emeritus at Harvey Mudd College, as well.
In 1998, he was elected to the National Academy of Engineering. He has also been named a fellow of several professional societies and elected president of two of them.
Dorman first worked as a civil engineer for city and state governments in booming 1950s California. In 1954, he started his own civil engineering firm in central California, followed by the establishment of an architecture-engineering partnership. The most famous of his early work was the design and construction of Disneyland, for which he was the civil engineer of record.
His civil engineering firm was acquired in 1966 by Los Angeles-based Daniel, Mann, Johnson, & Mendenhall, or DMJM. Over time, Dorman rose to become chairman and CEO of DMJM, which became one of the 10 largest architecture-engineering firms in the US.
Dorman continued to run DMJM after it was purchased by Ashland Oil in 1984. He was then named chairman and CEO of Ashland Technology Corp., the holding company of DMJM and several other Ashland engineering companies.
When the opportunity arose to purchase Ashland Technology, Dorman became the founding chairman and first CEO of AECOM Technology Corp., which was formed to make the purchase. AECOM is a multifaceted architectural, engineering, construction, operations, and management firm that, now under its fourth CEO, employs 95,000 people in 100 countries, generates $19 billion in revenue, and is listed on the New York Stock Exchange.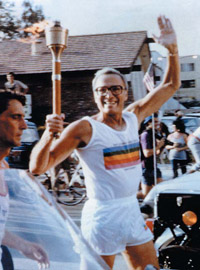 Al Dorman carried the torch at the 1984 Olympics in Los Angeles. At Gladstone, he has passed the torch to the next generation of leaders and innovative thinkers.
He has served on many community and public service boards, as well as business and professional boards. These include the City of Los Angeles and the State of California Chambers of Commerce, the National Foundation for the Advancement of the Arts, the King's County Community Concert Association, and the host committee for the 1984 Olympics in Los Angeles, for which Dorman even got to run the Olympic torch!
"My career has centered around science and engineering, but my life's work encompasses so many other passions and activities, particularly the arts and civic engagement," says Dorman. "I've always believed in pursuing numerous interests, and some of these alternative roles have led to my greatest personal satisfaction."
Business Man
Dorman's leadership prowess made a lasting impression on Bob Mahley, MD, PhD, Gladstone's president emeritus and a senior investigator.
"As the leader of a large organization like AECOM, Al brought tremendous management and leadership skills to his role as a trustee—skills that he's been able to transfer to many of us at Gladstone," says Mahley, who benefitted from that transference more than most as founding president of the Institutes.
"He's always been a great teacher for me," says Mahley, who served as president for more than 30 years, retiring in 2010. "I'm a scientist and I've always been a scientist, and the thing is, scientists aren't trained to be the president of an organization. We're trained to be scientists, and we learn to be leaders and managers by making mistakes. Al knew this."
Dorman used to deliver Mahley's performance appraisal, an annual event that Mahley jokingly called, "the inquisition."
"It was significant," he says. "I would write up my goals for the coming year, and he would write up my goals for the coming year. They didn't always coincide."
Mahley learned to enjoy the process, which typically lasted two to three hours and took place in L.A. He soaked in all of Dorman's comments, he says. "The truth of the matter is, I spent a lot of time thinking about what he said, and became a better president."
As a Gladstone trustee, Dorman's had little trouble in meeting his own high expectations during an extended period of expansion, a time that he describes as, "more of an opportunity than a challenge. We've made contributions to science, to the eradication of disease. We've attracted brilliant young people to worthwhile professions."
Dorman, with his deep knowledge of and background in architecture and engineering, was Gladstone's ace in the hole when the Institutes grew out of their previous home near San Francisco General Hospital and set out to build its current facility.
"Gladstone and the trustees had never invested in bricks and mortar, all funding had gone to the science," Mahley says. "It was a bold decision for the trustees, and Al played a big role in that."
Within 20 years of its birth, and with an expanded focus, the Institutes needed a new home. Mission Bay was ideal, and the current facility, opened in 2004, is considered a functional and architectural jewel in the realm of biomedical research. Dorman's involvement has something to do with that.
"This building that we're in now, Al spent six months redoing the drawings, improving the architecture," says fellow trustee Jones. "The work he did on this building probably saved us immeasurable millions of dollars in construction costs."
Dorman has a good eye for the bottom line, as evidenced by his success in the private sector, and as a trustee with Gladstone, which has grown the original trust left by J. David Gladstone, valued at $8 million in 1979, to more than $150 million today, even after having spent hundreds of millions of dollars in research over the past 40 years.
Man of the People
But it isn't some uncanny Midas touch that his Gladstone colleagues will miss most as he steps down from the board of trustees. It's the personal touch.
"The degree to which he shows his personal interest in individuals is remarkable," says Deepak Srivastava, MD, director and senior investigator of Gladstone's Institute of Cardiovascular Disease. "I've always felt like he really cared deeply about my wellbeing and my family's."
Lennart Mucke, MD, director and senior investigator of the Gladstone Institute of Neurological Disease, found this out years ago when his daughter attended UCLA. She started feeling a little lonely there in Los Angeles, miles from home.
But LA is Dorman's town, "and he just took her in," Mucke says, "like she was his adopted daughter. He was incredibly kind and helpful in providing her with advice, from school to relationships to career development. He's been a very close friend to my daughter and now, her husband and their two kids. I'll always be incredibly grateful for that."
Of course, this is the kind of thing that Dorman himself won't elaborate on. He doesn't like talking about himself, preferring to give others the spotlight. He even tried to discourage his kids from getting into architecture or engineering, to avoid any sense of competition with dad.
Instead, his daughter, an attorney, is a managing director in a world-class consulting firm, while one son is a retired attorney and the other is an educator, a fact that makes Dorman almost giddy. Dorman's deep commitment to higher education has played out in his role at USC, his position as a board member at four universities, and his contributions at the New Jersey Institute of Technology, where the Albert Dorman Honors College helps the brightest students reach their full potential.
"The main thing is, our children wound up inheriting the values of my wife Joan and me, and that is to give back more than you take," says Dorman, whose smile is quick and always genuine.
"There's nothing superficial about Al," says Mucke. "That includes his handshake."
That handshake was the first and maybe the most lasting impression Dorman made on Warner Greene, MD, PhD, director and senior investigator of Gladstone's Institute of Virology and Immunology.
"Strong, firm handshake," says Greene. "He hangs on to you for a long time. But I have been determined throughout the last 15 years that I won't let go of his hand until he let's go of mine."
For all of the bricks and mortar that Dorman has been responsible for in his career, for all of the dollars and cents he's responsibly nurtured and helped bring to Gladstone, it's the flesh and blood that has made a bigger impact on him. It always comes back to the people.
"Al has made a tremendous contribution to Gladstone, both through his sound and steady financial advice and the personal relationships he's formed over the years," says Gladstone president R. Sanders "Sandy" Williams, MD. "He has been instrumental in expanding and evolving Gladstone, and his impact will be everlasting."