A new $2 million gift to Gladstone is helping two top scientists sprint toward their imminent finish line: the ability to repair catastrophic damage to fully formed hearts and prevent disease in developing ones.
The gift from William "Bill" Younger, Managing Director at Sutter Hill Ventures and member of the Gladstone Foundation Board of Directors, bolstered the singular work of two cardiovascular investigators—Deepak Srivastava, MD, Younger Family Director of the Gladstone Institute of Cardiovascular Disease, and Benoit Bruneau, PhD, Associate Director and William H. Younger, Jr. Investigator.
"The way I approach philanthropy is much like my approach to venture capital over the last 30 years—I look for great leaders with a unique vision," Younger says. "Both Deepak and Benoit fit this bill, and they're at an institution that gives them exceptional freedom to explore."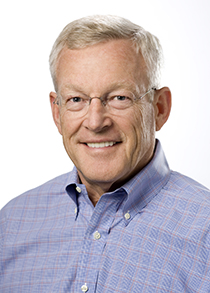 William Younger
The lethal effects of a heart attack may soon be erased by Srivastava's efforts. After turning scar-producing cells within the mouse heart into beating heart cells that repaired the animals' damaged hearts, Srivastava adjusted his process to work in cultured human cells. He is now testing the effectiveness of this approach in large animals with more human-like hearts. His lab was also the first to identify the genetic cause of calcific aortic valve disease (CAVD), the most common of all heart defects, and is discovering ways to prevent and treat CAVD by correcting the gene networks altered in the disease.
Bruneau and his team have mapped much of the process of heart cell development, continuing to reveal how "master regulator" genes create a heart cell. On the verge of pinpointing the kick-off signal to the creation cascade, Bruneau is closer than ever to understanding exactly how the heart forms and, by extension, how to fix potential problems in that process. His work has profound implications for the nearly 1.3 million children and adults in the United States who currently live with congenital heart disease.
Studies in the Bruneau and Srivastava labs continue to inform one another, fostering creativity and accelerating the pace of discovery.
"Deepak and Benoit have been on a remarkable journey," says Younger, who has provided major support for their studies since the early days. "NIH grants are generally awarded for proven ideas, so if you want real creativity to flourish in a lab, it has to come from private philanthropy."
After seeing the unprecedented progress made by these scientists with his previous gifts, Younger wanted to help them advance even faster with his latest contribution. "I knew they could accelerate their research if they had the funding," he notes.
"Bill has played an indispensable role in our discoveries," says Srivastava, "and we can't thank him enough for his partnership. He's given us the resources to pursue daring new ideas that stand to have extraordinary benefit for people with cardiovascular disease the world over, and he's provided important advice along the way that has helped steer our breakthroughs toward patients."
"Many of our ideas have become viable prospects for major grants, thanks to Bill's investment in the lab," Bruneau remarks. "With the requisite supporting data in hand, we've secured millions in additional funding, allowing us to push forward with projects that will yield the heart disease treatments and cures of tomorrow."
"In light of all the advances happening in the world of science right now, it's just a wonderful time to be making philanthropic investments," Younger says. "What this ultimately means to me is more and more opportunity to get these advances into the clinic and use them to treat human disease."