Warner Greene and his team seek to understand the interactions between the human immunodeficiency virus (HIV) and the cells it infects with the goal of providing new approaches for therapy and prevention. Using a combination of molecular, biochemical, cell biological, and immunological techniques, the lab pursues two main goals. First, they want to mitigate the inflammation and loss of immune cells that are the hallmark of HIV infection. Second, they want to overcome the persistent obstacles to curing HIV/AIDS by controlling or eradicating the pool of HIV virus that hides in a subset of cells known as the latent reservoir.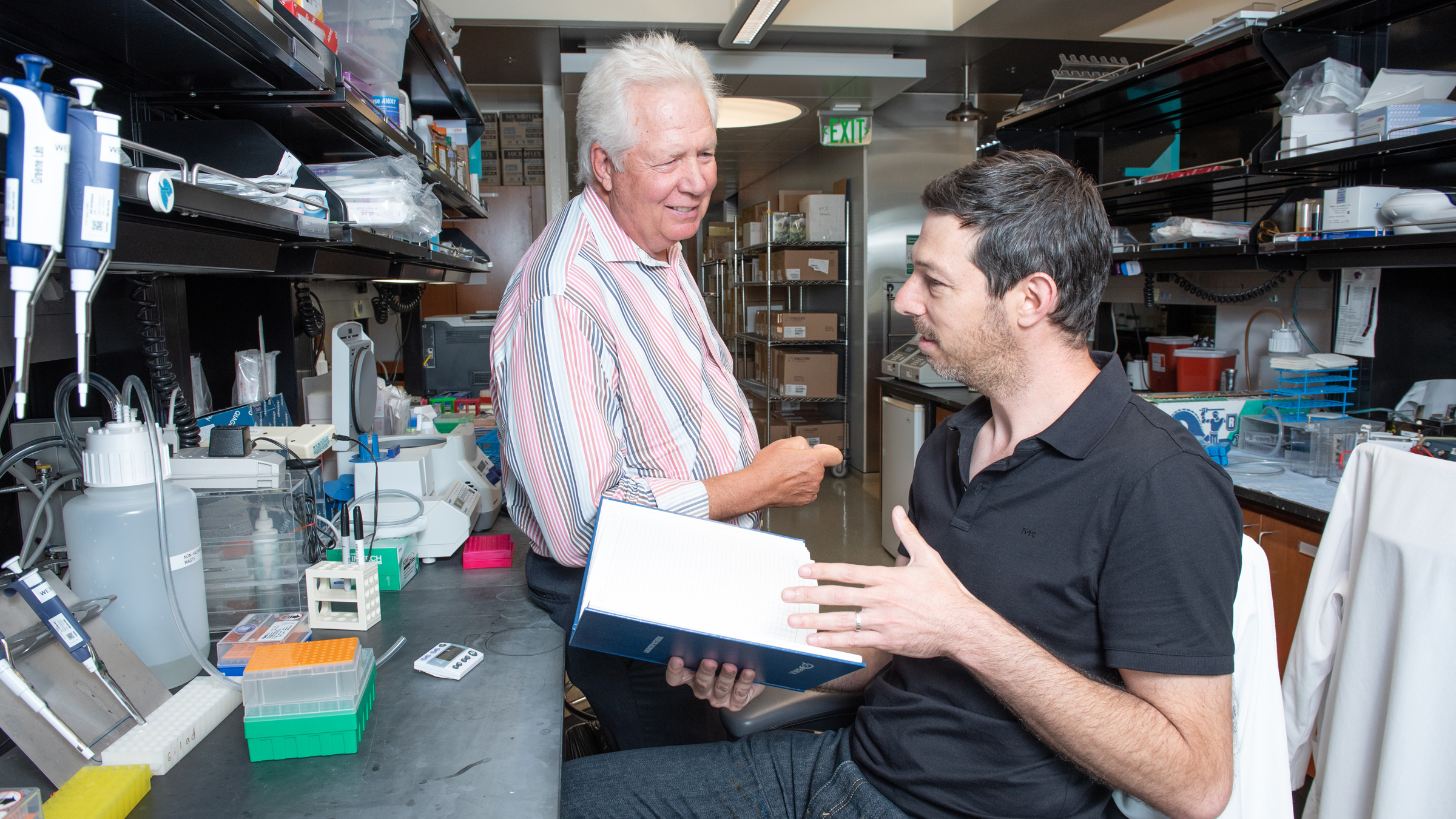 Lab Focus
Understanding and blocking the inflammatory firestorm and cell death that results from abortive HIV infection of bystander CD4 T cells.
Developing strategies to reduce and control latent reservoirs of HIV.
Identifying factors that contribute to virus transmission.
Research Impact
While antiretroviral therapy allows people to survive many years after being first infected, it does not eliminate the virus from their body, and any interruption in therapy can lead to a devastating relapse. Moreover, chronic HIV infection leads to constant inflammation, causing premature aging of the immune system and various other organs. By tackling the latent reservoir and infection-related inflammation and immune depletion, Greene and his team could provide means of improving the health span and lifespan of people living with HIV/AIDS. They also seek to understand the mechanisms of virus transmission, which will contribute to reducing the spread of the disease—a crucial problem in parts of the world where education about HIV and access to therapy are limited.
Professional Titles
Senior Investigator and Director Emeritus, Gladstone Institute of Virology
Nick and Sue Hellmann Distinguished Professor of Translational Medicine<br />
Professor of Medicine, Microbiology and Immunology, UC San Francisco
Co-Director, Center for AIDS Research, UC San Francisco-Gladstone Institute of Virology and Immunology
Nick and Sue Hellmann Distinguished Professor, UC San Francisco, Department of Medicine, Microbiology and Immunology
Bio
Warner C. Greene, MD, PhD, is a senior investigator, director of the Michael Hulton Center for HIV Cure Research, and Nick and Sue Hellmann Distinguished Professor at Gladstone Institutes. He is also a professor of medicine, microbiology and immunology at UC San Francisco. He served as the co-director of the UCSF-Gladstone Center for AIDS Research (CFAR) from 1991 to 2019.
Greene's expertise spans virology and immunology, with a focus on HIV and other retroviruses, and on HIV/AIDS pathology. His work in HIV/AIDS over the past 30 years has delineated the interactions between HIV and its host cells leading to the replication of the virus, and the mechanisms by which HIV infection causes the death of CD4 T cells. His current focus is on the latent HIV reservoir, and on the means to develop a cure for HIV/AIDS.
Greene earned a bachelor's degree at Stanford University and an MD/PhD at Washington University School of Medicine. He completed internship and residency training in medicine at Massachusetts General Hospital at Harvard. After serving as a senior investigator at the National Cancer Institute and a professor of medicine and Howard Hughes Investigator at Duke University Medical Center, Greene became founding director of the Gladstone Institute of Virology and Immunology in 1991. From 2007 to 2015, Greene served as president and executive chairman of the Accordia Global Health Foundation, whose mission was to overcome the impact of infectious diseases in Africa by building centers of excellence and strengthening medical institutions. Accordia merged with Africare in 2016.
Greene is a member of the National Academy of Medicine and is a fellow of the American Academy of Arts and Sciences. He is also a past councilor and president of the Association of American Physicians.
How Did You Get Your Start in Science?
"My olfactory system was the key. While working in a Stanford biochemistry laboratory as a pre-med student, I was captivated by the smell of various aryl ketones!"
Warner Greene, MD, PhD
Honors and Awards
2019 Institute of Human Virology Lifetime Achievement Award for Scientific Contributions, University of Maryland School of Medicine
2015 Honorary Doctoral Degree and Commencement Speaker, Drexel University
2014 American Academy of Arts and Sciences (Elected)
2014 Tim Gill Distinguished Lecturer, University of Colorado, Denver
2013 Francis Gilman Blake Award, Association of American Physicians
2013 Avant-Garde Award, National Institutes of Health
2012 Alumni Achievement Award, Washington University in St. Louis
2012 President, Association of American Physicians
2011 President-Elect, Association of American Physicians
2011 Center Director, Global Viruses Network
2010 Invited Speaker, MSTP 40th Anniversary Symposium, Washington University
2009 Distinguished Leader in Medicine Lecture, Dalhousie University
2009 Interview Panelist, NIH Director's Pioneer Award
2008 Lecturer, Royal Society, Cytidine Deaminases
2008 Co-Chair, NIAID Summit on HIV Vaccine Research and Development, Bethesda, MD
2006 Nick and Sue Hellman Distinguished Professor of Translational Medicine
2006 Review Committee, NIH Director's Pioneer Award Program
2005 Elected to the National Academy of Medicine
2005 Councilor, Association of American Physicians
2004 Elected Fellow, American Association for the Advancement of Science
2003 Honorary Co-Chair, AIDS Memorial Advisory Board
2003 Board of Directors, Academic Alliance Foundation
2001 Selected as Original Member, ISI Highly Cited Researchers
1999 Executive Committee Member, Scientific Advisory Board of the Institute of Human Virology
1993 Elected to California Academy of Medicine
1990 Elected to Association of American Physicians
1988 Young Investigator Award, American Rheumatism Association
1987 Outstanding Investigator Award, American Federation for Clinical Research
1985 Elected to American Society for Clinical Investigation
1984 Washington Academy of Sciences Award in the Biological Sciences
1977 St. Louis Internists Prize in Medicine
1976 Sigma Xi Research Honorary
1970 California Heart Association Research Fellowship Award
Lab Members
Ashley George, PhD
Staff Research Scientist I
Weili Kong, PhD
Collaborator
Tongcui Ma, PhD
Staff Research Scientist I