Ryan Corces studies the contributions of genetic and non-genetic factors to neurodegenerative diseases. While genetic mutations modify genes directly, non-genetic factors, such as previous illnesses, exposure to environmental chemicals, or aging, can leave lasting imprints on the epigenome, the DNA sequences and associated proteins that control gene activation. Using computational biology, large-scale screens, and single-cell technologies, Corces probes the epigenome of cells derived from patients, with the aim to understand how it impacts disease risk and to develop novel avenues for therapeutic interventions.
Disease Areas
Neurodegenerative Diseases
Alzheimer's Disease
Parkinson's Disease
Areas of Expertise
Epigenomics
Genomics
Single-cell Analysis
ATAC-seq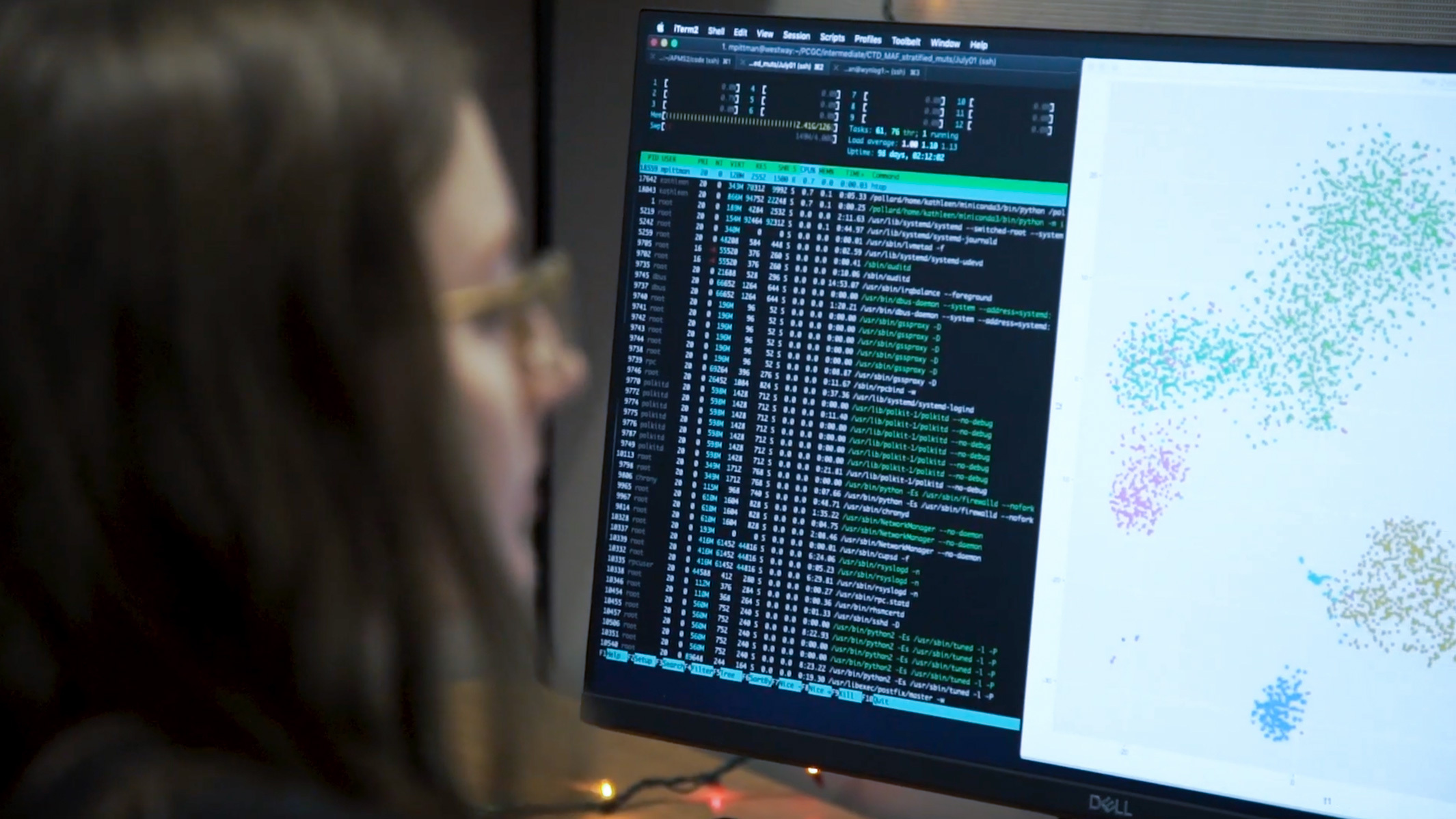 Lab Focus
Understanding how inherited genetic variation interfaces with lived experiences and environmental factors to produce durable and functional epigenetic alterations that lead to neurodegeneration.
Identifying mechanisms of disease susceptibility and resilience in Alzheimer's disease and Parkinson's disease.
Developing technology for high-resolution, high-throughput exploration of the epigenome of human cells.
Research Impact
Corces uses cutting-edge technologies such as ATAC-seq or RNA-seq, on bulk tissue or single cells, to generate large epigenomic datasets from healthy or diseased human cells and identify novel therapeutic approaches.
His atlas of the epigenome of human blood cells has revealed the landscape of gene regulation in leukemia in unprecedented detail, and uncovered novel biology that can be harnessed toward prevention and cure. Similar large-scale collaborative partnerships with industry led to the discovery of a regulatory region at the retinoic acid receptor alpha (RARA) gene locus that is unique to a subgroup of leukemia patients, sparking a phase-two clinical trial (#NCT02807558) with great promise to improve outcomes in these patients. He has also collaborated with The Cancer Genome Atlas to lead a characterization of the epigenetic landscapes of 23 primary solid tissue cancers.
More recently, Corces has turned his focus to neurodegenerative diseases, and generated an epigenomic atlas of seven adult human brain regions involved in diverse cognitive functions. This work led to the identification of dozens of epigenetically distinct neuronal cell classes and over 350,000 genomic sequences that regulate gene function in the human brain. Corces then applied machine learning on this atlas and previous large-scale genetic studies to predict sequence variations in epigenetic regions likely to lead to Parkinson's or Alzheimer's disease.
Professional Titles
Assistant Investigator, Gladstone Institute of Neurological Disease
Assistant Professor, Department of Neurology, UC San Francisco
Bio
Ryan Corces is an assistant investigator at Gladstone Institutes, and an assistant professor of Neurology at UC San Francisco (UCSF). He got his bachelor's degree in molecular biology from Princeton University, and his PhD in cancer biology from Stanford University. During his postdoctoral training at Stanford under the mentorship of Howard Chang and Thomas Montine, he focused on dissecting epigenomic dysregulation in cancer and neurodegenerative disease. His work has generated atlases of the epigenomes of leukemia cells and brain cells, and paves the way to identify novel therapeutic interventions that target the intersection of genetic and epigenetic determinants of disease. His presentations have been prized at many symposiums, and he is the recipient of many awards and fellowships, most recently a K99 award from the NIH and a Scholars Award from the American Society of Hematology.
Why Are You Dedicated to Discovery?
"There is something truly special about studying things that nobody else has studied before and having the opportunity to uncover something completely unknown. In disease research, those opportunities can yield discoveries that eventually impact the lives of millions of people.
Ryan Corces, PhD
Publications
An integrative and scalable software package for single-cell chromatin accessibility analysis. Granja JM, Corces MR, Pierce SE, Bagdatli ST, Choudhry H, Chang HY, Greenleaf WJ. ArchR. 2020. biorxiv.
LKB1 inactivation remodels chromatin state during lung adenocarcinoma progression. Pierce SE, Granja JM, Corces MR, Brady JJ, Tsai MK, Pierce AB, Feldser D, Chang HY, Bassik MC, Greenleaf WJ, Winslow MM. 2020. Submitted. (PMID: QQQ)
Single-cell mutational profiling enhances the clinical evaluation of AML MRD. Ediriwickrema A, Aleshin A, Reiter J, Corces MR, Kohnke T, Stafford M, Liedtke M, Medeiros BC, Majeti R. 2020. Blood Advances. (PMID: 32150611)
Single-cell epigenomic identification of inherited risk loci in Alzheimer's and Parkinson's disease. Corces MR, Shcherbina A, Kundu S, Gloudemanns MJ, Fresard L, Granja JM, Louie BH, Shams S, Bagdatli ST, Mumbach MR, Liu B, Montine KS, Greenleaf WJ, Kundaje A, Montgomery SB, Chang HY, Montine TJ. 2019. biorxiv.
Single cell multi-omic analysis identifies regulatory programs in mixed-phenotype acute leukemia. Granja JM, Klemm S, McGinnis LM, Kathiria AS, Mezger A, Corces MR, Parks B, Gars E, Liedtke M, Zheng GXY, Chang HY, Majeti R, Greenleaf WJ. 2019. Nature Biotechnology. (PMID: 31792411)
Circular ecDNA promotes accessible chromatin and high oncogene expression. Wu S, Turner KM, Nguyen N, Raviram R, Erb M, Santini J, Luebeck J, Rajkumar U, Diao Y, Li B, Zhang W, Jameson J, Corces MR, Granja JM, Chen X, Coruh C, Abnousi A, Houston J, Ye Z, Hu R, Yu M, Kim H, Law J, Verhaak R, Hu M, Furnari F, Chang HY, Ren B, Bafna V, Mischel P. 2019. Nature. (PMID: 31748743)
Massively parallel single-cell chromatin landscapes of human immune cell development and intratumoral T cell exhaustion. Satpathy AT, Granja JM, Yost KE, Qi Y, Meschi F, McDermott GP, Olsen BN, Mumbach MR, Pierce SE, Corces MR, Shah P, Bell JC, Jhutty D, Nemec CM, Wang J, Wang L, Yin Y, Giresi PG, Chang ALS, Zheng GXY, Greenleaf WJ, Chang HY. 2019. Nature Biotechnology. (PMID: 31375813)
HiChIRP reveals RNA-associated chromosome conformation. Mumbach MR, Granja JM, Flynn RA, Roake CM, Satpathy AT, Rubin AJ, Qi Y, Jiang Z, Shams S, Louie BH, Guo JK, Gennert DG, Corces MR, Khavari PA, Atianand MK, Artandi SE, Fitzgerald KA, Greenleaf WJ, Chang HY. 2019. Nature Methods. (PMID: 31133759)
Single-cell lineage tracing by endogenous mutations enriched in transposase accessible mitochondrial DNA. Xu J, Nuno K, Litzenburger UM, Qi Y, Corces MR, Majeti R, Chang HY. 2019. eLife. (PMID: 30958261)
The chromatin accessibility landscape of primary human cancers. Corces MR, Granja JM, Shams S, Louie BH, Seoane JA, Zhou W, Silva TC, Groeneveld C, Wong CK, Cho SW, Satpathy AT, Mumbach MR, Hoadley KA, Robertson AG, Sheffield NC, Felau I, Castro MAA, Berman BP, Staudt LM, Zenklusen JC, Laird PW, Curtis C, The Cancer Genome Atlas Research Network, Greenleaf WJ, Chang HY. 2018. Science. Featured on Cover. (PMID: 30361341)
Integrated single-cell analysis maps the continuous regulatory landscape of human hematopoietic differentiation. Buenrostro JD, Corces MR, Lareau CA, Wu B, Schep AN, Aryee, M, Majeti R, Chang HY, Greenleaf WJ. 2018. Cell. (PMID: 29706549)
Transcript-indexed ATAC-seq for precision immune profiling. Satpathy AT, Saligrama N, Buenrostro JD, Wei Y, Wu B, Rubin AJ, Granja JM, Lareau CA, Li R, Qi Y, Parker KR, Mumbach MR, Serratelli WS, Gennert DG, Schep AN, Corces MR, Khodadoust MS, Kim YH, Khavari PA, Greenleaf WJ, Davis MM, Chang HY. 2018. Nature Medicine. (PMID: 29686426)
Preleukemic hematopoietic stem cells in human acute myeloid leukemia. Corces MR, Chang HY, Majeti R. 2017. Frontiers in Oncology. (PMID: 29164062)
An improved ATAC-seq protocol reduces background and enables interrogation of frozen tissues. Corces MR, Trevino AE, Hamilton EG, Greenside PG, Sinnott-Armstrong NA, Vesuna S, Satpathy AT, Rubin AJ, Montine KS, Wu B, Kathiria A, Cho SW, Mumbach MR, Carter AC, Kasowski M, Orloff LA, Risca VI, Kundaje A, Khavari PA, Montine TJ, Greenleaf WJ, Chang HY. 2017. Nature Methods. (PMID: 28846090)
Super-Enhancer analysis defines novel epigenomic subtypes of non-APL AML including an RARα dependency targetable by SY-1425, a potent and selective RARα agonist. McKeown, MR, Corces MR, Eaton ML, Fiore C, Lee E, Lopez JT, Chen MW, Smith D, Chan SM, Koenig JL, Austgen K, Guenther MG, Orlando DA, Lovén J, Fritz CC, Majeit R. 2017. Cancer Discovery. (PMID: 28729405)
Rapid chromatin switch in the direct reprogramming of fibroblasts to neurons. Wapinski OL, Lee QY, Chen AC, Li R, Corces MR, Ang CE, Treutlein B, Xiang C, Baubet V, Suchy FP, Sankar V, Sim S, Quake SR, Dahmane N, Wernig M, Chang HY. 2017. Cell Reports. (PMID: 28954238)
Enhancer connectome in primary human cells reveals target genes of disease-associated DNA elements. Mumbach MR, Satpathy AT, Boyle EA, Dai C, Gowen BG, Cho SW, Nguyen ML, Rubin AJ, Granja JM, Kazane KR, Wei Y, Nguyen T, Greenside PG, Corces MR, Tycko J, Simeonov DR, Suliman N, Li R, Xu J, Flynn RA, Kundaje A, Khavari PA, Marson A, Corn JE, Quertermous T, Greenleaf WJ, Chang HY. 2017. Nature Genetics. (PMID: 28945252)
Lineage-specific and single cell chromatin accessibility charts human hematopoiesis and leukemia evolution. Corces MR, Buenrostro JD, Wu B, Greenside PG, Chan SM, Koenig JL, Snyder MP, Pritchard JK, Kundaje A, Greenleaf WJ, Majeti R, Chang HY. 2016. Nature Genetics. (PMID: 27526324)
The three-dimensional cancer genome. Corces MR, Corces VG. 2016. Current Opinions in Genetics and Development. (PMID: 26855137)
Human AML-iPSCs reacquire leukemic properties after differentiation and model clonal variation of disease. Chao MP, Gentles AJ, Chatterjee S, Lan F, Reinisch A, Corces MR, Xavy S, Shen J, Haag D, Chanda S, Sinha R, Morganti RM, Nishimura T, Ameen M, Wu H, Wernig M, Wu JC, Majeti R. 2016. Cell Stem Cell. (PMID: 28089908)
A humanized bone marrow ossicle xenotransplantation model enables improved engraftment of healthy and leukemic human hematopoietic cells. Reinisch A, Thomas D, Corces MR, Zhang X, Gratzinger D, Hong WJ, Schallmoser K, Strunk D, Majeti R. 2016. Nature Medicine. (PMID: 27213817)
Leukemia-associated cohesin mutants dominantly enforce stem cell programs and impair human hematopoietic progenitor differentiation. Mazumdar C, Shen Y, Xavy S, Zhao F, Reinisch A, Li R, Corces MR, Flynn RA, Buenrostro JD, Chan SM, Thomas D, Koenig JL, Hong WJ, Chang HY, Majeti R. 2015. Cell Stem Cell. (PMID: 26607380)
Isocitrate dehydrogenase 1 and 2 mutations induce BCL-2 dependence in acute myeloid leukemia. Chan SM, Thomas D, Corces-Zimmerman MR, Xavy S, Rastogi S, Hong WJ, Zhao F, Medeiros BC, Tyvoll DA, Majeti R. 2015. Nature Medicine. (PMID: 25599133)
Mutant WT1 is associated with DNA hypermethylation of PRC2 targets in AML and responds to EZH2 inhibition. Sinha S, Thomas D, Yu L, Gentles AJ, Jung N, Corces-Zimmerman MR, Chan SM, Reinisch A, Feinberg AP, Dill DL, Majeti R. 2015. Blood. (PMID: 25398938)
Pre-leukemic evolution of hematopoietic stem cells – the importance of early mutations in leukemogenesis. Corces-Zimmerman MR, Majeti R. 2014. Leukemia – Spotlight Review Series. (PMID: 25005245)
Preleukemic mutations in human acute myeloid leukemia affect epigenetic regulators and persist in remission. Corces-Zimmerman MR, Hong WJ, Weissman IL, Medeiros BC, Majeti R. 2014. PNAS. (PMID: 24550281)
Clonal evolution of preleukemic hematopoietic stem cells precedes human acute myeloid leukemia. Jan M, Snyder TM, Corces-Zimmerman MR, Vyas P, Weissman IL, Quake SR, Majeti R. 2012. Science Translational Medicine. (PMID: 22932223)
A long noncoding RNA maintains active chromatin to coordinate homeotic gene expression. Wang KC, Yang YW, Liu B, Sanyal A, Corces-Zimmerman MR, Chen Y, Lajoie BR, Protacio A, Flynn RA, Gupta RA, Wysocka J, Lei M, Dekker J, Helms JA, Chang HY. 2011. Nature. (PMID: 21423168)
Insulin signaling and dietary restriction differentially influence the decline of learning and memory with age. Kauffman AL, Ashraf JM, Corces-Zimmerman MR, Landis JN, Murphy CT. 2010. PLoS Biology. (PMID: 20502519)
Lab Members
Serena Chang
Research Associate I
Heather Chang
Research Associate I
Mrugakshi Chidrawar, MS
Bioinformatician I
Iris Chin
Graduate Student
Zach Gardell
Graduate Student
Zach Gardell
Graduate Student
Fiorella Grandi
Collaborator
Alia Johnson
Research Associate I
Lucas Kampman
Collaborator
Madison Lotstein
Rotation Student
Shreya Menon
Graduate Student
Paulina Paiz
Rotation Student
Anthony Raus, PhD
Bioinformatics Fellow
Gabriela Reyes
Student Intern
Aayushi Shah
Research Associate I
Adam Turner, PhD
Staff Research Scientist II
Maddie Urbanek
Rotation Student