Melanie Ott's lab focuses mainly on two viruses: the human immunodeficiency virus (HIV-1) and the hepatitis C virus. HIV infects immune cells known as CD4+ T cells, wreaking havoc on the body's immune system. However, the virus can also remain dormant in CD4+ T cells and re-emerge later to initiate a new round of infection. The hepatitis C virus targets liver cells, where it uses fat droplets to propagate itself while compromising the cells' fat and energy metabolism. Ott's team strives to understand the molecular interactions between these viruses and their target cells to yield targets for new therapeutic drugs. The lab also studies the Zika virus and its interaction with host RNA control pathways.
Disease Areas
Autoimmunity
Hepatitis C
HIV/AIDS
Zika Virus
Areas of Expertise
Chromatin Biology
Immunology
Organoids
Virology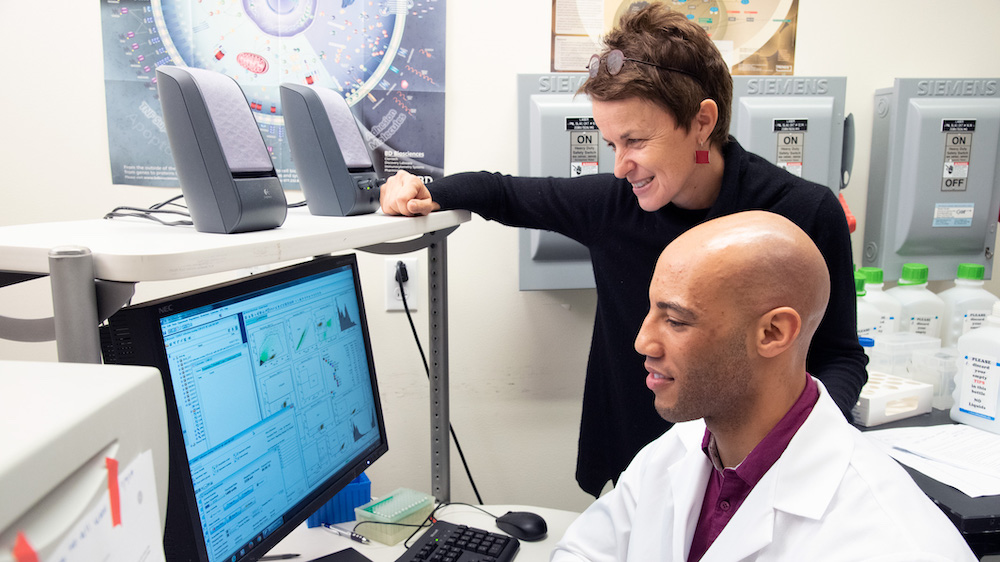 Lab Focus
Understanding how host epigenetic mechanisms regulate HIV latency.
Understanding flaviviral interactions with lipid droplets and the nonsense-mediated RNA decay pathway.
Understanding how the protein SIRT1 regulates immune aging during HIV infection.
Research Impact
The team demonstrated the importance of a protein modification called acetylation in the regulation of HIV expression and latency. This work paves the way for the use of acetylation-targeting agents to reverse latency, which is considered the main obstacle to HIV eradication.
Ott's lab established SIRT1 as a central regulator of the balance between regulatory T cells, which suppress the immune response, and Th17 cells, which promote inflammation. This balance is compromised in both chronic HIV infection and autoimmune disease, and characterizing the SIRT1 pathway will provide new therapeutic approaches to alleviate both conditions.
Ott and her group also showed the hepatitis C virus's dependence on lipid droplets, which has repercussions beyond the treatment of this virus, given that other deadly viruses also use lipid droplets to multiply.
Professional Titles
Director, Gladstone Institute of Virology
Senior Vice President, Gladstone Institutes
Professor, Medicine, UC San Francisco
Bio
A native of Germany, Melanie Ott, MD, PhD, is the director of the Gladstone Institute of Virology, a senior investigator at Gladstone Institutes, and a professor of medicine at UCSF.
Ott is passionate about using viruses to find fundamental new biology in host cells. She has made important discoveries about how viruses—including the hepatitis C virus and Zika—hijack human cells, and has contributed to efforts to eradicate HIV by gaining insight into viral transcriptional control. Since the outbreak of the COVID-19 pandemic, she pivoted the focus of her team and spearheaded the effort to establish a dedicated airborne pathogen BSL-3 lab to enable work on live SARS-CoV-2.
Prior to joining Gladstone in 2002, Ott started her own research group at the German Cancer Research Center in Heidelberg, Germany, working closely with Nobel laureate Harald zur Hausen. She is a trained neurologist with an MD from the University of Frankfurt/Main in Germany. She transitioned to basic virology research during the AIDS crisis, earning a PhD in molecular medicine from the Elmezzi Graduate School in Manhasset, New York.
Ott has received several honors, including the Young Researcher Award at the European Conference on Experimental AIDS Research and the Hellman Award. She is a member of the Association of American Physicians and a Fellow of the American Academy of Microbiology. She is a recipient of the Chancellor's Award for Public Service from UCSF for her work as the founder and co-chair of the student outreach committee at Gladstone. Ott also received the California Life Sciences Association's Biotechnology Educator Pantheon Award for establishing the PUMAS (Promoting Underrepresented Minorities Advancing in the Sciences) internship program at Gladstone, which seeks to increase diversity in STEM.
How Did You Get Your Start in Science?
"I worked as a neurologist when the first genome was sequenced and PCR was discovered. This triggered my passion for the molecular basis of diseases."
Melanie Ott, MD, PhD
Honors and Awards
2019 NIH Merit Award, National Institutes of Health
2018 UCSF AIDS Research Institute Award for Outstanding Teaching and Mentoring
2018 Fellow of the American Academy of Microbiology (Elected)
2017 DiNA Award Biotechnology Educator of the Year, California Life Sciences Association (CLSA)
2014 Avant-Garde Award, National Institutes of Health
2013 Member of Association of American Physicians (Elected)
2008 Thomas N. Burbridge Award, UC San Francisco
2008 Sandler Opportunity Award, UC San Francisco
2008 UCSF Chancellor's Award for Public Service, UC San Francisco
2006 Hellman Family Award, UC San Francisco
2000 Young Researcher Award, European Conference on Experimental AIDS Research, Madrid, Spain
1999 Young Research Award, European Conference on Experimental AID Research, Tampere, Finland
1991 Honors, Magna Cum Laude, University of Frankfurt/Main, Germany
1984 Scholarship, German National Merit Foundation
Lab Members
Keky Antoine Lisney
Research Associate I
Daniela Boehm, PhD
Staff Research Scientist I
Irene Chen
Graduate Student
Jesse Chen
Research Associate II
Patricia Defechereux, PhD
Scientific Project Manager
Tessa Divita
Research Associate I
Parinaz Fozouni
Collaborator
Ronnie Gascon
Research Associate II
Jennifer Hayashi, PhD
Scientist
Sachin Jajoo
Research Associate I
Mir Khalid, PhD
Postdoctoral Scholar
Renuka Kumar, PhD
Scientific Program Leader II
Kristoffer Leon
Collaborator
Danielle Lyons, PhD
Scientific Program Leader I
Sarah McMahon
Graduate Student
Ursula Schulze-Gahmen, PhD
Staff Research Scientist III
Camille Simoneau
Postdoctoral Scholar
Frank Soveg, PhD
Postdoctoral Scholar
Bharath Sreekumar, PhD
Postdoctoral Scholar
Stephanie Stephens
Research Associate I
Rahul Suryawanshi, PhD
Staff Research Scientist I
Takako Tabata, PhD
Research Scientist
Taha Taha, PhD
Postdoctoral Scholar
Chia-Lin Tsou, MS
Research Scientist