Ken Nakamura's lab studies mitochondria, the "power centers" inside each cell that convert nutrients into ATP, a form of energy the cell can use. The lab has two broad, intertwined objectives. The first is to understand how mitochondria and energy metabolism normally support the function of healthy brain neurons. The second is to understand how disruptions in mitochondrial function and metabolism contribute to neurodegenerative diseases, especially Parkinson's disease, Alzheimer's disease, and mitochondrial disorders, and to use these insights to develop new therapeutic approaches that boost energy levels in vulnerable cells.
Disease Areas
Alzheimer's Disease
Mitochondrial Disorders
Parkinson's Disease
Areas of Expertise
Disease Models
Energy Metabolism
Mitochondrial Biology
Neurodegeneration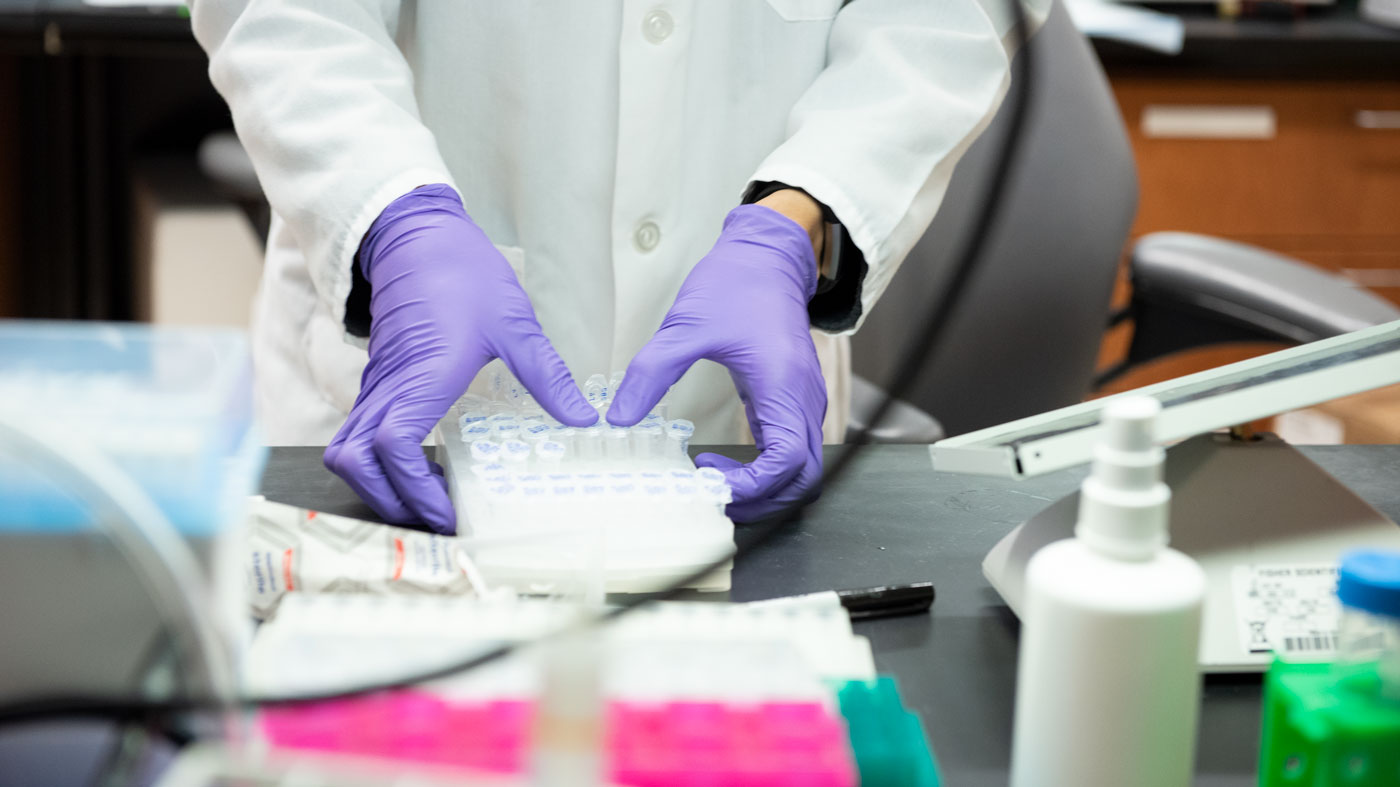 Lab Focus
Understanding the normal function of mitochondria and glucose metabolism in the brain, focusing on energy production and mitochondrial quality control.
Investigating how disrupting mitochondrial function and metabolism contributes to neurodegenerative diseases.
Using findings to develop new therapies that target energy metabolism as a way to stop neurodegeneration and other mitochondrial diseases.
Research Impact
Neurons have long been known to rely heavily on mitochondrial energy production, but scientists have lacked the tools to understand the mechanisms of this dependence. Nakamura's lab has developed tools to monitor ATP production and study metabolism in normal and diseased neurons, and used them to show that energy failure can result from an imbalance between excessive energy consumption due to increased neural activity and insufficient production. They have also developed cutting-edge approaches to track the fates of individual mitochondria in neurons over time, and used them to make important discoveries about the mitochondrial life cycle in neurons and how it is disrupted in Parkinson's disease.
Nakamura's group also provided the first comprehensive map of mitochondrial genes and pathways that maintain cellular energy levels. ATP is the central energy carrier, but the pathways that regulate ATP levels are not systematically understood. The team's studies provide insight into which diseases may act through energy failure and identify new therapeutic strategies to correct energy failure in these diseases.
Professional Titles
Associate Investigator, Gladstone Institutes
Associate Professor of Neurology, UC San Francisco
Bio
Ken Nakamura is an associate investigator at Gladstone Institutes, and an associate professor of neurology at UC San Francisco (UCSF). Nakamura earned his bachelor's degree in chemistry and biological sciences from Cornell University, and his MD and PhD in neurobiology from the University of Chicago, Pritzker School of Medicine. His thesis work in the laboratory of Un Kang focused on the role of oxidative stress and mitochondrial dysfunction in the pathogenesis of Parkinson's disease. Nakamura then completed an internship in internal medicine and neurology residency at UCSF, and a subsequent clinical fellowship in movement disorders at UCSF, where he continues to treat patients. He also completed a postdoctoral fellowship with Robert Edwards at UCSF, investigating the role of a small protein named alpha-synuclein in the development of Parkinson's disease. Nakamura's long-term goal is to understand how and why neurodegenerative diseases lead to the death of selective neuronal populations, and to develop new therapeutic strategies to treat them.
Why Are You Dedicated to Discovery?
"Clinical trials attempting to modify Parkinson's progression have all failed so far because we didn't have a good enough basic science understanding of why the disease occurs; we need to develop that understanding to find effective therapies."
Ken Nakamura, MD, PhD
Honors and Awards
2016 Jon Stolk Award in Movement Disorders for Young Investigators, American Academy of Neurology
2008 Burroughs Wellcome Fund Career Award for Medical Scientists
2001 Steven Lukes Memorial Prize, University of Chicago
1999 American Academy of Neurology Extended Neuroscience Award
Publications
Nguyen MK*, McAvoy K*, Liao SC, Doric Z, Lo I, Li H, Manfredi G, Nakamura K. (2021) Mouse midbrain dopaminergic neurons survive loss of the PD-associated mitochondrial protein CHCHD2. Hum Mol Genet.
Doric, Z, Nakamura K. (2021) Mice with disrupted mitochondria used to model Parkinson's disease. Nature. Online ahead of Print.
Linsley JW, Shah K, Castello N, Chan M, Haddad D, Doric Z, Wang S, Leks W, Mancini J, Oza V, Javaherian A, Nakamura K, Kokel D, Finkbeiner S. (2021) Genetically encoded cell-death indicators (GEDI) to detect an early irreversible commitment to neurodegeneration. Nat Commun.12(1):5284.
Li H*, Doric Z*, Berthet A*, Jorgens DM, Nguyen MK, Hsieh I, Margulis J, Fang R, Debnath J, Sesaki H, Finkbeiner S, Huang E and Nakamura K. (2021) Longitudinal tracking of neuronal mitochondria delineates PINK1/Parkin-dependent mechanisms of mitochondrial recycling and degradation. Science Advances.7(32): eabf6580.
Perez-Bermejo JA*, Kang S*, Rockwood SJ*, Simoneau CR*, Joy DA, Silva AC, Ramadoss GN, Flanigan WR, Fozouni P, Li H, Chen PY, Nakamura K, Whitman JD, Hanson PJ, McManus BM, Ott M, Conklin BR, McDevitt TC. (2021) SARS-CoV-2 infection of human iPSC-derived cardiac cells reflects cytopathic features in hearts of patients with COVID-19. Sci Transl Med. 13(590).
Shields LY, Li H, Nguyen K, Kim H, Doric Z, Garcia JH, Gill TM, Haddad D, Vossel K, Calvert M, Nakamura K. (2021) Mitochondrial fission is a critical modulator of mutant APP-induced neural toxicity. J Biol Chem
Bennett NK, Nguyen MK, Darch M, Nakaoka HJ, Cousineau D, Hoeve JT, Graeber T, Schuelke M, Maltepe E, Kampmann M, Mendelsohn BA, Nakamura JL, Nakamura K. (2020) Defining the ATPome reveals cross-optimization of metabolic pathways. Nat Commun. 11, 4319.
Zhang J, Shang Y, Kamiya S, Kotowski SJ, Nakamura K, Huang E. (2019) Loss of HIPK2 protects neurons from mitochondrial toxins by regulating Parkin protein turnover. J Neuroscience.
de Haas R, Heltzel LCMW, Tax D, van den Broek P, Steenbreker H, Verheij MMM, Russel FGM, Orr AL, Nakamura K, and Smeitink JAM. (2019) To be or not to be Pink(1): contradictory findings in an animal model for Parkinson's Disease. Brain Communications.
Mendelsohn BA, Bennett NK, Darch MA, Yu K, Nguyen MK, Pucciarelli D, Nelson M, Horlbeck MA, Gilbert LA, Hyun W, Kampmann M, Nakamura JL, and Nakamura K. (2018) A high throughput screen of real-time ATP levels in individual cells reveals mechanisms of energy failure. PLoS Biol. 16(8): e2004624.
Horlbeck MA, Xu A, Wang M, Bennett NK, Park CY, Bogdanoff D, Adamson B, Chow ED, Kampmann M, Peterson TR,Nakamura K, Fischback MA, Weissman JS*, Gilbert LA*. (2018) Mapping the genetic landscape of human cells. Cell. 174(4):953-967.
Malty RH, Aoki H, Kumar A, Phanse S, Amin S, Zhang Q, Minic Z, Goebels F, Musso G, Wu Z, Abou-tok H, Meyer M, Deineko V, Kassir S, Sidhu V, Jessulat M, Scott NE, Xiong X, Vlasbom J, Prasad B, Foster LJ, Alberio T, Garavaglia B, Yu H, Bader GD, Nakamura K, Parkinson J, Babu M. (2017) A Map of Human Mitochondrial Protein Interactions Linked to Neurodegeneration Reveals New Mechanisms of Redox Homeostasis and NF-κB Signaling. Cell Syst. 5(6):564-577.
Pathak D, Berthet A, Bendor JT, Yu K, Sellnow RC, Orr AL, Nguyen MK, Edwards RH, Manfredsson FP and Nakamura K. (2017) Loss of α-synuclein does not affect mitochondrial bioenergetics in rodent neurons. eNeuro. 4(2).
Haddad D, Nakamura K. (2017) PINK1-based screen shines light on autophagy enhancers for Parkinson's disease. Cell Chem Biol. 24(4), 429-30.
Orr AL, Rutaganira FU, de Roulet D, Huang EJ, Hertz NT, Shokat KM, Nakamura K. (2017) Long-term oral kinetin does not protect against α-synuclein induced neurodegeneration in rodent models of Parkinson's disease. Neurochem Int.
Shields LY, Mendelsohn BA, Nakamura K. (2017) Measuring ATP in axons with FRET. In: Techniques to Investigate Mitochondrial Functions in Neurons, Neuromethods (eds Stefan Strack and Yuriy Usachev), Humana Press, Springer Science + Business Media LLC, New York, NY, Chapter 6, 115-131.
Haddad D, Nakamura K. (2015) Understanding the susceptibility of dopamine neurons to mitochondrial stressors in Parkinson's disease. FEBS Lett. 2015 Dec 21; 589(24 Pt A):3702-13.
Pathak D, Shields L, Mendelsohn BA, Haddad D, Lin W, Gerencser AA, Kim H, Brand MD, Edwards RH, Nakamura K. (2015) The role of mitochondrially derived ATP in synapatic vesicle recycling. J Biol Chem. 290(37):22325-36. (selected by JBC editors as one of the 16 "Best of JBC Papers of the Week," top paper from Bioenergetics in 2015)
Shields LY*, Kim H*, Zhu L, Haddad D, Berthet A, Pathak D, Lam M, Ponnusamy R, Diaz-Ramirez LG, Gill TM, Sesaki H, Mucke L, Nakamura K. (2015) Dynamin-related protein 1 (Drp1) is required for normal mitochondrial bioenergetic and synaptic function in CA1 hippocampal neurons. Cell Death Dis. 6:e1725.
Berthet A, Margolis EB, Zhang J, Hsieh I, Zhang J, Hnasko T, Ahmad J, Edwards RH, Sesaki H, Huang EJ, Nakamura K. (2014) Loss of mitochondrial fission depletes axonal mitochondria in midbrain dopamine neurons. J Neuroscience. 34(43):14304-14317
Skibinski G, Nakamura K, Cookson MR, Finkbeiner S. (2014) Mutant LRRK2 Toxicity in Neurons Depends on LRRK2 Levels and Synuclein But Not Kinase Activity or Inclusion Bodies. J Neuroscience. 34(2), 418-33
Ho, L, Titus AS, Bannerjee KK, George S, Lin W, Saha AK, Nakamura K, Gut P, Verdin E, Kolthur U. (2013) SIRT4 Regulates ATP homeostasis and mediates a retrograde signaling via AMPK. Aging. 5(11), 835-849
Pathak D, Berthet A, Nakamura K. (2013) Energy failure- does it contribute to neurodegeneration? Ann Neurol. 74(4), 506-516
Manzanillo PS, Ayres JS, Watson RO, Collins AC, Souza G, Rae CS, Schneider DS, Nakamura K, Shiloh MU, Cox JS. (2013) The ubiquitin ligase PARKIN is required for autophagy and host resistance to intracellular pathogens. Nature. 501 (7468):512-6
Hertz NT, Berthet A, Sos ML, Thorn KS, Burlingame AL, Nakamura K, Shokat KM. (2013) A neo-substrate that amplifies catalytic activity of Parkinson's disease related kinase PINK1. Cell. 154 (737-747).
Yoshida S, Tsutsumi S, Muhlebach G, Sourbier C, Lee MJ, Lee S, Vartholomaiou E, Tatakoro M, Beebe K, Miyajima N, Mohney RP, Chen Y, Hasumi H, Xu W, Fukushima H, Nakamura K, Koga F, Kihara K, Trepel J, Picard D, Neckers L. (2013) Molecular chaperone TRAP1 regulates a metabolicswitch between mitochondrial respiration and aerobic glycolysis. Proc Natl Acad Sci USA. 110(17), E1604-12
Nakamura, K. (2013) α-Synuclein and mitochondria: partners in crime? Neurotherapeutics. 10(3), 391-9.
Itoh K, Nakamura K, Iijima M, Sesaki H. Mitochondrial Dynamics in Neurodegeneration. (2013) Trends Cell Biol. 23(2), 64-71
Nakamura K, Nemani VM, Azarbal F, Skibinski G, Levy JM, Egami K, Munishkina L, Zhang J, Gardner B, Wakabayashi J, Sesaki H, Cheng Y, Finkbeiner S, Nussbaum RL, Edwards RH. (2011) Direct membrane association drives mitochondrial fission by the Parkinson's disease-associated protein α-synuclein. J Biol Chem. 286(23), 20710-26. (selected by JBC editors as one of the 20 "Best of 2011," top paper from Neurobiology in 2011)
Nemani VM, Lu W, Berge V, Nakamura K, Ono V, Lee MK, Chaudhry FA, Nicoll RA, Edwards RH. (2010) Increased expression of alpha-synuclein reduces neurotransmitter release by inhibiting synaptic vesicle reclustering after endocytosis. Neuron 65(1), 66-79.
Fortin DL, Nemani VM, Nakamura K, Edwards RH. (2010) The behavior of alpha-synuclein in neurons. Mov Disord. 25 Suppl 1: S21-6.
Nakamura K, Nemani VM, Wallender EK, Kaehlcke K, Ott M, Edwards RH. (2008) Optical reporters for the conformation of alpha-synuclein reveal a specific interaction with mitochondria. J Neurosc i28(47), 12305-17.
Nakamura K, Christine CW, Starr PA, Marks WJ. (2007) Effects of unilateral subthalamic and pallidal deep brain stimulation on fine motor functions in Parkinson's disease. Mov Disord. 22(5), 619-26.
Nakamura K, Edwards RH. (2007) Physiology versus pathology in Parkinson's disease. Proc Natl Acad Sci USA. 104(29), 11867-8.
Nakamura K, Aminoff MJ. (2007) Huntington's disease: clinical characteristics, pathogenesis and therapies. Drugs Today. 43(2), 97-116.
Nakamura K. (2006) Medical management of Parkinson's disease. Harrison's Online. McGraw-Hill, www.accessmedicine.com.
Nakamura K, Kang UJ. (2006) Trophic factor delivery by gene therapy. In: Textbook of neural repair and rehabilitation (eds Selzer ME, Cohen L, Gage FH, Clarke S and Duncan PW), Cambridge University Press, Cambridge, UK, Chapter 29, pp 532-547.
Fortin DL, Troyer MD, Nakamura K, Kubo S, Anthony MD, Edwards RH. (2004) Lipid rafts mediate the synaptic localization of α-synuclein. J Neurosci. 24(30), 6715-6723.
Nakamura K, Mukherjee P, Swanson RA. (2004) Vitamin B12 deficiency. Arch Neurol. 61(6), 960.
Nakamura K, Roberson ED, Reilly LG, Tsao JW. (2003) Polyneuropathy following gastric bypass surgery. Am J Med. 115(8), 679-680.
Kang UJ, Nakamura K. (2003) Potential of gene therapy for pediatric neurotransmitter diseases: lessons from Parkinson's disease. Ann Neurol. 54 Suppl 6, S103-9.
Nakamura K, Bindokas VP, Kowlessur D, Elas M, Milstien S, Marks JD, Halpern HJ, Kang UJ. (2001) Tetrahydrobiopterin scavenges superoxide in dopaminergic neurons. J Biol Chem. 276(37), 34402-7.
Nakamura K, Ahmed M, Barr E, Leiden J, Kang UJ. (2000) The localization and functional contribution of striatal aromatic L-amino acid decarboxylase to L-3,4-dihydroxyphenylalanine decarboxylation in rodent parkinsonian models. Cell Transplantation. 9(5), 567-576.
Nakamura K, Won L, Heller A, Kang UJ. (2000) Preferential resistance of dopaminergic neurons to glutathione depletion in a reconstituted nigrostriatal system. Brain Res. 873(2), 203-211.
Nakamura K, Bindokas VP, Marks JD, Wright DA, Frim DM, Miller RJ, Kang UJ. (2000) The selective toxicity of 1-methyl-4-phenylpyridinium to dopaminergic neurons: the role of mitochondrial complex I and reactive oxygen species revisited. Mol Pharmacol. 58(2), 271-278.
Nakamura K, Wright DA, Wiatr T, Kowlessur D, Milstien S, Lei XG, Kang UJ. (2000) Preferential resistance of dopaminergic neurons to glutathione depletion is independent of cellular glutathione peroxidase and is mediated by tetrahydrobiopterin. J Neurochem. 74(6), 2305-2314.
Nakamura K, Wang W, and Kang UJ. (1997) The role of glutathione in dopaminergic neuronal survival. J Neurochem. 69, 1850-1858.
Lab Members
Oluwole Alese, PhD
Postdoctoral Scholar
Neal Bennett, PhD
Scientist
Zak Doric
Visiting Scientist
Saeed Fathi
Rotation Student
Hannah Guardiano
Student Intern
Kohei Kano, PhD
Postdoctoral Scholar
Megan Lee
Research Associate I
Huihui Li, PhD
Postdoctoral Scholar
Szu Chi Liao
Graduate Student
Katerina Rademacher
Graduate Student
Yoshi Sei, PhD
Postdoctoral Scholar
Yanilka Soto-Muniz
Graduate Student
Mie Yamanaka
Visiting Researcher
Joyce Yang
Graduate Student