Karin Pelka's lab studies the cellular interactions that shape immune responses in human tumors, focusing on how these responses are regulated. Using a combination of large-scale genomic analyses and tissue imaging approaches, Pelka has identified hubs in tumor tissues where tumor cells come into close contact with immune cells. By characterizing the cells in these hubs, and the gene networks that are turned on in these cells, she aims to uncover novel ways to harness the immune system in the fight against cancer.
Disease Areas
Autoimmune Diseases
Cancer Immunotherapies
Areas of Expertise
Human Immunology
Innate Immunity
Single Cell and Spatial Profiling
Systems Biology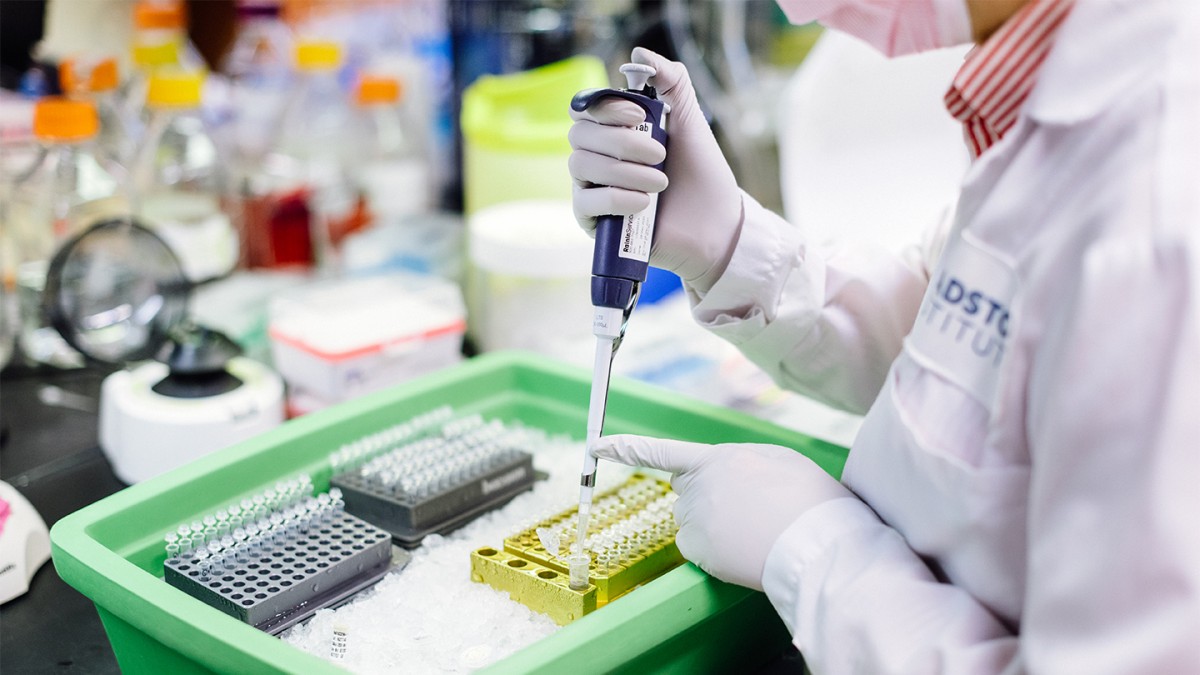 Lab Focus
Understanding how the hubs of malignant and immune cells form, how they evolve over time and how cells communicate within and between hubs.
Understanding how hubs respond to specific anti-cancer treatments.
Understanding how preexisting hubs impact future immune responses to the tumor, and generally how innate immune mechanisms shape anti-tumor immunity.
Research Impact
Immunotherapy, the use of agents that stimulate or suppress immune responses to combat disease, has revolutionized the treatment of certain types of cancer. However, many cancers are unresponsive to immunotherapy for reasons that remain poorly understood.
Immune cells cannot execute their function in isolation, but require interactions with other immune and non-immune cells. Using a systems biology approach, Pelka discovered multiple cellular communities—or "hubs"—where malignant and immune cells interact in the tumors of patients with colorectal cancer. Furthermore, she found that tumors that were likely to respond to immunotherapy contained different types of hubs than those who don't respond. By pursuing the characterization of immune hubs in solid tumors, Pelka and her team hope to identify molecular mechanisms that could be harnessed to design novel immunotherapies for currently non-responsive tumors.
Professional Titles
Assistant Investigator, Gladstone-UCSF Institute of Genomic Immunology
Investigator, The Parker Institute for Cancer Immunotherapy at Gladstone Institutes
Assistant Professor, Department of Microbiology and Immunology, UC San Francisco
Bio
Karin Pelka, PhD, is an assistant investigator at Gladstone Institutes. She is also an assistant professor in the Department of Microbiology and Immunology at UC San Francisco.
Pelka aims to understand how immunological processes are regulated in human tissues in order to leverage the immune system in the fight against diseases such as cancer. Using unbiased high-throughput and high-content technologies and deeply mechanistic studies, she intends to systematically dissect how immune and non-immune cells work together to shape immune responses.
She earned a PhD in innate immunity from the University of Bonn in Germany, where she discovered a key regulatory mechanism that controls the detection of infection- or danger-associated nucleic acids by sensors of the innate immune system. She also contributed to several studies on the role of innate immune sensors in autoimmune diseases such as lupus and in the Western Diet-mediated epigenetic reprogramming of the innate immune system.
As a postdoctoral fellow at the Broad Institute of MIT and Harvard, she shifted her interest to cancer immunology and systems biology. She led a cross-disciplinary, multi-institutional single-cell RNA sequencing and spatial profiling effort on human colorectal cancer. She discovered that these seemingly heterogeneous tumors contained several conserved and spatially organized multicellular interaction networks between malignant cells and immune cells.
She is a member of the American Association for Cancer Research and the Society for Immunotherapy of Cancer.
How Did You Get Your Start in Science?
Initially, it was pure fascination for all of nature's clever solutions. Later, I realized how powerful a better understanding is in our fight against diseases.
Karin Pelka, PhD
Honors and Awards
2021 NIH Pathway to Independence Award K99/R00, National Cancer Institute
2020 Phillip A. Sharp Innovation in Collaboration Award, Stand Up To Cancer
2019 Peggy Prescott Early Career Scientist Award in Colorectal Cancer Research, Stand Up To Cancer
2019 BroadIgnite Award supporting bold ideas of early-career scientists, Broad Institute of MIT and Harvard
2018–2020 Research Fellowship, German Research Foundation
2016 PhD in Molecular Biomedicine 'summa cum laude'
2010 Diploma in Molecular Biomedicine awarded with the highest distinction
2005–2010 Scholar, German Academic Scholarship Foundation
Lab Members
Nils Asmann
Graduate Student
McKenzie Daanen
Rotation Student
Amelie Delcourt
Rotation Student
Jack Demaray
Research Associate I
Alisa Dietl, MD
Postdoctoral Scholar
Sara Misiukiewicz
Graduate Student
Aditya Naik, MBA
Research Associate II
Anna Ralser, PhD
Postdoctoral Scholar
Shakthi Subramaniam
Student Intern