Isha Jain's lab is interested in how the human body senses and responds to variations in oxygen levels. A number of diseases, including mitochondrial diseases, strokes, heart attacks, and respiratory diseases, reflect an imbalance between oxygen supply and oxygen demand. Using a combination of systems biology, metabolism, and physiology, the Jain Lab aims to identify conditions that may benefit from "turning the oxygen dial." A long-term goal of the team's work is to understand the role of oxygen in aging and age-associated conditions. Using similar approaches, the lab is also investigating pathologies associated with variations in vitamin levels in the body.
Disease Areas
Ischemia (Stroke, Heart Attack, Respiratory Disease)
Neurodegenerative and Mitochondrial Diseases
Inborn Errors of Metabolism
Aging and Aging-related Diseases
Areas of Expertise
Oxygen Metabolism and Physiology
Vitamin and Cofactor Metabolism
Human Genetics
Systems Biology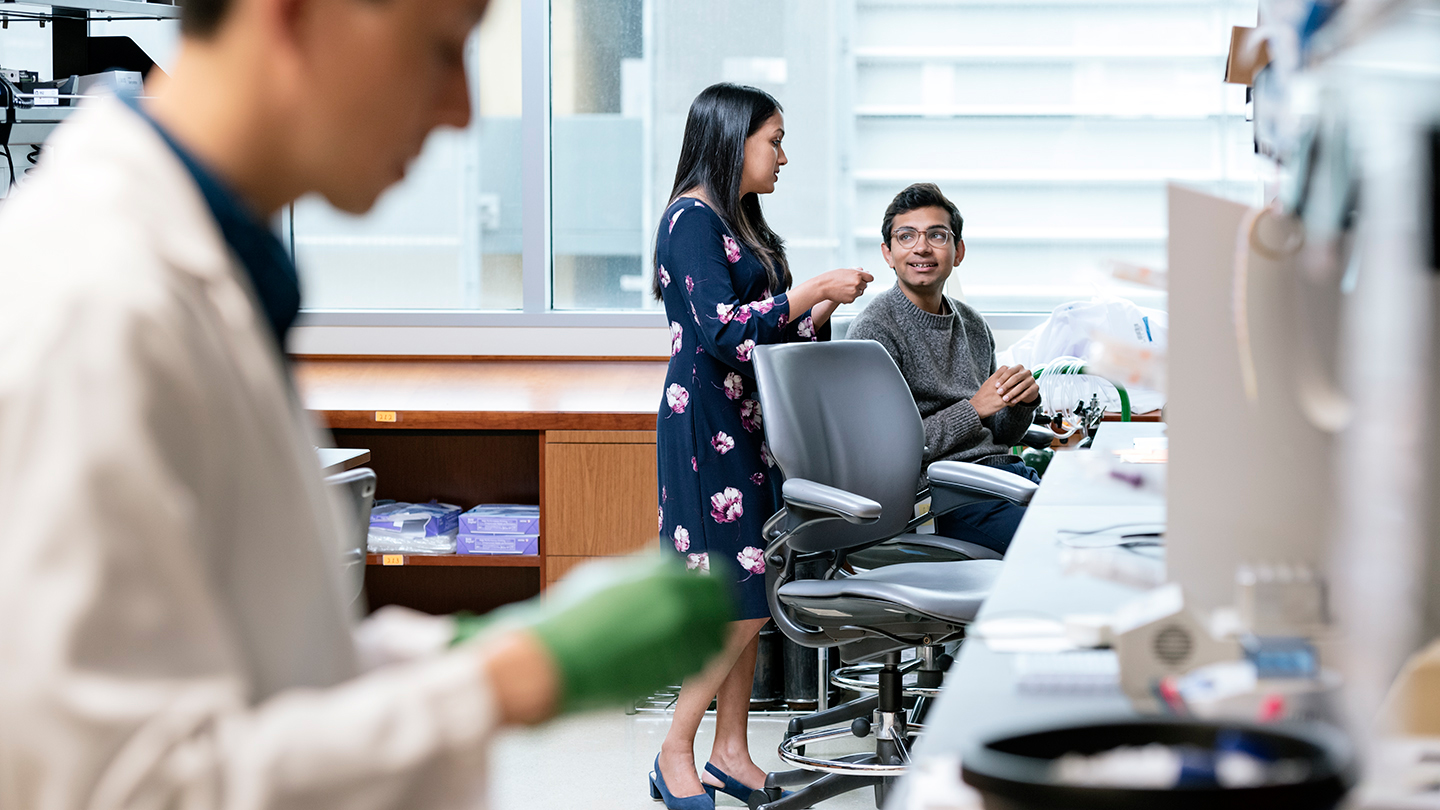 Lab Focus
Understanding how the body senses and adapts to variations in oxygen levels, and studying what goes wrong when there is too little or too much oxygen in the body.
Developing low or high oxygen exposure as a therapy for metabolic disorders.
Understanding the genetic, nutritional, and metabolic causes of subclinical vitamin deficiencies, with the goal of developing personalized nutritional therapies.
Research Impact
Oxygen is both vital and toxic for life. It enables efficient energy production in the mitochondria. Yet, excess oxygen leads to oxidative damage of biomolecules.
One of Jain's seminal contributions was the discovery that in a mouse model of mitochondrial disease, lowering inhaled oxygen levels could alleviate and even reverse neurodegeneration. This finding raises the possibility that therapies aimed at "turning the oxygen dial" may benefit other mitochondrial or metabolic disorders. This work has led to a Phase 1 clinical trial.
Jain's findings also have implications for aging and longevity. Epidemiological studies show that people who live at higher altitude—where oxygen pressure is lower—are longer-lived than people who live at sea level. Understanding the molecular mechanisms that kick in at high altitude and their interaction with the aging process may uncover new ways to alleviate age-related conditions.
Jain's work could also lead to therapies aimed at preventing or reversing the tissue damage associated with states of ischemia, such as strokes or heart failure, where much of the pathology is due to an insufficient supply of oxygen and nutrients.
Professional Titles
Assistant Investigator, Gladstone Institute of Cardiovascular Disease
Assistant Professor, Department of Biochemistry, UC San Francisco
Bio
Isha Jain is an assistant investigator at Gladstone Institutes, as well as an assistant professor at UC San Francisco (UCSF).
Jain received her undergraduate degree in chemical and physical biology from Harvard University. There, she worked in the lab of Erin O'Shea on bacterial chromosome segregation. Subsequently, she joined the Harvard-MIT Program in health sciences and technology. She earned a PhD in computer science and systems biology and worked in the labs of Vamsi Mootha and Warren Zapol, where she made the discovery that hypoxia could serve as a therapy for mitochondrial disorders. Before joining Gladstone, Jain was a UCSF Sandler Fellow.
Why Are You Dedicated to Discovery?
The feeling of discovery and solving a scientific mystery is an indescribable form of euphoria. Gladstone embodies the truly remarkable idea that we, as scientists, can understand how the human body works and use this knowledge to develop therapies.
Isha Jain, PhD
Honors and Awards
2021 Searle Scholar Award
2021 Klingenstein-Simons Award in Neuroscience
2021 Mallinckrodt Award
2018 NIH Early Independence Award (DP5), National Institutes of Health
2018 Glenn Award for Aging Research, Glenn Foundation for Medical Research
2018–2020 Junior Faculty Grant, American Federation for Aging Research
2018–2023 Sandler Fellowship, UC San Francisco
2017 Harold Weintraub Graduate Student Award, Fred Hutch
2013–2016 Computational Sciences Graduate Fellowship, Department of Energy
2011 Barry Goldwater Award, The Barry Goldwater Scholarship and Excellence in Education Foundation
2009 Glamour Magazine's Top 10 College Women
2008 Discover Magazine's Top 5 Scientists under 20
2007 National Individual Winner, Siemens Competition in Math, Science, and Technology
Lab Members
Skyler Blume
Research Associate I
Kirsten Chen
Graduate Student
Kirsten Chen
Graduate Student
Brandon Chew
Graduate Student
Brandon Chew
Graduate Student
Brandon Desousa
Graduate Student
Will Flanigan
Graduate Student
Ankur Garg, PhD
Postdoctoral Scholar
Galih Haribowo, PhD
Postdoctoral Scholar
Tej Joshi
Visiting Researcher
Isabella Judge
Student Intern
Mika Matera-Vatnick
Rotation Student
Ayush Midha
Graduate Student
Michael Vien
Visiting Researcher