In 2006, Shinya Yamanaka discovered that adult somatic cells can be reprogrammed into an embryonic-like pluripotent state by delivering transcription factors. These reprogrammed cells, known as induced pluripotent stem (iPS) cells, have the potential to develop into every cell type in the body and are invaluable tools for disease modeling, drug screening, and cell therapy. iPS cells also provide an unprecedented opportunity for discovery in life science, and in Yamanaka's lab today, researchers continue to use them to investigate the mechanisms for cell fate determination, the reprogramming process, and pluripotency.
Disease Areas
Genetic Diseases
Intractable and Rare diseases
Areas of Expertise
Cellular Reprogramming
Post-transcriptional Regulation
Stem Cells and iPS Cells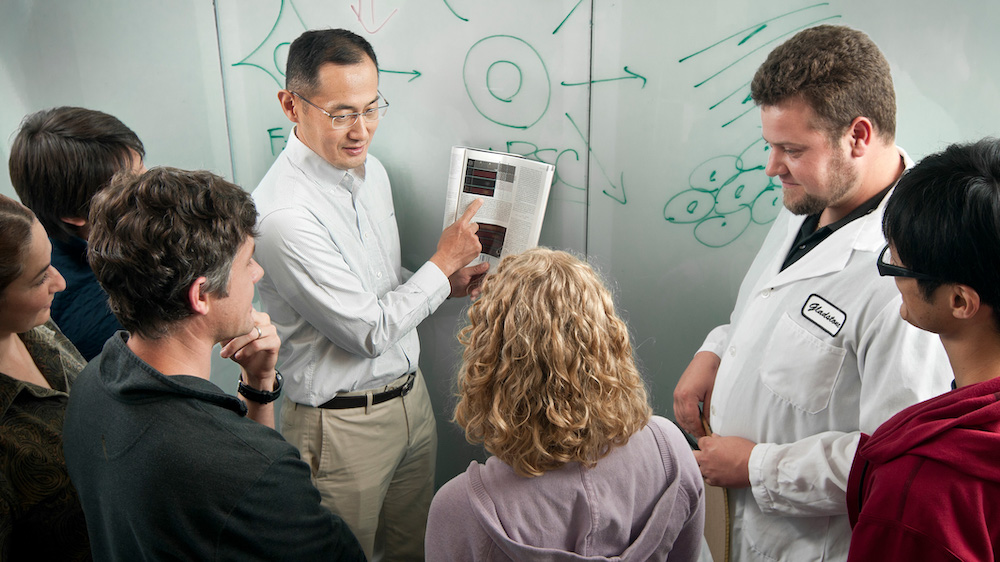 Lab Focus
Investigating the molecular mechanisms that underlie cellular reprogramming by defined factors.
Determining the mechanisms of post-transcriptional regulation and how they influence pluripotency and cell fate.
Establishing an innovative approach to study diseases by in-depth analysis of pluripotent stem cells.
Research Impact
Work from Yamanaka's lab has demonstrated that a few transcription factors in combination can reprogram cell fate from somatic lineages back to a pluripotent state. This groundbreaking work established the field of iPS cell technology, and hundreds of scientists are now trying to bring the technology to patients. Continuing efforts in Yamanaka's lab to elucidate the mechanisms underlying pluripotency and reprogramming revealed that beyond the action of transcription factors, post-transcriptional regulation is also critical for cell fate determination. For example, they demonstrated that NAT1 (eIF4G2), a translation initiation factor, plays multiple roles in human stem cells depending on differentiation status. Their research addresses complex interactions between transcriptional control and post-transcriptional regulation, and contributes to innovative therapeutic options for patients including gene and cell therapies.
Professional Titles
Senior Investigator
Senior Investigator, Gladstone Institutes
L.K. Whittier Foundation Investigator in Stem Cell Biology, Gladstone Institutes
Professor, Department of Anatomy, UC San Francisco
Director Emeritus and Professor, Center for iPS Cell Research and Application (CiRA), Kyoto University, Japan
Bio
Shinya Yamanaka, MD, PhD, is a senior investigator and the L.K. Whittier Foundation Investigator in Stem Cell Biology at Gladstone Institutes. He is also a professor of anatomy at UC San Francisco, as well as a director and professor of the Center for iPS Cell Research and Application (CiRA) at Kyoto University in Japan.
Yamanaka earned an MD from Kobe University and a PhD from Osaka City University. From 1987 to 1989, he was a resident at the National Osaka Hospital. From 1993 to 1995, he was a postdoctoral fellow at Gladstone. Yamanaka then became an assistant professor at Osaka City University Medical School, and later an associate professor at Nara Institute of Science and Technology, where he eventually became a full professor in 2003. He took his current professor position at Kyoto University in 2004, and was appointed senior investigator at Gladstone Institutes in 2007. Since 2008, he has been directing CiRA.
In 2012, Yamanaka was awarded the Nobel Prize in Physiology or Medicine for his discovery that adult somatic cells can be reprogrammed into pluripotent cells. In addition, he has received many awards and honors, including the Albert Lasker Basic Medical Research Award, the Wolf Prize in Medicine, the Millennium Technology Award, the Shaw Prize, the Kyoto Prize for Advanced Technology, the Gairdner International Award, the Robert Koch Award, and the March of Dimes Prize.
How Did You Get Your Start in Science?
"As a young doctor, I saw many patients suffering from intractable diseases, including my own father. I want to overcome those diseases with science."
Shinya Yamanaka, MD, PhD
Honors and Awards
2018 The 69th NHK (Japan Broadcasting Corporation) Broadcasting Culture Award, Japan
2018 Honorary degree, the Bulgarian Academy of Sciences
2018 Honorary degree, the University of Tampere
2016 Honorary Distinguished Professor, Hiroshima University, Japan
2015 The Visionary Award by Glaucoma Research Foundation, USA
2015 Elected to the National Academy of Medicine as an International Member, USA
2015 Degree of Doctor of Science, honoris causa awarded by the Chinese University of Hong Kong
2015 Elected to Academy of Sciences, Institute de France as a Foreign Associate, France
2015 UCSF 150th Anniversary Alumni Excellence Award
2014 Honorary Degree awarded by the University of Hong Kong
2014 JANE Innovation Award, Japan
2014 Honorary degree, 56th Convocation Ceremony, The Rockefeller University
2013 Honored Citizen of Kyoto City, Japan
2013 Honored Citizen of Higashiosaka City, Japan
2013 The 2013 Kyoto University Shi-Shi Award, Japan
2013 Breakthrough Prize in Life Sciences, Milner Foundation, Isle of Man
2013 Commitment to a Cure Award, The ALS Association Golden West Chapter
2013 Special Honor Award of the Kyoto Medical Association, Japan
2013 World Visionary Award (Sponsored by Japan Society of Northern California), USA
2013 Member, the Japan Academy (Elected)
2012 Osaka Governor's Award, Japan
2012 Order of Cultural Merit, Japan
2012 Kyoto Prefecture People's Honor Award, Japan
2012 Millennium Technology Prize, Technology Academy Finland
2012 The Kyoto Prefecture Culture Prize, Eminent Merits Prize, Japan
2012 Bunka-Kunsho (Order of Culture), Japan
2012 Osaka Award for Challenge and Pioneer Spirit, Osaka Chamber of Commerce and Industry, Japan
2012 The 47th Osaka City Award, Japan
2012 Nobel Prize in Physiology or Medicine
2011 Warren Triennial Prize, Massachusetts General Hospital
2011 King Faisal International Prize for Science (Medicine), Saudi Arabia
2011 11th Annual Albany Medical Center Prize in Medicine and Biomedical Research
2011 Wolf Prize in Medicine, Israel
2011 Foreign Associate, National Academy of Sciences (Elected)
2011 Distinguished Leadership Award, Japan Society of Boston
2011 ISSCR McEwen Centre Award for Innovation
2010 26th annual Kyoto Prize in Advanced Technology, Japan
2010 Balzan Prize for Stem Cells, Italy
2010 BBVA Foundation Frontiers of Knowledge Award in the Biomedicine category, Spain
2010 March of Dimes Prize in Developmental Biology
2010 Mayor of Osaka Special Award, Japan
2010 100th Imperial Prize and Japan Academy Prize, The Japan Academy, Japan
2010 Kyoto Medal of Honor, Japan
2010 Person of Cultural Merit, Japan
2010 Medical Award, Japan Medical Association, Japan
2010 Honorary Professor by the Nara Institute of Science and Technology (NAIST)
2010 Honorary Doctor of Science Degree, Mount Sinai School of Medicine, USA
2009 Nikkei BP Technology Award, Nikkei Business Publications, Inc., Japan
2009 Lewis S. Rosenstiel Award for Distinguished Work in Basic Medical Science
2009 Canada Gairdner International Award, The Gairdner Foundation, Canada
2009 Albert Lasker Basic Medical Research Award, Lasker Foundation
2009 Honorary doctorate by the Kumamoto University
2008 Special Prize, Kyoto Souzousya Taisho Awards, Japan
2008 Takeda Prize for Medical Science, Japan
2008 Medals of Honor from the Japanese Government ("Shiju Hosho", Medals with Purple Ribbon), Japan
2008 Massry Prize, Meira and Shaul G. Massry Foundation
2008 Kyoto Newspaper Taisho, Japan
2008 Lifetime Scientific Achievement Award, American Skin Association
2008 Asahi Award, Asahi Newspaper Co., Japan
2008 Inoue Prize for Science, Japan
2008 Golden Plate Award and Guest of Honor, International Achievement Summit, Academy of Achievement
2008 Robert-Koch Preis, Germany
2008 Nikkei BP Golden Award, Nikkei Business Publications, Inc., Japan
2008 The Special Prize for Science and Technology, the Minister of Education, Culture, Sports, Science and Technology, Japan
2008 Chunichi Cultural Prize, Chunichi Newspaper Co., Japan
2008 The Shaw Prize in Life Science and Medicine, Hong Kong
2008 One of the "TIME 100", TIME magazine's most influential people in the world
2008 The Sixth Takamine Memorial Sankyo Prize, Japan
2007 JSPS Prize, Japan Society for the Promotion of Science
2007 Twenty-Fifth Osaka Science Prize, Japan
2007 Meyenburg Cancer Research Award, Germany
2007 Nikkei BP Technology Award, Nikkei Business Publications, Inc., Japan
2004 Gold Medal, Tokyo Techno Forum 21, Japan
2004 Nice-Step researcher, National Institute of Science and Technology Policy (NISTEP), Japan
2003 NAIST Award, Nara Institute of Science and Technology, Japan
Lab Members
Thieu Bleu, MS
Research Associate II
Justin Henson
Research Associate I
Radia Jamee, MSE
Research Associate I
Aye Khaine
Research Associate I
Akira Kunitomi, MD, PhD
Staff Research Scientist I
Haruko Kunitomi, MD, PhD
Scientist
Gay Lancero
Senior Research Associate
Sam Perli, PhD
Postdoctoral Scholar
Eugenea Raychaudhuri
Research Associate II
Jonathan Tong
Research Associate I
Ivana Vasic, PhD
Collaborator
Kaho Washizu
Visiting Researcher
Mie Yamanaka
Visiting Researcher