The Srivastava lab is focused on the gene networks that guide the development of the heart, seeking to understand how aberrations in these pathways can cause congenital heart disease, and how they can use this knowledge to generate new cardiac cells to repair heart damage. One powerful approach they use is creating models of heart disease in a dish by reprogramming human cells from patients carrying mutations in cardiac developmental genes, editing them with CRISPR technology and analyzing changes at the single cell level. This has led them to discover perturbations in pivotal genetic pathways that contribute to disease, and identified the nodes that can be therapeutically targeted to restore heart cells to normal function.
Disease Areas
Congenital Heart Disease
Heart Failure
Cardiac Valve Disease
Aging
Areas of Expertise
Developmental Biology
Human Genetics
Regenerative Medicine
CRISPR and Gene Editing
Stem Cells and iPS Cells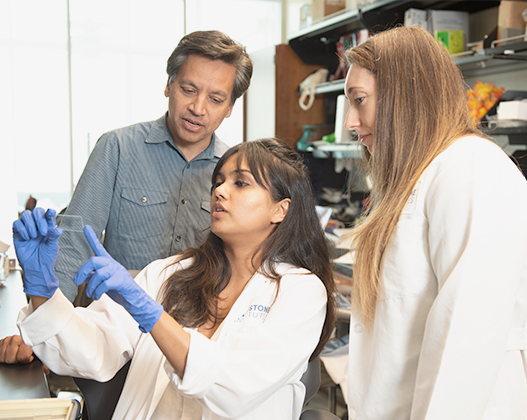 Lab Focus
Modeling human cardiovascular diseases using single-cell approaches in animal models and induced pluripotent stem cells from patients with genetically defined disease.
Investigating how combinations of human mutations or polymorphisms in cardiac developmental genes predispose to disease.
Identifying targetable signaling, transcriptional, and translational nodes that can be manipulated for regenerative medicine or other therapeutic approaches to directly reprogram non-myocytes into new cardiomyocytes for cardiac regeneration.
Research Impact
Srivastava's lab leveraged the lessons of cardiac developmental biology to directly reprogram resident non-muscle cells in the mouse heart into cells that function like heart muscle cells, effectively regenerating heart muscle after damage. This new paradigm of harnessing endogenous cells to regenerate organs may be broadly applicable to other organs.
Similarly, the team used knowledge of developmental cell-cycle regulators to unlock the post-mitotic state in adult cardiomyocytes and stimulate enough stable cell division to regenerate cardiac muscle in the adult. They also revealed the mechanisms underlying human disease caused by mutations in cardiac developmental regulators using human iPS cells, and used this knowledge to screen for novel therapeutic approaches to disease.
Professional Titles
President and Senior Investigator
President, Gladstone Institutes
Senior Investigator, Gladstone Institutes
Robert W. and Linda Mahley Distinguished Professor, Gladstone Institutes
Director, Roddenberry Stem Cell Center, Gladstone Institutes
Professor, Departments of Pediatrics and Biochemistry and Biophysics, UC San Francisco
Wilma and Adeline Pirag Distinguished Professor in Pediatric Developmental Cardiology, UC San Francisco
Bio
Deepak Srivastava is president of Gladstone Institutes. He is also the Younger Family Professor and a senior investigator at the Gladstone Institute of Cardiovascular Disease, and director of the Roddenberry Stem Cell Center. At UC San Francisco, Srivastava is a professor in the Departments of Pediatrics and Biochemistry and Biophysics, and is the Wilma and Adeline Pirag Distinguished Professor in pediatric developmental cardiology.
Before joining Gladstone in 2005, Srivastava was a professor in the Department of Pediatrics and Molecular Biology at the University of Texas Southwestern Medical Center in Dallas. He is a member of the American Society for Clinical Investigation, the American Academy of Arts and Sciences, the American Association for the Advancement of Science, and the National Academy of Medicine. Srivastava served as president of the International Society for Stem Cell Research for 2019–2020 and is on the editorial board of the journal Cell Stem Cell. In addition, Srivastava has co-founded two biotechnology companies, iPierian Inc. and Tenaya Therapeutics, and chaired their scientific advisory boards.
How Did You Get Your Start in Science?
"I fell in love with science as a medical student and this was reinforced after repeatedly experiencing the limitations of modern clinical medicine."
Deepak Srivastava, MD
Honors and Awards
2022 International Okamoto Award from The Japan Research Foundation for Healthy Aging
2020 Rice University Distinguished Alumnus Award
2019 President, International Society for Stem Cell Research
2017 Upstart 50 Inventor Award, San Francisco Business Times
2016 Andras Varro Award for Excellence in Cardiovascular Sciences, International Academy of Cardiovascular Sciences
2015 World Affairs Council Award, San Francisco, CA
2014 Elected to the National Academy of Medicine
2014 Elected to the International Academy of Cardiovascular Sciences
2013 Editorial Board, Cell and Cell Stem Cell
2013 Bay Bio Pantheon Award for Scientific Achievement
2013 Best Manuscript Award, Circulation Research
2013 Outstanding Investigator Award, International Society for Heart Research
2013 Ashbel Smith Distinguished Alumnus Award, University of Texas Medical Branch
2012 Lovett C. Peters Lecturer, Pioneer Institute
2012 George E. Brown Memorial Lecturer, American Heart Association
2012 Daniel McNamara Memorial Lecturer, Texas Children's Hospital
2012 American Pediatric Society (Elected)
2012 Abraham White Scientific Achievement Award
2011 American Association for the Advancement of Science (Fellow)
2010 American Heart Association (Fellow)
2010 American Academy of Arts and Sciences (Elected)
2008 Mavis P. Kelsey Lecturer, Texas Medical Center
2007 E. Mead Johnson Award, Society for Pediatric Research
2006 Wendy and Leonard Goldberg Lecturer, Cedars-Sinai Medical Center
2005 Wilma and Adeline Pirag Distinguished Professorship in Pediatric Developmental Cardiology
2004 American Society for Clinical Investigators (Elected)
2004 Society for Pediatric Research (Elected)
2004 Outstanding Contributions in Medicine Award, Dallas Asian Chamber of Commerce
2003 Barbara Bowman Memorial Lecturer
2003 American Society of Clinical Investigators
2002 Pogue Distinguished Chair in Research on Cardiac Birth Defects
2000 Denison Young Memorial Lecturer
2000 Joel B. Steinberg Chair in Pediatrics
1998 Richard Rowe Award, Society for Pediatric Research
1998 Young Investigator Award, Perinatal Research Society
1997 Patrick J. Niland Memorial Lecturer, University of Michigan
1996 Louis and Arnold Katz Basic Science Award, American Heart Association (Finalist)
1995 Young Investigator Award, American Heart Association
1995 Basic Science Research Award, Society for Pediatric Research
1993 National Institute of Health Pediatric Scientist Development Award
1990 Medical Student Research Award, University of Texas Medical Branch
1990 Magna Cum Laude, University of Texas Medical Branch
1986 University of Texas Academic Excellence Award
Lab Members
Abigail Brand
Research Associate I
Alex Bruneau
Student Intern
Cesar Castro
Research Technologist III
Paget Chung
Student Intern
Mauro Costa, PhD
Staff Research Scientist II
Karena Essex
Senior Administrative Specialist
Giselle Galang
Visiting Researcher
Saptarsi Haldar, MD
Affiliate Investigator
Yu Huang, MS
Research Scientist
Patrick Hurley
Student Intern
Kathy Ivey, PhD
Visiting Scientist
Shyam Lal, PhD
Postdoctoral Scholar
Adrienne Lam
Research Associate I
Kihyun Lee, PhD
Visiting Scientist
Clara Lee
Visiting Researcher
Feiya Li, PhD
Postdoctoral Scholar
Bonnie Maven, PhD
Postdoctoral Scholar
Bonnie Maven, PhD
Collaborator
Alex Merriman
Graduate Student
Alexander Merriman
Visiting Scientist
Tomo Nishino, MD, PhD
Scientist
Arun Padmanabhan, MD, PhD
Visiting Postdoc
Angelo Pelonero, MS
Bioinformatician II
Nikolaos Poulis, PhD
Postdoctoral Scholar
Jeeves Ranade, PhD
Staff Research Scientist II
Nandhini Sadagopan, MS
Visiting Researcher
Bethany Taylor, MPA
Chief of Staff
Vasanth Vedantham, MD, PhD
Collaborator
Grace Yang
Visiting Researcher
Lin Ye, PhD
Staff Research Scientist II
Victoria Yu
Research Associate II
Lana Zholudeva, PhD
Staff Research Scientist I
Ping Zhou, MD
Senior Research Associate