When Deepak Srivastava, MD, became president of Gladstone Institutes in 2018, he recognized that an institution like Gladstone had a tremendous responsibility to make breakthrough discoveries that could help solve intractable diseases. Gladstone is a unique organization with a combination of high-quality scientific research laser-focused on disease. As an independent research institute, Gladstone has an organizational structure that allows scientists to go from discovery science all the way to new therapeutic candidates effectively and creatively. Gladstone's scientific focus on neurological, cardiovascular, and immunologic diseases has been clear, in addition to its leverage of cutting-edge technologies and data science.
But Srivastava recognized that accelerating innovative discovery depends critically on the culture of the institution and the ability to execute its vision. He also knew that these traits could only be optimized through the involvement of the whole organization.
Although he was well-versed in the fabric of the institution, he wanted to know what its members were excited about, what they felt were Gladstone's strengths, and how they thought Gladstone could improve in the future.
Several things became clear during this time. First, people at Gladstone were passionate about the work that was being done. They had a sense of urgency to make a difference for humankind. Second, they wanted to create a path forward that built upon Gladstone's impressive history. It became clear to Srivastava that one of his first priorities as president should be to implement a Gladstone-wide effort to chart the organization's future directions. This resulted in a year-long process that culminated in the development of a strategic plan.
What Is a Strategic Plan?
In the simplest terms, a strategic plan outlines where an organization is headed and how it plans to get there—much like a map helps you navigate to your destination. It describes how to implement a well-reflected set of goals, objectives, and tactics.
The purpose of strategic planning is to set and align around institutional goals and implement a plan to achieve them.
"If you look at most organizations, for them to be truly optimized, every person in the institution has to have clarity of purpose," said Srivastava. "They have to be pulling in the same direction and all be in agreement about why they're doing what they're doing."
How Was Gladstone's Strategic Plan Created?
Gladstone's strategic plan is the product of many hours of hard work and contributions from our entire community.
We analyzed survey data collected over previous years, interviewed numerous individuals and teams, held off-site meetings with key stakeholders, and invited open participation of every employee through various in-person and online forums.
As a result, Gladstone's strategic plan is an authentic reflection of the unique insights and perspectives of our community. Together as an organization, we were able to pinpoint the strengths that make Gladstone a great place to work, and create a plan that preserves, enhances, and leverages those strengths to achieve our vision. We also identified opportunities that will allow Gladstone to grow, improve, and evolve, and do so within a framework of values that our culture is built on.
"I think it's safe to say that virtually everybody in the building had an opportunity to weigh in, to converse, and to share their ideas about what this should look like," said Srivastava.
Revisiting Our Vision, Mission, and Values
Early in the strategic planning process, our community made it clear that it was time to revisit Gladstone's vision, mission, and values.
Reviewing the organization-wide interviews and surveys revealed shared themes and consistent words used to describe our organization. This information served to develop a list of adjectives that the community thought best described what Gladstone was and what we aim to be. We used the top results to create Gladstone's core values.
We used the same feedback to craft new vision, mission, and core values that serve as Gladstone's driving force and will help guide all of our decisions as we look to the future and continue to grow.
Gladstone's Vision
To overcome unsolved diseases through transformative biomedical research.
Gladstone's Mission
To drive a new era of discovery in disease-oriented science and to mentor tomorrow's leaders in an inspiring and diverse environment.
Gladstone's Core Values
Dare to Take Risks
Evolve Relentlessly
Commit to Teamwork
Lead with Integrity
Bring Your Passion
Enjoy the Journey
Three Areas of Focus
Throughout the strategic planning process, it became clear that Gladstonians are determined to find solutions to complicated problems. This requires asking the right questions, assembling the right teams, and providing the right atmosphere. As a result, Gladstone's strategic plan focuses on the three areas that we heard are most important and make us who we are: our science, our people, and our environment.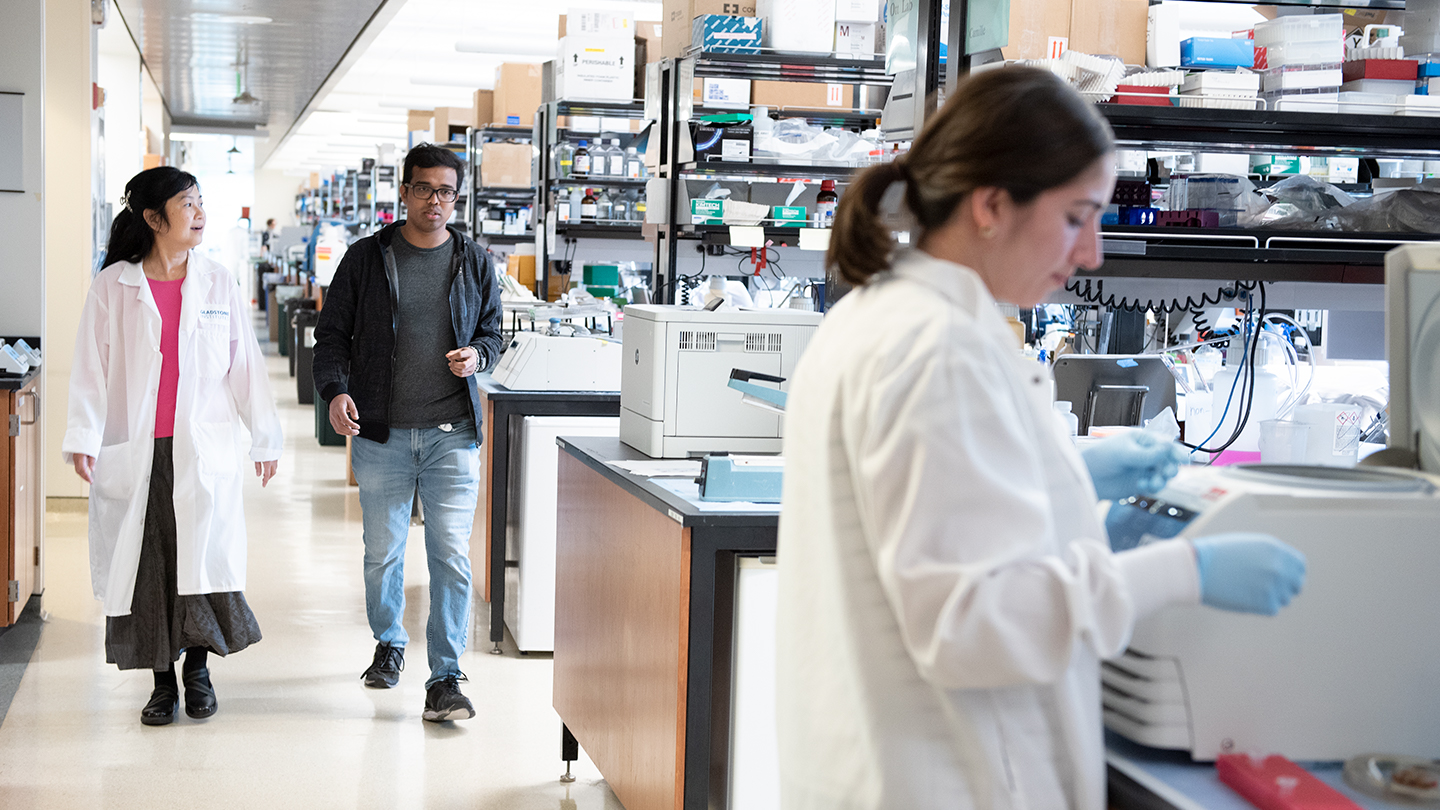 Our Science
We prize and encourage visionary thinking and have the confidence to make bold organizational and scientific choices to advance important research.
Our goal is to be among the most highly respected, disease-oriented, independent research and training institution in the world by virtue of our discoveries and scientific impact.
Aims
Seek and support bold scientific endeavors to foster innovation and resolve truly important problems
Leverage technology and invest in core facilities to enable Gladstone to be at the cutting-edge of research
Provide a tailored and sought-after training experience to help shape tomorrow's leaders
Cultivate and nurture mutually beneficial partnerships locally, nationally, and internationally
Our People
We recognize that our people and their talents are the backbone of our organization. When working together as teams, they provide the inspiration, creativity, and vision that keep us at the forefront of scientific discovery. We believe that investing in the growth and development of our talent is the best way to achieve our mission.
Aims
Reevaluate, define, and communicate Gladstone's vision, mission, and core values
Develop progressive programs to assemble and retain a team of diverse talent and enable them to perform at their best
Ensure Gladstone provides a diverse and inclusive work environment that empowers every member of the organization to fully contribute to the mission
Our Environment
We aim to foster a supportive environment and offer outstanding infrastructure for everyone to become leaders in their respective fields. We search for opportunities to pave the way with insightful and bold ideas.
Our goal is to align the management of our resources to our culture and values in a way that provides an environment conducive to interaction and collaboration, maximizing our administrative impact and propelling forward our scientific pursuits.
Aims
Inspire a culture of collaboration and teamwork within an environment that is conducive to discovery and transformative ideas, and where people genuinely enjoy their work and their colleagues
Improve Gladstone's physical environment to promote interactions between colleagues and reflect core values
Relentlessly pursue organizational efficiencies and effectiveness
This new strategic plan will be Gladstone's roadmap for the coming years and will be the key for all decision-making across the organization. Yet it is an ever-evolving document, and we will continue to revisit it to optimize our path forward.
"This is an exciting time for Gladstone," said Srivastava. "The launch of the strategic plan has really energized everyone here. This year we have celebrated our 40th anniversary, which allowed us to reflect on our successful past, but more importantly, we look forward to seizing the opportunity during this golden age of science where we can finally overcome some of humankind's most devastating diseases."
Want to Join the Team?
Our people are our most important asset. We offer a wide array of career opportunities both in our administrative offices and in our labs.
Explore Careers