Yadong Huang and his team focus on the causes and progression of Alzheimer's disease. Specifically, they study a variant of apolipoprotein E, called apolipoprotein E4 (apoE4). Approximately 60–75 percent of Alzheimer's patients carry the apoE4 variant, making it the most important genetic risk factor for Alzheimer's disease. The team uses mouse models and induced pluripotent stem (iPS) cells made from skin cells of patients carrying apoE4 or other mutations related to Alzheimer's to study their effects on the development, survival, and degeneration of neurons and glial cells. In addition, Huang's lab is working to identify drug targets, develop therapeutic strategies, and repurpose existing drugs for Alzheimer's disease and other neurodegenerative disorders.
Disease Areas
Alzheimer's Disease
Dementia
Tauopathies
Neurodegenerative Diseases
Areas of Expertise
Disease Models
Stem Cells and iPS Cells
Drug Discovery and Repurposing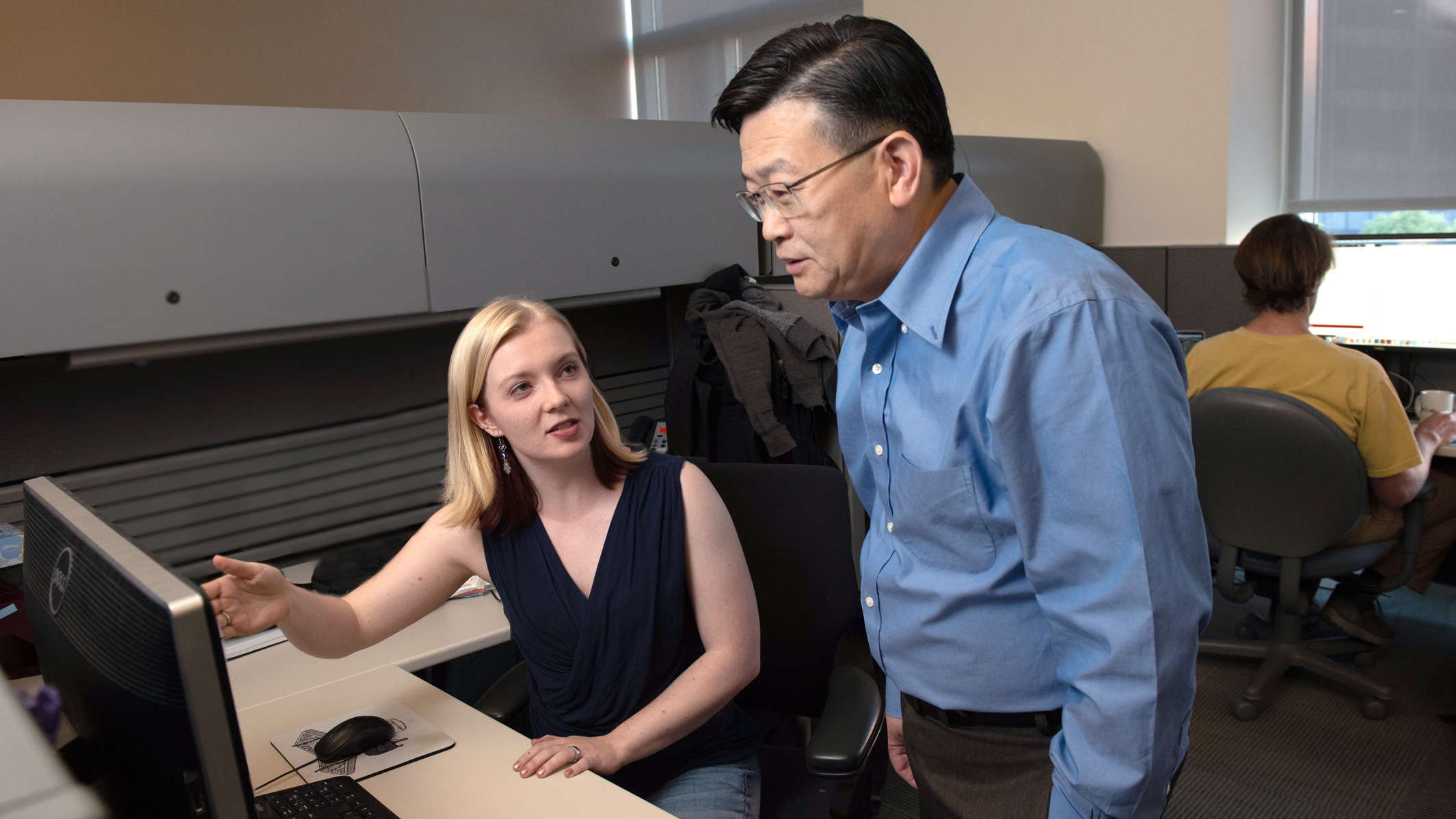 Lab Focus
Studying neuronal and glial expression of apoE as well as its regulation and roles in Alzheimer's disease and other neurodegenerative disorders
Identifying the protease responsible for apoE cleavage in neurons and determining the role of apoE proteolysis in Alzheimer's disease
Developing therapeutic strategies targeting apoE4's detrimental effects and repurposing existing drugs for Alzheimer's disease and other neurodegenerative disorders
Research Impact
Huang's group has made important contributions to understanding how apoE4 causes neuronal deficits and cognitive decline in Alzheimer's disease. Using genetically engineered mouse models, they showed that human apoE4 is expressed in neurons and causes immune response of glial cells and age-dependent learning and memory impairments, as well as degeneration of GABAergic interneurons in the dentate gyrus, a brain region involved in learning and memory. They also discovered that mice with apoE4 have deficits in hippocampal network activities called sharp-wave ripples, which indicates that a decline of interneuron-enabled slow gamma activity during sharp-wave ripples contributes to apoE4-mediated learning and memory impairments.
The second major effort in Huang's lab has been to develop better drugs for Alzheimer's disease. Using human neurons derived from iPS cells, the group demonstrated that those harboring apoE4 have higher levels of tau phosphorylation, increased amyloid beta production, and increased risk of degeneration especially when differentiated into GABAergic interneurons. Huang and his team showed that treating apoE4 neurons with a small-molecule structure corrector ameliorated the detrimental effects, suggesting that correcting the pathogenic conformation of apoE4 is a viable therapeutic approach for apoE4-related Alzheimer's disease. Huang has also led the Gladstone Center for Translational Advancement on drug repurposing for neurological diseases and identified bumetanide as a potential drug for treating apoE4-related Alzheimer's disease.
Professional Titles
Senior Investigator
Senior Investigator, Gladstone Institutes
Director, Center for Translational Advancement, Gladstone Institutes
Professor, Departments of Neurology and Pathology, UC San Francisco
Professor, Department of Neurology and Pathology, UC San Francisco
Bio
Yadong Huang, MD, PhD, is a senior investigator at the Gladstone Institutes, where he is also the director of the Center for Translational Advancement and an investigator in the Roddenberry Stem Cell Center. In addition, he is a professor of neurology and pathology at UC San Francisco.
Huang earned an MD from Qingdao Medical University in China, and a PhD in biochemistry and pathology from Peking Union Medical College and Chinese Academy of Medical Sciences in Beijing. He was trained as a postdoctoral fellow at the Arteriosclerosis Research Institute at the University of Muenster, Germany. Huang joined Gladstone Institutes in 1995 as a postdoctoral fellow, and became a staff research investigator in 1999. In 2015, he was promoted to senior investigator.
Huang studies the pathogenesis of Alzheimer's disease, focusing on the roles of apoE4. His laboratory demonstrates that apoE4 is expressed in neurons, under injury or stress conditions, where it is proteolytically cleaved, leading to the generation of neurotoxic fragments that contribute to Alzheimer's disease. His laboratory also showed that expression of apoE4 causes age-dependent impairment of GABAergic interneurons in the hippocampus, learning to learning and memory deficits. He has been heavily involved in identifying strategies for the treatment or prevention of Alzheimer's disease by targeting apoE4. Dr. Huang has published more than 130 scientific papers and has 12 patents. He is a scientific co-founder for two pharmaceutic companies: E-Scape Bio, Inc. and GABAeron, Inc.
Why Are You dedicated to discovery science?
"I am driven to understanding the molecular basis of Alzheimer's and other brain diseases using genetics, pharmacological drugs, mouse models, stem cells—any means available to study and treat these devastating diseases."
Yadong Huang, MD, PhD
Honors and Awards
2009 New Faculty Award, California Institute for Regenerative Medicine (CIRM)
2000 Young Investigator Award for Scientific Excellence, International Society for Atherosclerosis Research
1996 Young Investigator Award, XII International Symposium on Drugs Affecting Lipid Metabolism
1995 W.H. Hauss Award on Atherosclerosis Research, German Arteriosclerosis Research Society
Lab Members
Mary Amornkul, MS
Senior Research Associate
Alice An
Research Associate I
Adriana Arriola
Lab Associate
Jason Bant, PhD
Scientist
Jessie Blumenfeld
Graduate Student
Norman Chen
Research Associate I
Tenzing Choenyi
Research Associate I
Samuel De Leon
Research Associate I
Yanxia Hao, MD
Research Scientist
Aneeqa Hasan
Research Associate II
Zachary Holmes, MS
Rotation Student
Emily Jones, PhD
Collaborator
Min Joo Kim
Graduate Student
Dominik Klotz
Student Intern
Nicole Koutsodendris, MS
Visiting Scientist
Yaqiao Li
Graduate Student
Zherui Liang
Graduate Student
Chang Liu
Research Associate I
Maxine Nelson
Visiting Scientist
Antara Rao
Graduate Student
David Shostak
Graduate Student
Dennis Tabuena, PhD
Postdoctoral Scholar
Yung-Hua Wang
Research Associate III
Min Xie, PhD
Staff Research Scientist I
Qin Xu, PhD
Staff Research Scientist III
Oscar Yip, MS
Graduate Student
Seo Yeon Yoon
Research Scientist
Seo Yeon Yoon
Research Scientist
Misha Zilberter, PhD
Staff Research Scientist III